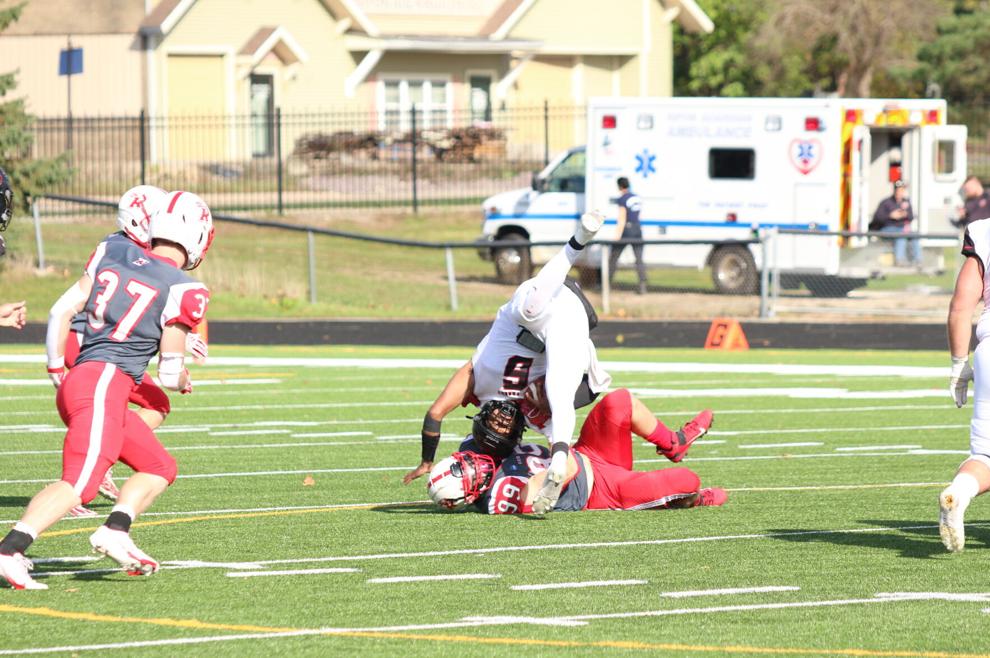 Going into last week Saturday's clash of two unbeaten teams, Ripon College head football coach Ron Ernst felt the game was going to come down to the team that made the fewest mistakes.
His feeling was correct, but unfortunately the result did not come out in the Red Hawks' favor.
Ripon turned the ball over three times and made countless other miscues in a 42-7 home loss.
With the loss, the Red Hawks fell into a tie for third place in the conference with a 4-1 conference record (5-1 overall). Lake Forest, meanwhile, improved to 5-0 in the conference and 6-0 overall.
"We made mistakes early, they capitalized on them and we basically just dug ourselves a hole so big that it was very difficult to climb out," Ernst said. "When you have a relatively inexperienced team that's going to happen. We just need to go back and really work on the finer details of things so that we're not creating these early mistakes that allow teams to take advantage of those."
Ripon College football vs. Lake Forest — Oct. 16, 2021
The first of those mistakes came around 10 minutes into the game, when Ripon fumbled the ball deep in its territory. Lake Forest capitalized on the turnover as it scored three plays later on an Armani Brown 11-yard touchdown run to break a scoreless tie. The Foresters then added touchdowns on their next three drives to take a commanding 28-0 advantage into halftime.
The lead was stretched to 35-0 early in the third quarter, before Ripon got on the board with its lone touchdown of the game with less than two minutes left in quarter on a 9-yard touchdown pass from Jarrett Zibert to Kaipo Magsayo. That scoring drive started after a Dionisio Herrera interception.
The Foresters added a 56-yard touchdown pass from Tre Stewart to A.J. Jackson early in the fourth quarter to cap the scoring.
Lake Forest finished with 399 yards of total offense, compared to just 129 for the Red Hawks.
Ernst noted that the Foresters didn't present "any great challenge" to Ripon offensively as it knew what the Foresters were going to do, but that it was just on the field a long time and got worn down.
Lake Forest had the ball for 37 minutes, 36 seconds, while Ripon controlled it for just 22:24.
"Offensively, we only ran 50 plays and defensively we were on the field almost 80, so we were on the field a lot," Ernst said. "They made some plays, but I thought we did, too … Our kids played extremely hard."
The Ripon head coach added that the Red Hawks also had to defend some short fields due to turnovers, the offense's struggle in moving the ball and short punts in an attempt to keep the ball away from Jackson, who Ernst said a week earlier is probably the best return man in the nation.
Four of Lake Forest's six touchdowns came on drives of 56 yards or less, while two were less than 27 yards.
"We gave up a couple big plays, but that's going to happen in a game," Ernst said. "I just think that we need to work real hard on making sure that we don't have those kinds of short fields like that again."
Offensively, Ernst noted the offensive line did not play up to what it had done in the past and that led to struggles in defending the pass rush and opening up holes for the running backs. Ripon finished with just 33 yards net rushing on 27 attempts (1.2 ypc), with Cormac Madigan leading the way with 49 yards on 14 tries.
"We need to create more opportunities for our running backs and I just felt we needed to play with a little more fire offensively," Ernst said. "We got down and then we had a real hard time getting back up."
Zibert completed 9 of 23 passes for 96 yards, a touchdown and two interceptions. Magsayo pulled down four of those passes for 41 yards, while Parker Campana caught two passes for 27 yards. Connor Ramage, Masyn Ulrich and Madigan also recorded catches of 18, seven and three yards, respectively, in the loss.
Up next
Ripon will try to bounce back Saturday, when it travels to the University of Chicago to play the Maroons.
The Maroons are tied with the Red Hawks for third place in the Midwest Conference, with their only loss coming at the hands of a Monmouth team that's tied with Lake Forest for first place. They lost 40-37.
"Chicago is a very good team, they've got very good talent and they're experienced. Our goal this week is to get better as a football team," Ernst said. "Our offensive line has to block better. Our quarterback has to make better decisions. We have to stop the run. We have to tackle better. We have to be smarter in football game situations. I think if we can do that, we'll be fine, but that's what I'm looking for this week is for our team to get better in those areas where we really fell short on Saturday."
Kick off is set for 2 p.m.