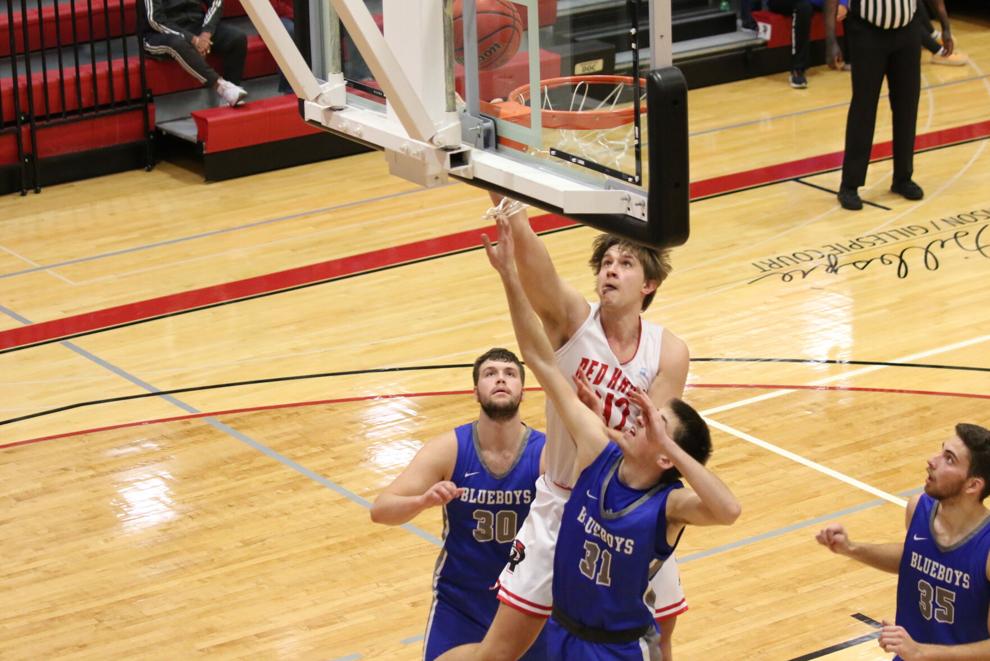 The Ripon College Red Hawk men's basketball team withstood an early flurry by the Illinois College Blueboys and made the plays it needed to late to come away with a 68-64 home win in their conference opener.
Ripon (1-0 conference, 3-3 overall) fell behind the Blueboys (0-2 conference, 4-5 overall) 20-10 eight minutes into the game and trailed 35-34 at halftime, before taking the lead for good three minutes into the second half on a David DeValk dunk.
Illinois College, which trailed by as many as seven points with a little more than six minutes left in the second half, did get within two points with less than two minutes left in the game. Owen Theune, however, drained a jumper to stretch the margin back to four points and then sunk three of four free throws to make it 65-58.
The Blueboys responded with a pair of 3-pointers, sandwiched around two Jaylon Mahone free throws for Ripon, to get within 67-64 with one second left in the game. Drew Jorgensen added a late free throw.
"In many games, you just have to find a way to win and I felt like we certainly did that," Ripon head coach Ryan Kane said. "... Once we got the lead, I felt like we were going to make the requisite amount of plays, mostly defensively, to get out of there with the win. And I felt like our team played with that same belief."
While he was pleased that the Red Hawks found a way to win, he noted what is holding them back is that they know what they are capable of and when they don't play to that standard it can be somewhat disappointing.
They were coming off three highly contested games against teams that were ranked or received votes in the D3Hoops.com Preseason Poll in Wooster, the University of Wisconsin-Eau Claire and Wheaton.
Check out nearly 50 photos from the Ripon College men's basketball team's win over Illinois College
The Ripon College men's basketball team tipped off Midwest Conference play Saturday with a 68-64 home win over the Illinois College Blueboys.
David DeValk and Brandon native Jaylen Mahone led Ripon in scoring with 14 points apiece. Drew Jorgensen, Owen Theune and Ryan Steffes added 10, nine and 8 points, respectively in the winning effort.
For more on the victory, which includes comments from Ripon head coach Ryan Kane, check back with us in the coming days.
"Ultimately, you can't play to that same standard every night," Kane said, noting that it's still early in the season and Ripon just had a week of practice that led him to believe that his team could beat anybody and probably lose to anybody right now just because of how inconsistent it has been even in practice.
He also pointed out that for the first time in his 10 years that the Red Hawks have a firm target on their back and are going to get every team's best shot as they are the favorites to win the Midwest Conference.
"We all are going to have to learn how to adjust and be comfortable with that," the Ripon coach said.
Against Illinois College, which was picked to finish third in the Midwest Conference Preseason Coaches Poll, Ripon was hurt early by the Blueboys' hot shooting. Illinois College made 8 of its first 14 shots, which included four 3-pointers, to help it take the 20-10 advantage less than eight minutes into the game.
"One of their better players [Jake Mazrimas] hit a couple 3-[pointer]s early and when that happens, it energizes their team, it energizes that particular player," Kane said, noting Mazrimas was 4 of 5 at halftime from behind the 3-point line. "We knew that coming in [that Mazrimas can shoot the 3-pointer]. We did not execute that part of the game plan at all, but we found a way to kind of tighten it up a little bit there."
Ripon also had to deal with foul trouble to one of its best defenders as Ryan Steffes had to go to the bench with two early fouls, which Kane noted is rare from the junior guard.
"It was a bit of an adjustment period; next man up type of mentality," Kane said of the foul trouble to Steffes. "But we got a great collective performance from a lot of people like we have been getting all year."
The Red Hawks, who pride themselves on defense, additionally struggled to protect the basket at times as they gave up a number of easy looks en route to allowing Illinois College to score 30 points in the paint.
According to Kane, the Blueboys have one player who's their leading scorer who did a good job of posting up on Ripon guards and another who typically does most of his scoring from the perimeter that wreaked havoc.
"They can put pressure on you there," the Ripon head coach said of the paint area "... They executed, and got the mismatches that they felt like were effective for them and we had to adjust accordingly."
While Ripon had some difficulties defending the basket, Kane felt that overall Ripon was the more physical team and believes that was the difference in the close contest.
"The officials didn't call a lot of fouls, so … we had an opportunity to be physical and we did that," he said.
He added that the Red Hawks got some big rebounds around the rim and that DeValk was effective close to the basket. In addition, Kane said that Ripon got some good penetration off of drives from its perimeter players that opened up a few key perimeter shots from Jorgensen and Mahone that changed momentum.
Ripon received a balanced scoring attack as it had four players score eight or more points. DeValk and Mahone led the way with 14 points apiece, while Jorgensen, Theune and Steffes chipped in with 10, nine and eight points, respectively, in the winning effort.
Up next
Ripon will try to improve to 3-0 in conference play this weekend, when it travels to Beloit Friday to face the Buccaneers and hosts the Knox Prairie Fire Saturday.
Kane noted that the game against Beloit was rescheduled to accommodate the Buccaneers' schedule for finals, but that he isn't afraid of his team playing back-to-back games as the Red Hawks are a deep team.
He's hopeful to also get a couple players backas one had a non-COVID-related illness last week and Cade Tackmier is continuing to nurse a sprained ankle that was suffered a couple of weeks ago in practice.
"Having a deep roster for two games back to back would be absolutely key for us," Kane said, noting the Red Hawks matchup with Beloit and Knox well on paper. "... [We've] just got to make sure that we're out there and we're putting together a full 40-minute game."
Tip off for Friday's game is set for 5:30 p.m., while Saturday's contest is slated for 1 p.m.