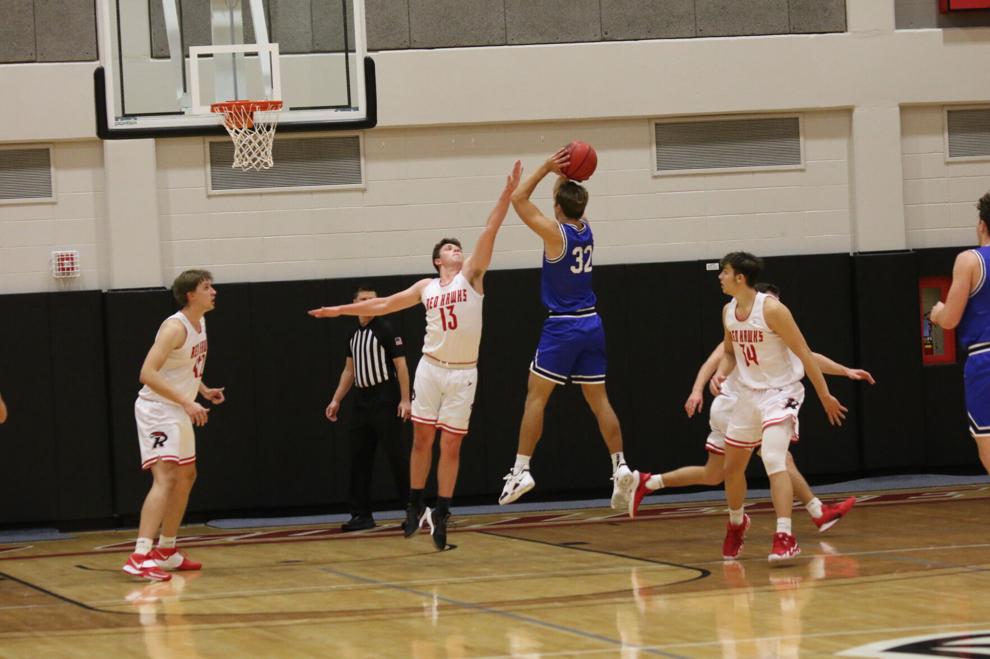 The Ripon College Red Hawk men's basketball team last week Wednesday picked up where it left off at the end of the 2019-20 season: Playing strong defense.
Ripon, which was limited to two games last year due to the COVID-19 pandemic, held Luther College to just 37% shooting (20 of 54) en route to a 70-51 season-opening win at home.
The defense was especially strong in the first half as the Red Hawks held Luther to 28% shooting (7 of 25) in the first 20 minutes, which helped them jump out to a 43-21 halftime lead.
"I think it was a good spot for us to start," Ripon head coach Ryan Kane said. "I was hopeful that our defense would be ahead of the offense. The continuity that you need to have offensively, I think, always comes along a little longer than it does defensively. And we do spend quite a bit more time on the defensive side of the ball early on in the preseason, so I was glad to see that."
He added it was about the 10-minute mark of the first half before it felt like the Red Hawks started to convert some of those stops into scores, which helped them balloon the lead. They led 17-15 with 11 minutes left in the half, before closing it on a 26-6 run for the 43-21 advantage.
Check out 57 photos from the Ripon College men's basketball team's season-opening win over Luther
The Ripon College men's basketball team opened its season Wednesday with a 70-51 win over Luther College. Ripon jumped out to a 43-21 lead after half and cruised to a 70-51 victory. Ryan Steffes led a balanced scoring attack for the Red Hawks with 11 points, while Drew Jorgensen and Owen Theune chipped in with 10 and nine points, respectively. David DeValk and Brandon native Jaylen Mahone added eight points apiece. For more information on the game, including comments from Ripon head coach Ryan Kane, check back Monday.
Ripon extended its lead to as many as 24 points eight minutes into the second half and cruised from there, leading by at least 15 points the remainder of the contest on its way to the victory.
Kane noted that he believes his team played to the scoreboard a little bit in the second half and did some things it otherwise wouldn't do or hold itself accountable to in a closer game. Despite that, he was still pleased with the Red Hawks' overall performance for the season opener.
"They're still a good team and they showed some heart," the Ripon head coach said of the Norse. "And we were able to get some different lineups on the floor to kind of see what they could do."
Offensively, Ripon received a balanced scoring attack as six players scored seven or more points. Ryan Steffes led the way with 11 points and was followed by Drew Jorgensen (10), Owen Theune (nine), David DeValk (eight), Brandon native Jaylen Mahone (eight) and Luke Meinholz (seven).
As a team, the Red Hawks shot 48% (27 of 56) from the field and had 10 players score.
"I'm excited to see how this plays out throughout the year in that we really do have any number of guys that could go out and get double digits and then any number of guys that could probably score 20," Kane said, noting several players in the program already have scored at least 20 in a college game before. "It's going to be this any given night mentality, which we haven't seen since the 17-18 season where, I think, we had three guys average double figures on the year."
Up next
The Red Hawks will try to build upon their season-opening performance this weekend, when they travel to Wooster, Ohio to take part in the College of Wooster Tournament.
They will begin the tournament Friday with a game against Spalding at 5 p.m., before facing either St. Vincent or Wooster Saturday at 5 or 7 p.m.
Kane noted the reason that Ripon schedules these types of tournaments early in the year is to give his players the experience of playing a game on a Friday evening and then have to turn around and play again the next day, similar to how the Midwest Conference Tournament is set up.
He also wants his team to have the ability to play a team like Wooster, which is the second-winningest basketball program across all divisions in the 2000s only to Gonzaga.
"It's a very storied program and a great opportunity for our team and our program on the national stage to show what we have," the Ripon coach said of Wooster.
Before possibly having a chance to face Wooster Saturday, Ripon will have to take on Spalding Friday. Kane noted that Spalding, which is located in Louisville, Ky., has a successful coach who had a great run in the early 2000s which included making some national tournaments. It will be Spalding's third game of the week, while Ripon will have had 10 days between competitions.