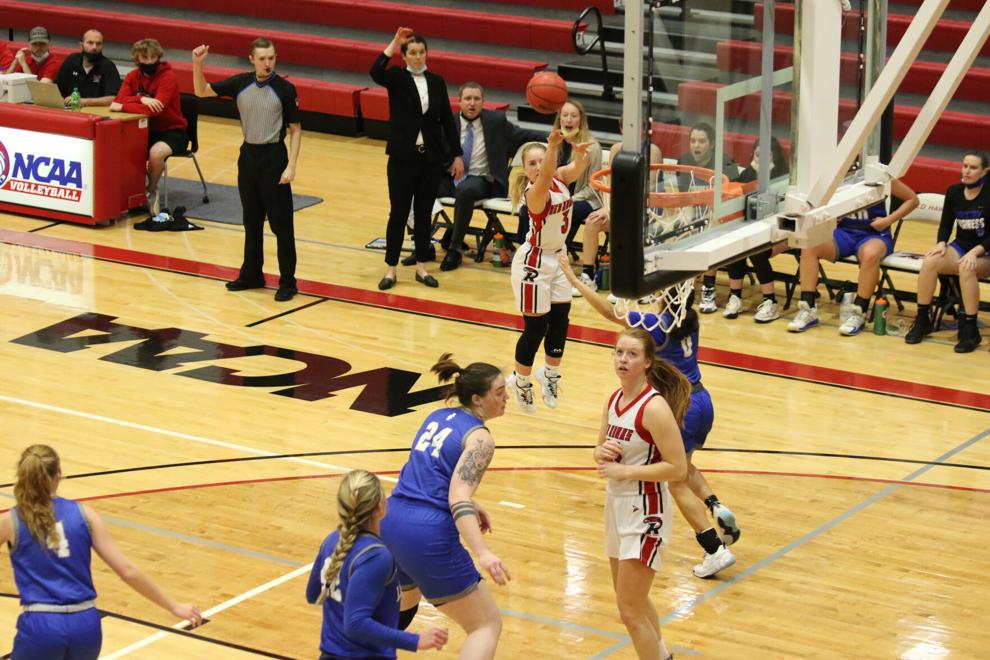 After struggling to make shots consistently the past five games, the Ripon College women's basketball team used home cooking to put four quarters together last week Saturday to defeat Illinois College 79-66.
It shot better than 40% from the field in each quarter and scored 19 or 20 points in every one of them.
"Really great to be back home," Ripon head coach Lauren Busalacchi said. "Playing six out of the first seven games on the road didn't work out well this year, especially against the level of competition we faced. Alison [Leslie] and Kiana [Fall] had probably one of their best field-goal percentage games of their careers. It's fun to watch the ball finally go in for our team."
While the Red Hawks (1-0 conference, 2-6 overall) were much better offensively in the game than they had been the past several weeks, they started off a bit sluggish on that end of the floor. They scored just nine points in the first seven minutes of the first quarter, before Fall provided a spark.
The junior point guard scored Ripon's final 10 points of the quarter as she knocked down four free throws and then back-to-back 3-pointers to give the Red Hawks a 19-11 lead after one quarter.
Fall also made another 3-pointer in the second quarter and scored on a layup before halftime to give herself 15 points and put Ripon up 39-26 entering the break. She finished with a career-high 21 points.
Check out more than 40 photos of the Ripon College women's basketball team's victory over Illinois College
The Ripon College women's basketball opened up Midwest Conference play with a 79-66 home victory over Illinois College Saturday.
Alison Leslie led all scorers with 23 points, while Kiana Falls chipped in 21 and Bonnie Jensen added 12 points.
For more on the Red Hawks victory, including comments from Ripon head coach Lauren Busalacchi, check back in the coming days.
"Kiana earned that performance on Saturday," Busalacchi said. "She has been shouldering so much of this team's leadership throughout the first couple of months of our season. It was awesome to see her just relax and focus on her own play. She came off a really great week of practice and that consistency showed Saturday. We are so proud of her. We need her to be able to run our team and knock down open shots throughout the rest of the season."
Also providing a spark for the Red Hawks was Leslie. The junior shooting guard scored seven of Ripon's first nine points in the game, and finished with a game-high 23 points on 10-of-19 shooting.
Bonnie Jensen also scored in double digits as she converted 5 of 9 shots to end with 12 points, while Skyylar Brescia and Abby Hartman added six points apiece and Bella Opelt chipped in with five points.
Illinois College (1-1 conference, 2-5 overall) managed to get within seven points with a 3-pointer at the end of the third quarter, but that was as close as it got. Ripon scored the first six points of the fourth and led by double digits the rest of the way, including by as many as 19 points late in the contest.
The Red Hawks finished the game shooting 49% (30 of 61) from the field, while Illinois College converted just 37% (19 of 52). Ripon also took better care of the basketball as it turned the ball over just 14 times compared to 23 by the Lady Blues. It won the points off turnover category 25-12.
Not only did Ripon do a better job of taking care of the basketball, it moved the ball well to create shots as it recorded 21 assists. The total is tied for its most in a single game since dishing out 24 assists in 2017.
"Our players really did a good job of playing for each other," Busalacchi said. "Our assist total was the highest it's been all year which is a reflection of that as well. Making the extra pass is an offensive signatured we want to be known for the rest of the season."
One area Ripon can improve upon is not putting its opponent on the free-throw line so much. Illinois College attempted 28 free throws in the game, 22 of which they made. That is compared to 19 free throws that the Red Hawks took in the contest, only 11 of which were converted.
"We have to continue to work on our help and on-ball defense," Busalacchi said on what led to so many free throws for the Lady Blues. "We were late and out of position a lot, as well as got beat off the first steps against a couple of their guards. We need to get better at those things moving forward."
Up next
Ripon will try to maintain the consistency it played with this weekend, when it travels to Beloit Friday to face the Buccaneers at 7:30 p.m. and hosts the Knox Prairie Fire Saturday at 3 p.m.
Busalacchi noted that the Red Hawks will have to put together consecutive stops on the defensive end and use that momentum to put together consecutive scoring runs. She also thinks that they need to rebound better and shoot free throws better than they did last week Saturday, while limiting second chances.
In addition, she would like her team to hunt some easy baskets in transition by sprinting the floor and making the extra passes and taking care of the basketball.