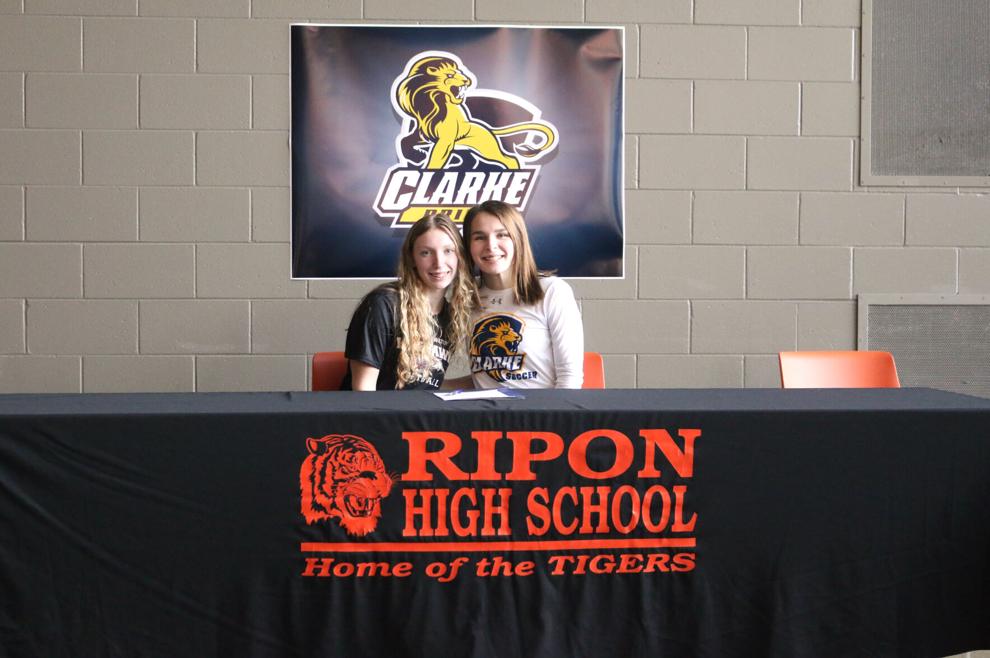 Two Ripon High School seniors made their decision to play sports at the collegiate level official.
Mckenzie Nodolf and Cassidy Mader both signed paperwork Wednesday during an after-school ceremony at Ripon High School. Nodolf will play women's soccer at Clarke University, while Mader will compete for the University of Wisconsin-Whitewater softball team next year.
Ripon Athletic Director Bill Kinziger started off the program by noting that both Nodolf and Mader have represented the school with class, as well as their families and teammates with integrity.
He then passed the microphone to Nodolf's and Mader's respective coaches to share their thoughts.
---
McKenzie Nodolf inks intent to play soccer at Clarke University
A three-sport athlete at Ripon High School, Nodolf will continue playing soccer this fall for the Clarke University Pride in Dubuque, Iowa on a scholarship. Clarke University is a NAIA school, which allows it to offer athletic scholarships to student-athletes as opposed to NCAA Division III programs, which can not.
Steve Nankervis, who has coached Nodolf at the high school level, noted he could "probably take an hour" talking about the standout defender but he would keep it short. He also added it was with "great pleasure to see her here and to share this extraordinary day with McKenzie and her family."
Nodolf also competed all four years for the cross country team, as well as the girls' basketball team.
"Having had the pleasure of coaching McKenzie these past three years with their senior year just a few months away, it's been a true honor," Nankervis said. "Immediately from day one, I could tell that McKenzie was a special kind of student athlete; always putting the team first and always leading by example, whether it be on the field, court or in the classroom or in the community."
"Being named the team's captain her sophomore season, she has been an outstanding leader and a positive role model for her peers. As a coach at the high school level, we are here to enhance student-athletes' experience at the high school level. I can truly tell you that McKenzie has enhanced my coachings skills, so thanks McKenzie."
He went on to state a few of Nodolf's honors during her high school career, which includes all-conference recognition as a freshman and sophomore, the team MVP as a freshman and the team's Outstanding Defensive Player of the Year as a sophomore. While Nodolf did not have a chance to play soccer last year as a result of COVID-19, Nankervis has no doubt that she would have brought home more conference hardware and is expecting good things from her this spring and more hardware.
"I believe McKenzie set a goal for herself at a young age when she started playing competitive soccer for Oshkosh United, and that was to take the sport as far as would let her go," Nankervis said. "And now with the opportunity that Clark University has given to her, to not only play collegiate soccer on scholarship, but to also pursue her studies in the field she is prepared to learn with, it's just icing on the cake. I'm looking forward to following your collegiate career and I know she was poised to do great things when she earns her degree in physical therapy. So I wish her the best of luck. Congratulations, Z, and go Pride."
---
Mader, meanwhile, will continue playing softball next year for the UW-Whitewater Warhawks. The Warhawks are an NCAA Division III program that plays in the Wisconsin Interscholastic Athletic Conference.
The Ripon senior, who also played basketball for all four years in high school and was a manager for the cross country team, was the primary shortstop for the Tigers her freshman and sophomore seasons.
She did not get to play high school softball her junior year as a result of COVID-19 canceling spring sports.
"Whitewater has an amazing athlete coming to Whitewater; grateful that you get to play softball," said Mike Makarewicz, who was set to take over as Ripon head coach last year. "I know how hard Cassidy has worked at this sport. I got Cassidy when she was young. She was a beast when she was young, she's even more of a beast now, and … I'm just happy I get one more year with her; she's going to make our team better, for sure."
Assistant coach Lindsay Berndt also spoke about Mader, having spent a lot of time coaching her in high school.
"The program is getting a dedicated athlete, a smart student and the conference is getting quite a competitor," she said. "I'm sure your leadership, work ethic and dedication will be a great asset as it was for us. Your team-minded goals, as well as your personal achievements, started in youth softball and have continued all the way through today and we'll see it in the spring season. The Ripon softball program really thanks you for your leadership, your hard work, everything that you have put forth in this program. Your accolades outside of the program haven't gone unnoticed; your travel teams, the time, effort you spent putting in a lot of work. All of us wish you the best as you continue your future and we admire the fact that you've got four more years to play the sport that you love."