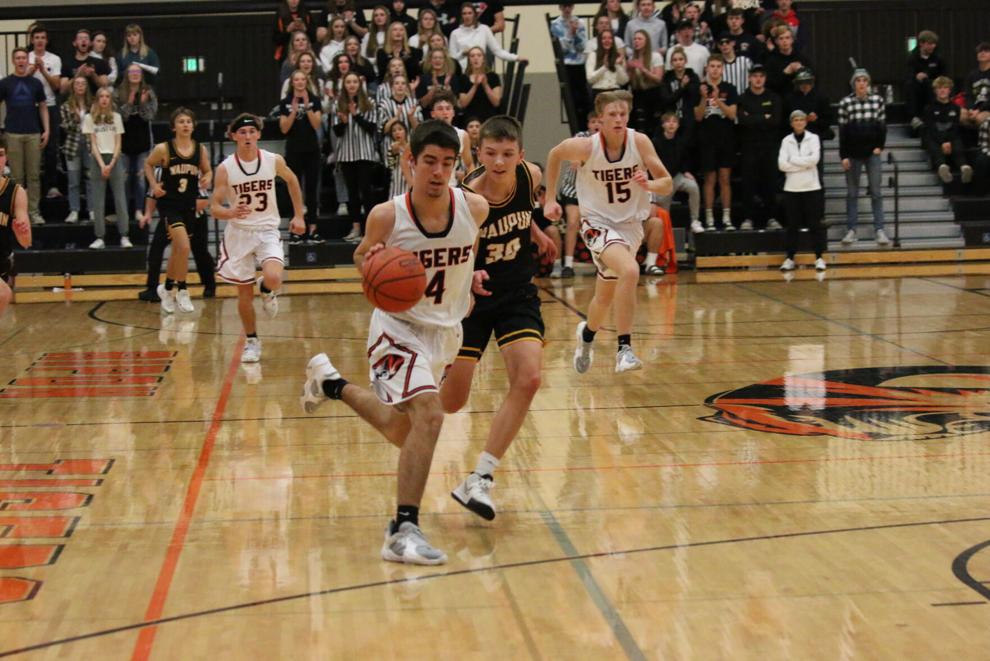 Following a loss to Campbellsport last week Monday, the Ripon High School Tiger boys' basketball team did a lot of reflecting and focused on trusting the process and improvement.
It accomplished that last week Thursday as it defeated the Waupun Warriors 82-70 at home.
"We worked a lot on offensive efficiency and defensive transition the last couple of days and I was proud of how they executed those things," Ripon head coach Steve Brooks said.
Those two areas of improvement were evident in the first half, when the Tigers out-scored Waupun 51-33. That included a 38-18 run to close out the first 18 minutes. Ripon then stretched the lead to 57-33 in the opening minutes of the second quarter for its biggest lead.
The Tigers, however, were faced with some foul trouble and an offensive lulle after that and allowed Waupun to get back into the game. The Warriors got as close as 69-65 with a little more than three minutes left in the game, before Ripon was able to hold on for the 82-70 win.
A big reason the Tigers were able to preserve the lead was their ability to knock down free throws as they made 13 of their 15 attempts in the final three minutes. Riley Brooks was 7 of 8 at the line in that stretch, while Henry Willett went 4 for 4 and Kai Agamaite was 2 of 3.
Ripon High School boys' basketball vs. Waupun — Dec. 2, 2021
Riley Brooks also knocked down six free throws in the first half en route to finishing with a game-high 19 points. The junior, who has a Division I scholarship offer from Toledo, also got his teammates involved as he was one of five Tigers to score in double digits in the game.
Agamaite was the second-leading scorer with 13 points, while Caleb Hopp chipped in 12 points. Willett and Brandon Carlson also scored in double digits with 11 points apiece. Cole Burdick just missed making it six players for Ripon with 10 or more points as he finished with nine points.
Alex Mancl also factored into the victory as he scored seven points off the bench.
"The difference between Monday and tonight was that [Riley] was looking for those guys and those guys didn't stand and watch," Steve Brooks said after the game. "... I thought he was very unselfish with the ball. He found the guys early, got them some confidence and then ended up making a lot of free throws. I was super proud of just the way they executed. They were patient. We were much more efficient on offense, and I thought we took a lot better shots tonight."