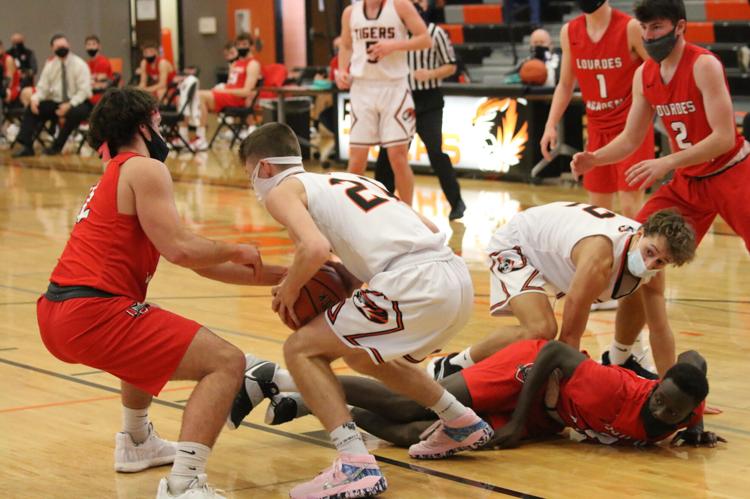 Entering last week Saturday's home game against Oshkosh Lourdes, the Ripon High School boys' basketball team talked about how half-court defense and defensive transition was going to be huge.
It was easier said than done, however, as the Tigers struggled in those areas in a 108-73 loss.
Ripon was hurt especially by the defensive transition in the first half as the Knights, who are ranked No. 2 in the Division 5 WisSports.com Poll, ran up and down the court en route to a 53-29 halftime lead. They out-scored Ripon 21-6 to close the half to take the commanding 24-point advantage.
Ripon High School boys' basketball vs. Lourdes — Dec. 12, 2020
"We did some OK things actually throughout the game on both sides of the ball, but they got some shots to fall," Ripon head coach Steve Brooks said of the loss. "And they rebounded and we didn't hit a lot of shots in the first half, which led to a lot of run-outs and they took advantage."
The Tigers also had no answer for Lourdes' Preston Ruedinger in the first half. The senior, who already has scored more than 1,700 points in his first school career, tallied 26 of his game-high 36 points in the first 18 minutes. It marks the second-straight year he scored 36 points against Ripon.
"He's a complete player," Steve Brooks said of the guard. "He's a two-way player; is tough on both ends of the court. He can play off the dribble, he can shoot. He moves really without the ball. He's a complete package. We had our hands full and he pretty much had his way with us in the first half."
Ripon did play a little better in the second half as it was out-scored by just two points until the final minutes, when the Knights tacked on a couple of late 3-pointers to win the second half 55-44.
"I think we made some adjustments," Steve Brooks said. "And honestly, we didn't do a terrible job defensively in the second half. [It was] just that we buried ourselves and dug a huge hole the first half, similar to the Plymouth game. There were a lot of [positive] things; our kids played hard; they were tired; weren't used to that tempo, so there were still a lot of positives that we took away from it."
Riley Brooks led Ripon in scoring with 29 points, while Grant Schneider was the only other Tiger in double digits with 17 points. Brandon Carlson and Conor Diedrich added nine and six points, respectively.
Ripon controls Campbellsport, wins 67-53
The Tigers jumped out to a quick start against the Campbellsport Cougars last week Thursday and never looked back en route to a 67-53 road victory. With the win, they improved to 2-1 in conference.
They led 33-23 at halftime and maintained around a double-digit lead the remainder of the game.
"We got out to a nice lead and, I think, the closest they ever got after the game got going was eight or nine," Steve Brooks said. "And we did some [nice] things. They played zone the majority of the game, so we had to work on some zone stuff. In the second half, when they would make a little run, we found a way to answer. And when we needed to make baskets, Riley was able to penetrate through the zone and found his teammates to get some easy looks and he hit a couple shots himself. I was happy with just the answering of the runs they made and making plays when we needed to."
He also was pleased with how Ripon moved without the ball, noting having to play against the zone gave it a little more freedom to move around and that the guys did a good job of finding soft spots in the zone and distributed the ball to the open player who was able to knock down some easy looks.
The Tigers did struggle a bit at the free-throw line, making just 16 of 25 attempts (64%).
Riley Brooks and Schneider led the Tigers in scoring with 19 points apiece, while Kai Agamaite chipped in with 13 points. Garrett Jennings and Spencer Schultz chipped in with eight and six points, respectively.
Up next
Ripon will try to bounce back from the Lourdes loss tonight (Tuesday), when it travels to Winneconne.
Steve Brooks knows his team will need to play defense better if it hopes to come out with the win.
"It's always a tough place to play, on the road there," the Ripon head coach said. "They've got a good core group of kids that have had varsity experience. They're physical; they play hard. Their leading scorer just had 44 last week against North Fond du Lac, so we know they can put points on the board. So we're going to have to play a complete game."
Tip off is set for 7:15 p.m.