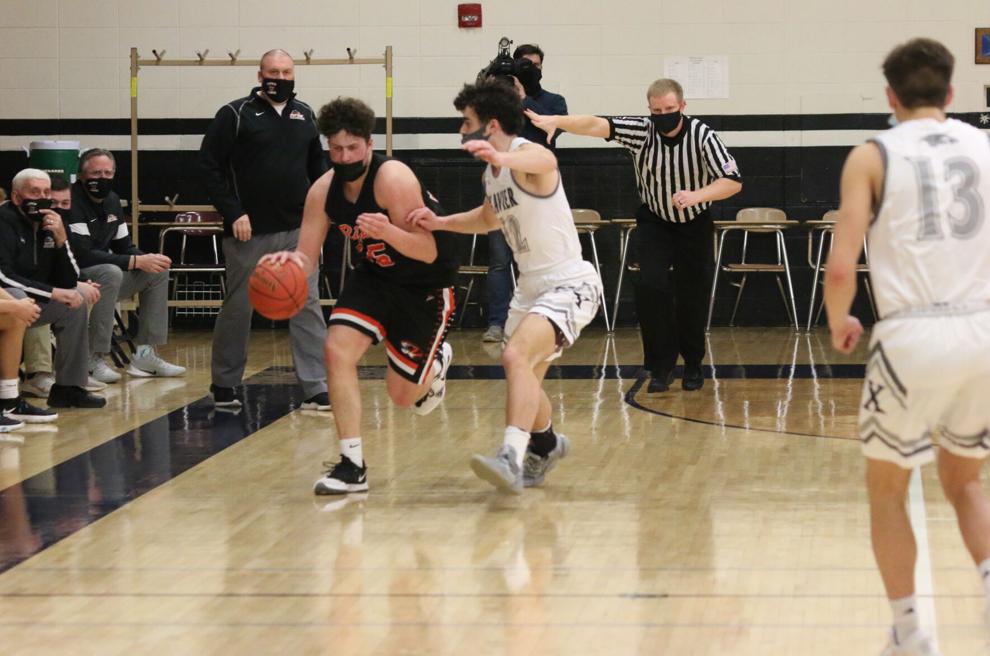 Going into Friday's regional semifinal game against Xavier, the Ripon Tiger boys' basketball team knew it was going to have to play its best game and have the Hawks play a poor game.
Neither of those happened as the Tigers were destroyed by Xavier 95-61 on the road in a season-ending loss. Xavier advanced to face Little Chute tonight in a regional championship game.
Ripon (12-10 overall), which was the No. 4 seed in its six-team regional bracket, fell behind the top-seeded Hawks (20-4 overall) 10-0 less than three minutes into the game and trailed 48-22 at halftime. The deficit then grew to as many as 45 points in the second half as the running clock was implemented for the final nine minutes.
"All the things that we talked about, we struggled with," Ripon head coach Steve Brooks said. "Kids in the first half shied away from getting the ball; they didn't want the ball in their hands. So we knew it was going to be a struggle and it just went bad fast."
The unwillingness to handle the basketball cost the Tigers early and often as Xavier applied a relentless, full-court press throughout the game. The Hawks scored three-straight baskets off turnovers in less than a minute early in the game to take the 10-0 lead and cause Steve Brooks to call an early timeout.
Ripon High School boys' basketball at Xavier — Feb. 19, 2021
At least 10 of Xavier's first points scored in the game came off of Ripon miscuses.
"We said they're going to jump passing lanes, they're going to pressure the ball, they're going to be physical; more physical than any team that we've seen all season, which they did," Steve Brooks said. "And I said if we stand and watch they're going to jump those and take them, which they did, and you can't afford to play a good team down early and we were down early."
He noted against a physical team like Xavier, if you're down 10 points it is really like you're behind 18 or 20.
Ripon was able to get within six points at 16-10 with around 11 minutes left following back-to-back baskets by Kai Agamaite, but was out-scored 14-3 over the next six minutes and trailed by double digits the rest of the contest.
"We had to get some points on the board and then we had to kind of settle in and I thought that we did that," Steve Brooks said. "And for a few minutes at least in the first half, we had some semblance of normalcy. But again, as the half wore on in the first half, it was just the daggers that they were hitting and we weren't putting points on the board, and that cushion increased so it was difficult to get momentum going again."
Also not helping the Tigers' cause was the fact that Xavier dissected Ripon's zone defense, which Steve Brooks believed was going to be his team's best opportunity to stay in the game. The Hawks knocked down a season-high 16 3-pointers in the game — eight in each half.
"They shot it well," Steve Brooks said. "We watched four or five different films and they hadn't shot the ball all that well. And, of course, the kid [Charlie Pfefferle] that we said we're least concerned about hit five in the first half … We knew that was a gamble going zone; if they hit shots it was going to be tough and it, obviously, was."
One bright spot in the blowout loss for Ripon was it was able to get a lot of kids playing time. It removed its starters with around 10 minutes left and got every player in the game. Not only did everyone play, but all but one of the 15 players got on the scoreboard. The only who didn't, Ethan Schuld, contributed throughout the game.
"When it's a game like this, you've got to get those kids a chance," Steve Brooks said of the reserves. "Those kids who haven't gotten on the floor a lot have been equally as important because they prepared us … And I was happy; they stepped into shots, they made free throws, they did things, so I was happy for them."
Riley Brooks led Ripon in scoring with 12 points, while Grant Schneider and Agamaite chipped in with 10 and seven points, respectively. Cole Burdick and Drew Kastenschmidt added career-highs of six and five points, respectively, off the bench for the Tigers, while senior Conor Diedrich added four points in his final game.
Future of the team
Last week Friday's loss to Xavier marked the final high school basketball game for five seniors: Garrett Jennings, Sam Yeomans, Schneider, Schuld and Diedrich. While only two of them — Jennings and Schneider – saw significant minutes this season, Brooks noted they all contributed to the team's success this season.
"They've done a lot and they've had some good games; they came together this year and they did some good things, so those kids will be missed," the Ripon coach said Friday. "They've done a lot for our program. And now it's time to start grooming the next kids; the offseason starts tomorrow and we'll have to get ready for next year."
Ripon will have several players returning next season, which includes leading scorer and facilitator Riley Brooks, but Steve Brook knows that there is plenty of room for improvement if the team wants to go further.
"We're going to have to work this summer; we've got to get better," he said, noting Ripon has to take a step forward on fundamental areas, play better defense, handle the ball better and shoot better. "So a lot of work and we're excited for the opportunity."