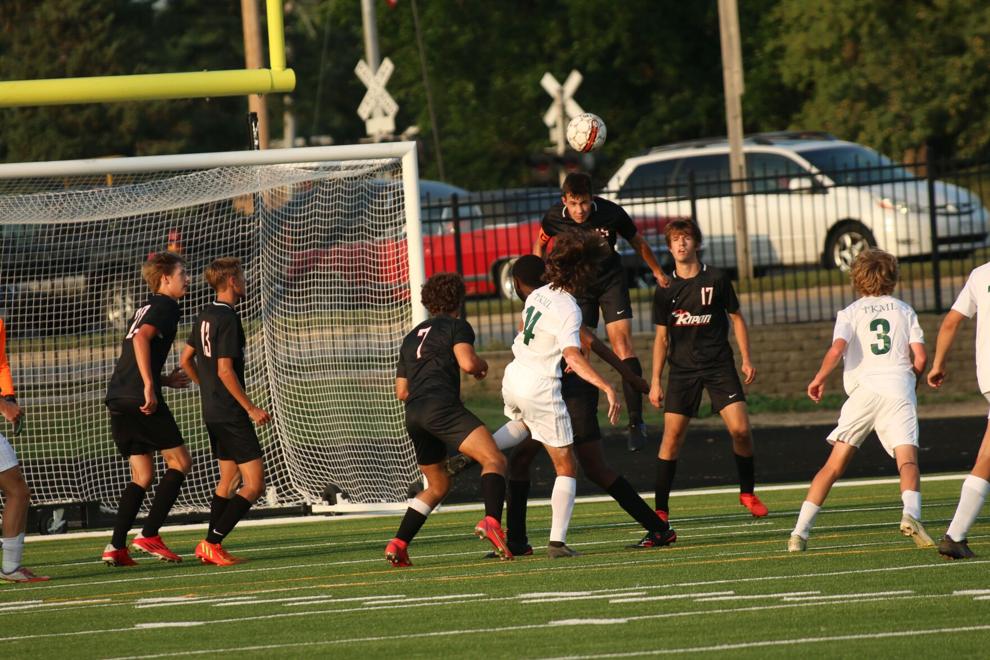 The Ripon High School boys' soccer team held its own Thursday against one of the better teams in the East Central Conference, but fell to the Kettle Moraine Lutheran (KML) Chargers 2-0 at home.
It gave up an own goal in the 23rd minute following some miscommunication between two defenders and goalkeeper Cody Kamin and allowed another goal on a header off of a corner kick in the 48th minute.
"It was a fairly evenly-matched game for the most part, but they were better than us with some of their passes and some of their attacking transitions," Ripon head coach Steve Nankervis said. "But we've got to learn from it and keep going."
Nankervis noted after the first goal Ripon allowed, which came after two Tigers went back to defend the ball and the keeper was coming out, that his players hung their heads a bit, but fought through the rest of the half.
KML then came out and dominated the first 10 to 15 minutes of the second half and scored its second goal less than eight minutes into the half when it had a player go up a little higher than the Tigers to head the ball.
"Unfortunately, we vacated our back post a little too soon, and that's exactly where the ball went," Nankervis said.
Ripon High School boys' soccer vs. KML — Sept. 15, 2022
After that goal, the Ripon coach added the game went back and forth the rest of the way. He noted KML probably out-possessed the Tigers 60/40, while holding a 7-5 edge in shots on goal and a 5-2 advantage on corner kicks.
Helping Ripon keep the score at just 2-0 was Kamin, who finished with seven saves on the day.
"Cody came up big yesterday with some good saves that definitely kept that game as close as it was," Nankervis said.
The Ripon coach also was able to get some newer players into the game who did well. Among them was Henry Beuthin, who made the switch from cross country to soccer for his junior season. It was his second start of the season.
"He held his own … against a good team and did pretty good out there on the defensive line for us," Nankervis said.
Ultimately, Nankervis noted that inexperience in certain situations again cost Ripon.
Up next
Ripon will try to get back on the winning track Monday, when it travels to Mayville for a non-conference game.
Kick off is set for 4 p.m.