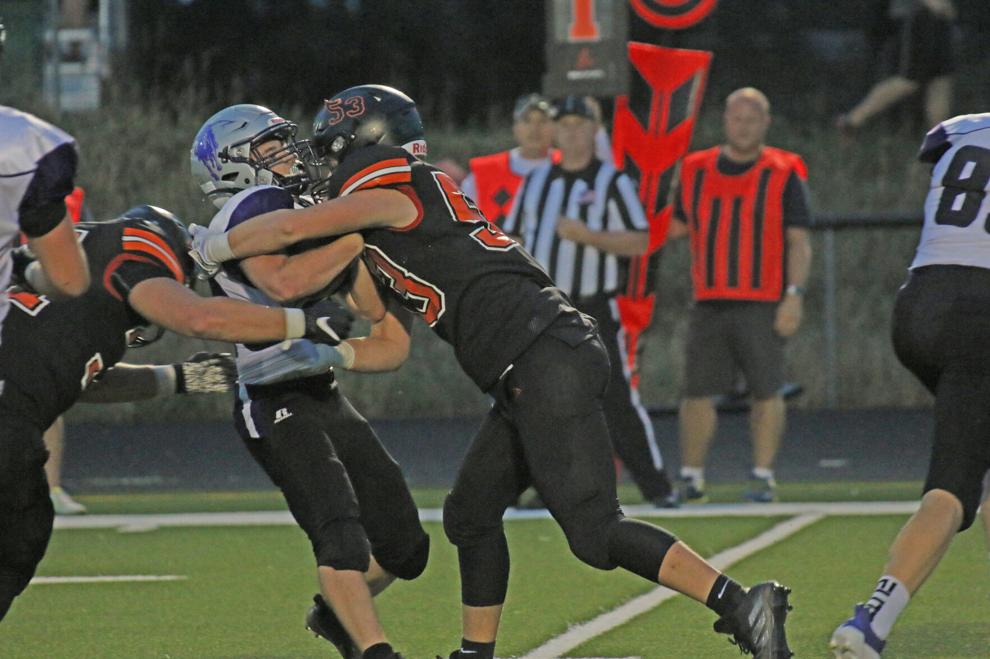 The Ripon High School football team managed to hang with Kiel for one half last week Friday.
It then ran out of gas in the second half.
After trailing just 3-0 at halftime, the Tigers allowed Kiel to score touchdowns on its first four drives coming out of the break to fall behind 30-0. It ended up losing the home game 30-13.
"Kiel is a very big team and the defense did a great job in the first half, getting stops and making plays," Ripon head coach Mark Bradley said. "It was a little bit of just guys getting worn out and tired. We just needed someone on any side of the ball to step up and make a play and stop Kiel as they were on that run, but unfortunately we weren't able to do that until it was too late."
Early on in the non-conference game, Bradley noted the Tigers (0-2 overall) were physical defensively and made the plays when they needed to make them. They also benefited from some dropped passes by the Raiders (2-0 overall), one of which likely cost Kiel a long touchdown.
Offensively, Ripon had its chances to score in the first half as it connected on a number of big passes and had a couple good runs. However, it was unable to string enough of those plays together and often would put itself behind the chains following a couple of good plays.
"We'd move the ball and then we'd shoot ourselves in the foot and we'd get a penalty or we'd miss a block and we'd jump offsides," Bradley said. "It's just not making those simple mental mistakes and doing those little things to keep those drives going. I feel that if we could ... gotten on the scoreboard in that first half, that second half might have been a little different.
"We just kept getting ourselves in trouble and we weren't able to overcome that."
Ripon High School football vs. Kiel — Aug. 27, 2021
The troubles weren't limited to the first half as Ripon had a nice run and then was whistled for unsportsmanlike conduct, fumbled a handoff and had a mishandled snap on a punt that gave the Raiders good field position. Kiel scored off both the fumbled handoff and the botched snap.
The Tigers also allowed Kiel to break off a couple of big plays, which led to the first two touchdowns of the second half. On the Raiders' first drive of the second half, Ripon gave up a long kickoff return and then a pair of 22-yard runs. It then missed a tackle on the second possession that turned what would've been around a 10-yard reception into a 50-yard touchdown.
Ripon scored its two touchdowns in the second half in the final four minutes after both teams put in their backups. Ethan Struble connected with Jack Schoelzel for an 11-yard touchdown pass with a little more than three minutes left and added a 14-yard touchdown run with 2 seconds left.
"The offensive line was able to set the edge and the back ran very well," Bradley said of what the Tigers' second unit did well. "Ethan Struble did a good job reading the defense and finding Jack Schoelzel for a touchdown. It was good to get them in the game since we don't have JV games."
Bradley also thought the offense as a whole performed better than it did a week earlier, when it struggled to move the ball in a 34-6 loss to the Watertown Luther Prep Phoenix on the road.
Ripon finished with 211 yards against Kiel compared to the 121 yards it collected a week prior. Of those yards, 147 of them came through the air as Tyler Bradley was 5 for 9 for 90 yards and an interception and Struble completed all three of his passes for 57 yards and a touchdown.
Gannon Stellmacher led the Tigers in receptions (four) and receiving yards (52), while Caleb Hopp, Carter Kissinger, Noah Olson and Schoelzel hauled in one pass apiece.
On the ground, Jordan Perkins led Ripon with 32 yards on two carries. Struble added 19 yards on four attempts, while Parker Stellmacher rushed for 13 yards on two carries and Cameron Hahn finished with 10 yards on eight tries.
"We still are continuing to improve, but I thought the offensive line improved," Bradley said, noting the Tigers were able to get some of their misdirection and counters going to keep the defense from flowing too aggressively. "... We're just going to continue working on the upfront and getting off on the correct snap counts and being able to do those little things to keep the drive going."
Defensively, Ripon allowed Kiel to gain 259 yards. Quintin Stephens led the Tigers with eight tackles, while Brett Bock and Caleb Hopp added six tackles each. Chipping in with five tackles were Hahn and Stellmacher, with Stellmacher also adding an interception late in the first half.
Up next
Ripon will begin its conference season Friday, when it travels to Berlin to face the rival Indians.
Kick off is slated for 7 p.m.