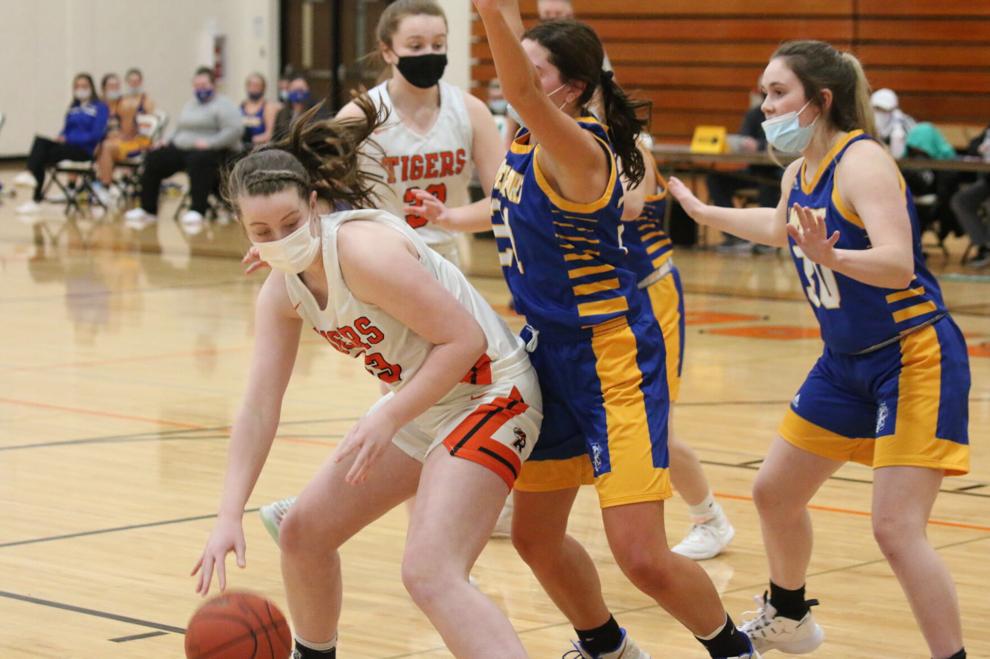 The last time the Ripon High School girls' basketball team faced Campbellsport, it snapped a 22-game conference losing streak that spanned 22 months and started a stretch where it went 6-2.
It was hoping for more of that magic last week Friday as it entered riding a seven-game losing skid and was hoping to gain momentum heading into Tuesday's regional quarterfinal game with Berlin.
The Tigers got just that as they led from start to finish to defeat the Cougars 56-31 in Ripon. The win was a little more comfortable than when they had to hold onto a 44-43 victory earlier this season in Campbellsport.
"Very nice," Ripon head coach Jesse Nodolf said of the win over the Cougars. "We wanted to show how well we can play and help prepare us for the tournament [and] use that momentum for Tuesday."
The Tigers (3-10 conference 7-13 overall), who were coming off a strong performance earlier in the week in a 52-47 loss against second-place Kettle Moraine Lutheran, set the tempo on the defensive end of the floor. They allowed just 11 points in the first half, which included three in the final eight minutes, and a season-low 31 points for the game.
"We made a slight adjustment; we weren't pressuring the ball as much as we needed to," Jesse Nodolf said. "Their offense is based off of post touches and post-to-post screenings; we wanted to take that entire thing out of play ... So they could move the ball offensively, but didn't get the looks they wanted and that allowed us to keep the scoring down and turn it to us on offense to score like we wanted to."
Ripon High School girls' basketball vs. Campbellsport — Feb. 5, 2021
Offensively, Ripon struggled a bit to make shots in the first half and committed some turnovers, but made up for it with its aggressiveness on the boards as it scored a number of points on putbacks. The damage around the basket wasn't limited to second-chance opportunities as the Tigers dominated in the paint throughout the game.
"I would say that we did what we wanted to do Friday night," Jesse Nodolf said about the offense. "Going into it, we knew that we wouldn't have to hit outside shots; we knew we could get easier inside looks. Based off of our scout and our previous game with them, we knew rebounding both offensively and defensively would be key and we were out-rebounding them in the first half, offensively, because we didn't finish well the first half at the rim."
He added that Ripon, which led 24-11 at halftime, kept after that type of hustle play in the second half and the offense kind of settled in and got comfortable looking for more inside finishes. As a result, its shooting percentage increased in the final 18 minutes and it was able to cruise to the 25-point win over the Cougars (0-14 conference, 2-19 overall).
It wasn't just one player contributing for the Tigers either as it had nine register in the scoring column. Lucy Beuthin led the way with 10 points; Ally Bradley, Karsyn Bauman, Maleigha Kovalaske added eight points each; Celina Lopez and Bella Miller chipped in with six points apiece; McKenzie Nodolf and Haley Krumenauer both contributed four points; and Grace Tobin made the most of her opportunity to finish with two points.
"It was a nice, well-balanced scoring opportunity for everybody [last week] Friday night and seeing that in the score book after the game is always nice; we got a higher percentage chance to win when we do things like that," Jesse Nodolf said, noting players looked to score at times, but also gave the ball up for assists.
Another bright spot for the Ripon head coach was the ability to get his five seniors — McKenzie Nodolf, Cassidy Mader, Avery Downs, Krumenauer and Tobin — on the floor together for the final five minutes of the game.
"I looked at my assistant coach [Cris Bumby] and we chatted with about seven minutes left and decided when we'd put the seniors in, and it was a great opportunity for those five to play together for about five minutes … You could tell how exciting it was for those five to be playing together because our bench kind of went crazy on a few plays."
Up next
Ripon will try to build off the win Tuesday, when it hosts the rival Berlin Indians in a regional quarterfinal match-up.
The game will be the rubber game as the two teams split their regular-season series, each winning at home. Ripon won the first meeting 55-40, while Berlin held on to win the second 42-33 after jumping out to a 26-5 lead in the first half of the contest. Ripon is the No. 4 seed in its five-team regional bracket, while Berlin is the No. 5 seed.
"We need to continue dominating the boards," Jesse Nodolf said about Tuesday's game. "We need to do a better job of taking care of the basketball than we did in that first half in Berlin and good things will happen. We're looking forward to our first tournament home game in many years, and hopefully we can capitalize off of that."
The winner of that game will face No. 1 seed Xavier Friday in Appleton.