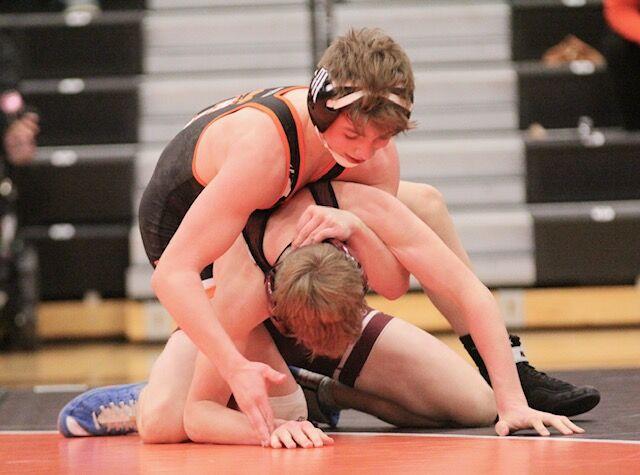 The Ripon High School Tiger wrestling team tested itself against some good competition at the Sun Prairie Bob Downing Scramble last week Saturday.
Ripon finished 16th out of 20 schools, which included East Central Conference foe Kewaskum.
Fennimore won the competition with 715 points and was followed by Lodi (691), Kenosha Indian Trail (503), River Valley (468), West Bend West (429), Belmont/Platteville (407), Union Grove (384), Sauk Prairie (373), Kewaskum (361), Sun Prairie (341), Fort Atkinson (335), Oregon (288), DeForest (262), Brookfield Central (239), Marshall (231), Ripon (224), Grafton (212), Madison LaFollette (197), Madison West (86) and South Milwaukee.
"It was a good tournament for the guys," Ripon head coach T.J. Mlodzik said, noting a lot of teams and individual wrestlers were at the scramble.. "A couple of the kids were able to wrestle some Kewaskum kids to get their eyes on those matches and to see what they've got to work on for next time when we wrestle Kewaskum. But otherwise, it was a really good weekend. The guys showed a lot of heart and there are still some good takeaways from it that we'll get working on this week at practice and just keep moving forward."
One of those positives from the competition were the Tiger wrestlers putting more than one move together, which was an area of emphasis following their season-opening competition a week earlier at Lomira.
"Last week, we were really looking for the guys to put multiple moves together; not just do one move and stop," Mlodzik said. "Our guys were doing one move and if they didn't get it they were either continuing to re-shoot or work to another move. Just staying active and keeping the intensity high during their matches was a positive."
Ripon High School wrestling vs. Winneconne — Dec. 9, 2021 (Miya Grunert photos)
One area in which the Ripon head coach noted there was still room for improvement is getting out from the bottom. There's a tendency among the Tiger wrestlers if they get taken down to just sit there and not fight for position or to get an escape or reversal, Mlodzik said.
"We're going to continue to work on getting out from the bottom and keeping our good, strong base," he said.
Leading the way for the Tigers at the Bob Downing Scramble was Brenden Shurpit. The freshman, who was wrestling in his first contested contests of the season, finished in sixth place in the 126-pound weight class with a 3-2 record. He scored first-period pins in his two contested wins, while falling by pin in his two losses.
"It was good to see him out there," Mlodzik said. "This was his first wrestling opportunity this year, so it was good to see him start out strong and continue wrestling strong throughout the day and taking a sixth-place victory for the day. He wrestled some tough competition, but was still able to finish the day in sixth place."
Jordan Perkins also had some success for the Tigers as the freshman placed ninth in the 182-pound weight class with a 3-2 record. He dropped his first match by a fall late in the third period, before bouncing back to pick up a first-period pin over Grafton's Dean Snyder following a bye and a 6-1 decision over Lodi's Mason Breunig.
Another wrestler impressing Mlodzik was Tyler Bradley. The sophomore finished in 10th place in the 170-pound weight class with a 3-2 record, which included a 9-7 win by decision over Fort Atkinson's Triston Hanson. He also scored a pin late in the first period of his final match of the day against Belmont/Platteville's Kadyn Davis.
Tyler showed a lot of mental toughness," Mlodzik said, noting he went the full six minutes in his match with Hanson and was able to pull out the victory. "He just kept putting the pressure on and staying active and was able to finish that one out 9-7 ... We've got to be conditioned and able to come out on top or not get a pin in the match like that."
Also coming away with 10th-place finishes were Jack Schoelzel in the 195-pound weight class and Caden Kraege in the 285-pound weight class. Schoelzel finished 2-1, while Kraege ended the day 2-2.
Riley Nickel rounded out Ripon's finishers with a 14th-place finish at 145 pounds. He finished 2-3.
RIpon High School wrestling vs. Winneconne — Dec. 9, 2021 (Tracy Landerman photos)