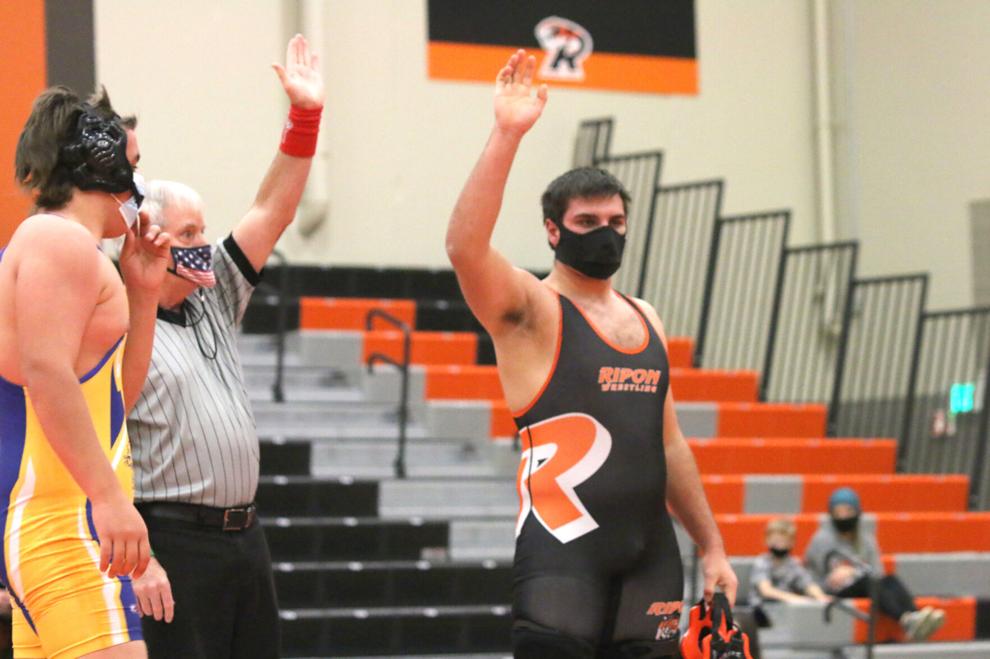 The Ripon High School Tiger wrestling team put itself in a position to win several matches in its East Central Conference home dual with the Campbellsport Cougars last week Tuesday.
It led or was within striking distance of its Cougar counterparts in the second or third periods, but was unable to come out on top in the majority of those matches as it lost the dual 54-18.
"Finishing the match was the focus of last week's practice; getting over that hump," Ripon head coach Lee Cotton said Monday. "That's where five of our eight losses came after leading those matches."
Ripon High School wrestling vs. Campbellsport — Dec. 15, 2020
Among the Tigers who were competitive for the first couple of periods, but succumbed to pins in the second or third periods are Garrett Briskie (220-pound weight class), Joe Williams (113), Cale Agamaite (132), Brandyn Beahm (145), Ryan Forslund (152).
Briskie suffered one of the tougher losses as trailing 4-2 in the third period he scored a reversal and had his opponent in a pinning position, before being turned himself and pinned a few seconds later. Agamaite also led 6-2 at the time he was turned and pinned, while Beahm up was 3-0 before his opponent scored the pin. Forslund was leading 6-3 in the second period when his opponent scored a takedown and a pin.
One Ripon wrestler who didn't have a problem finishing a match off for the Tigers was Alex Button (170). The senior led 5-2 after one period, before adding a nearfall in the second and eventually the pin.
"I'm glad to see he's getting some wins this year," Lee Cotton said of Button, who let out a show of emotion after the victory. "With him, his focus last week was staying in a good position. He had a chance a few times to finish that match up in the first period and just got out of position. So that's his game plan coming into Tuesday's match [against Berlin] is to stay in that position at all times."
Managing to score pins a little easier were Aaron Socha (285) and LeeRoy Cotton (160). The two seniors put away their opponents in the opening minute of the first period.
"Aaron went out there and executed his game plan and came out on top," Lee Cotton said. "We're really happy with his wrestling so far this year … It's served the team well where he's at."
He added his son, LeeRoy Cotton, did a good job of coming out, not getting stuck on one technique and taking care of business with the quick win.
Ripon wrestlers who were unable to extend their matches into the second period were Eric Wipijewski (138) and Jack Schoelzel, with the latter succumbing in the final seconds of the first period.
The Tigers also gave up 18 points on three forfeits, while one weight class was a double forfeit.
Up next
Ripon will try to do a better job of finishing matches Tuesday, when it travels to face rival Berlin.
"We're looking for a win for the team," Lee Cotton said of his hopes for the match against the Indians. "I'm confident that we are over the problems that cost us quite a few matches against Campbellsport; I think we've wrapped our head around what went wrong and what we had to do to correct that."
The match will get underway at 6:30 p.m.