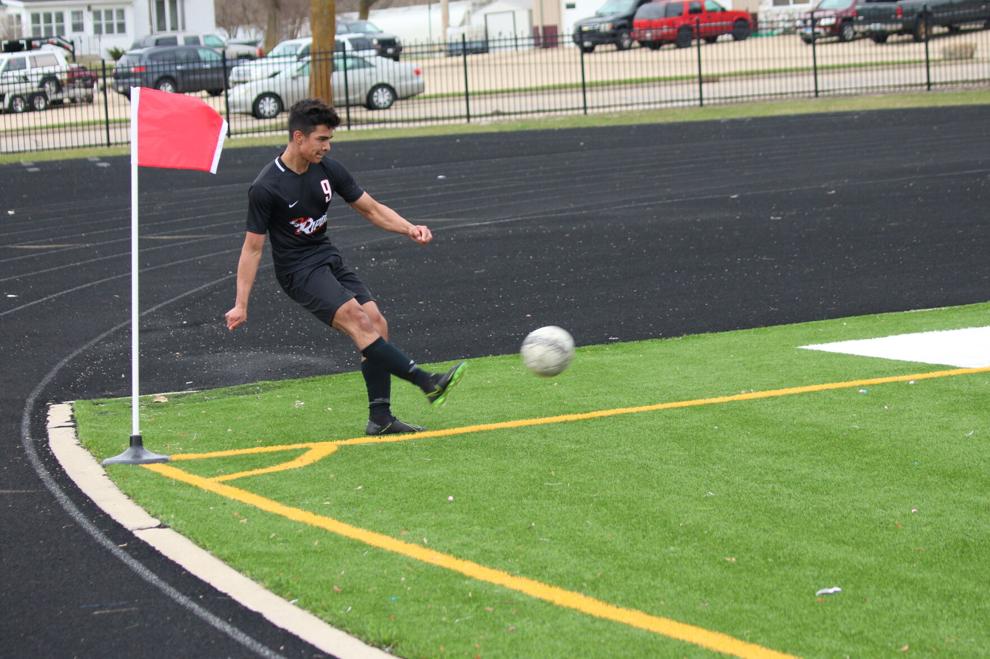 Last week Tuesday's season-opening game for the Ripon High School Tiger boys' soccer team, delayed around seven months due to COVID-19, was exactly that.
The Tigers displayed some first-game jitters and mistakes that typically accompany a first game in a 1-1 home draw against the Campbellsport Cougars at Ingalls Field.
"That we're still kind of fresh and new and trying to get into the swing of things here in spring versus fall," Ripon head coach Steve Nankervis said of the game against the Cougars feeling like a season opener. "It didn't really feel like soccer just because of the time of the year, but there were parts that definitely looked like soccer, which was good."
He described the contest as a "50/50 game," with Campbellsport's time of possession being relatively equal to the Tigers. Ripon did have four more shots on goal (6-2) and six more shots overall (12-6), but were unable to capitalize on the additional opportunities.
Ripon High School boys' soccer vs. Campbellsport — March 30, 2021
"it was just a matter of the boys getting kind of their legs underneath them and getting used to playing again as they, obviously, haven't played in over a year," Nankervis said.
After neither team scored in the first half, the Tigers got on the scoreboard two minutes into the second half when junior Isaac Whitrock headed in an Adam Banerjee corner kick.
According to Nankervis, Ripon kept the pressure on for the next 15 to 20 minutes following the goal as he didn't think the ball got out of Campbellsport's side of the field. It was during that time that he noted a bulk of the Tigers' shots for the game occurred.
The inability to score an insurance goal came back to haunt Ripon as a defensive mental breakdown in the 87th minute allowed the Cougars to tie the game and wind up with a tie.
We missed a clearance, some miscommunication and the ball squeaked through and they had a guy running on the backside that was able to finish it far post unassisted," Nankervis said.
He added that the Tigers had a free kick opportunity 40 seconds before Campbellsport scored its goal and that the Tigers made a quick kick instead of taking their time and getting their offense in a better position to play the ball down the field. Ripon ended up taking turning the ball over on the free kick and five or six pasess later the Cougars scored their lone goal.
"It's small mental things like that," the Ripon head coach said. "I think just getting the boys back out and playing and understanding the situation they're in — the time on the clock and just being smart with all their actions; being deliberate with everything — will help."
The Tigers also spent the next few days after the game doing a lot of finishing drills to just get their players used to shooting from different angles and spots around the goal mouth and box.
"I definitely think we're improving there; newer guys to certain positions are understanding a little bit better as to what it takes to kind of finish off and get some goals scored, so I don't think we'll have a problem going forward," Nankervis said. "I think it was just getting our legs underneath us and having some experience up top. Now they're getting more touches on the ball and, hopefully, they'll be able to find the back of the net and close out games."
Up next
The days off for practice will be a rarity for the Tigers as they will jump head first into their schedule tomorrow (Tuesday), when they begin a stretch where they will play three games in five days and 10 games in 24 days. At one point, they will play five games in eight days.
Ripon will host Clintonville Tuesday, Wayland Academy Wednesday and travel to Waupun Saturday. Tuesday's and Wednesday's games are slated to kick off at 4:30 p.m., while Saturday's is set for 10 a.m.
"We're going to be very busy, so it's very important to get a good practice in today because then we go Tuesday and Wednesday with games," Nankervis said. "Then we do have Thursday and Friday to clean some things up and then the game on Saturday. The boys are fully aware that it's going to be two to three games a week back to back like that coming up here these next five weeks."
He added his challenge is making sure he keeps them healthy and not over practicing them, but still getting enough in where his players will understand what their roles are going to be for each game.
The Ripon coach will get starting goalkeeper Liam Gilfillan back after he missed the first game recovering from an injury he suffered during the basketball season. Hunter Cook filled in at goalkeeper last week and did a "fantastic job" according to Nankervis, making one save in the Tigers' 1-1 draw with Campbellsport.
"It will give me a little more depth, a little more positioning options for people and Liam is a great athlete all around no matter what sport he goes in and it's nice to have him in the net for sure," Nankervis said.