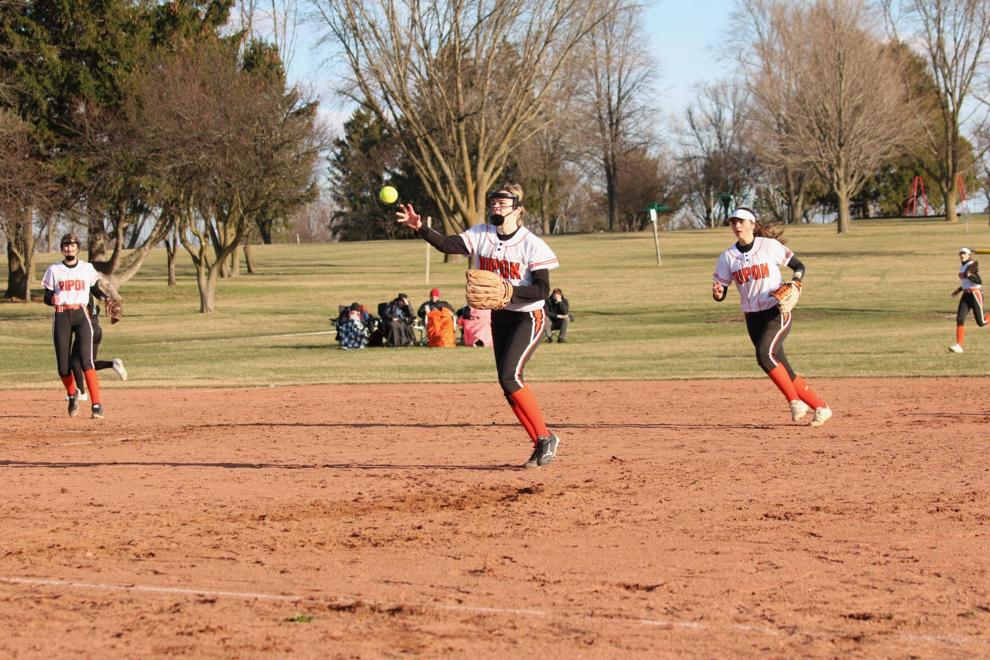 The Ripon High School Tiger softball team's comeback attempt fell short Tuesday as it fell to the Kettle Moraine Lutheran (KML) Chargers 5-4 at Murray Park.
Ripon fell behind 5-0 after two and half innings. It gave up two runs in the first inning on an error and two hits and allowed three more in the third on a three-run home run.
The Tigers chipped into that lead in the fourth inning, when Abby Radloff hit her second home run in as many games and Erika Mills stole home to make it a 5-2 game.
They then added two more runs in the fifth as Bryn Carlson reached on an error and scored on a wild pitch and Avary Makarewicz drove in Emily Kasuboski with a two-run double. Makarewicz was thrown out in a close play at third base.
Ripon High School softball vs. Winneconne vs. KML — April 19, 2022
Ripon's Emily Kasuboski then worked out of trouble in the sixth and seventh innings as she stranded runners at second and third base in both frames after they reached with no outs.
Trailing by just one run in the seventh inning, Laila Simonis reached second base on an error to begin the frame. She advanced to third on a Bryn Carlson sacrifice bunt, but then was caught too far off the base on an Emily Kasuboski grounder to third base and was tagged out. Alli Bumby then grounded out for the third and final out to end the game.
Ripon was out-hit 8-5 in the game, with Kasuboski, Kylee Busse, Erika Mills, Radloff and Makarewicz accounting for the hits for the Tigers.
Kasuboski picked up the loss in the circle. She allowed the five runs, four earned, on eight hits and two walks in seven innings of work. The senior struck out six Charger batters.
Up next
Ripon will try to get back on the winning track this afternoon (Thursday), when it travels to Kewaskum to face the Indians. It also is slated to host the Indians tomorrow.
Both games are set to begin at 4:45 p.m.