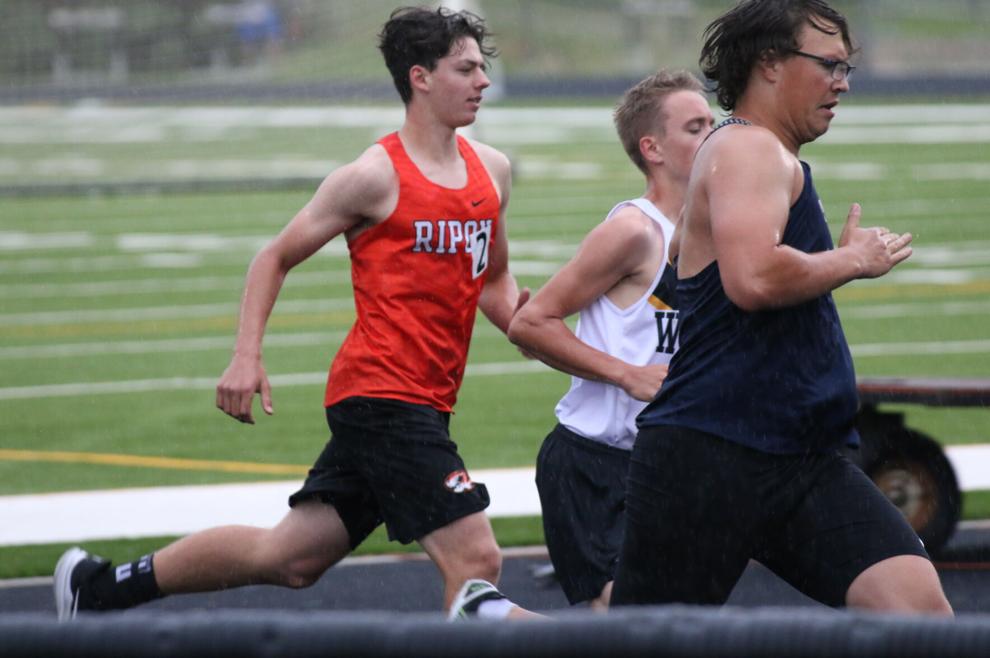 The 30th-annual Tom Callen Invitational was postponed last year due to the COVID-19 pandemic.
The Ripon High School track and field program was not about to let Mother Nature stop it this year.
Despite a storm that rolled in midway through the meet that caused some events to be delayed and tents to be destroyed, the annual competition went on as planned and featured 11 schools.
"It was kind of fun being able to run at home again," Ripon head coach Chris Gatzke said. "We did not have a lightning delay; we had some pretty crummy weather, but a lot of the meet was nice weather."
Ripon took advantage of when the weather was favorable to record 13 personal-record performances.
It also was able to finish in the top half of the field on the girls' side as it placed fifth out of 11 schools.
The Tiger boys' team, meanwhile, finished seventh out of 11 schools. Berlin won both the boys' and girls' competitions, while Hortonville and Kiel swapped second and third positions for the boys and girls.
Ripon High School hosts 30th-annual Tom Callen Track and Field Invitational — June 3, 2021
"The girls that we have are working together, they're connecting as a group," Gatzke said. "We're able to switch relays and people in relays at the last minute and still come out close to the top or on the top. Even with the limited people that we have, it's a fun group to be with and there are very few upperclassmen in that, so we're looking for good things to come by the performances and the standards that they're setting this year."
Leading the way for the Tiger girls was Celina Lopez. The junior won both the long and triple jumps. In the long jump Lopez leaped to a personal-record distance of 17 feet, 3 inches. That distance is 6 inches longer than her previous-best and is just 3 inches off of the school record.
"She's really excited about that possibility of being so close to getting a school record," Gatzke said. "... She's only a junior and she's looking forward to setting some goals and expectations for the upcoming year … by doing very well this year. And she's working hard in anything that we put her into to make sure that she's doing the best she can."
Lopez also was part of the winning 800-meter relay team along with Ally Bradley, Lucy Beuthin and Lillian Schram. Gatzke noted that Bradley, who was an alternate replacing Ireland Roskopf, stepped up and helped the Tigers run their best time of the year (1 minute, 52.82 seconds) in the event to win it.
Ripon also scored points in the girls' 1,600 relay as Lopez, Beuthin, Elena Williams and Hannah Yeomans placed fourth with a time of 4:37.75.
Another impressive performance on the girls' side was Jasmine Moldenhauer in the 3,200 run. The senior finished in third place with a personal-record time of 13:20.21 in just her fourth time running the event.
"She continues to improve every time she runs it," Gatzke said. "... Just a couple of meets ago, she was running shorter events and then we bumped her up to this … That does seem to be taking off and working well for us, so we'll continue to have her run that event, and, hopefully, she can earn a spot going forward into the state tournament."
He also was pleased with Beuthin's and Tirion Radtke's performances in the 800 run, considering the event took place during "probably the worst part of the storm that went through." In fact, Gatzke noted it was the only event that was not captured completely by the timing results because the camera was lifted up and unplugged from the network during the race due to heavy rain and wind gusts.
Beuthin finished sixth with a time of 2:54.74, while Radtke's time was not recorded due to problems with the timing equipment and the Ripon coaches trying to run the meet and keep tents from blowing away.
"They had two phenomenal performances in that weather," Gatzke said of Beuthin and Radtke said.
Other top-eight finishes for the Tiger girls at the the Tom Callen Invitational were recorded by Schram in the 200 dash (fifth, 29.52), Yeomans in the 200 dash (eighth, 30.54), Williams in the 400 dash (seventh, PR 1:08.85), Bradley in the 300 hurdles (seventh, 57.43) and Roskopf in the long jump (14-4.5).
On the boys' side, Hunter Cook won the only event for Ripon as he placed first in the 100 dash with a time of 11.72. He also helped the 400 relay team place third with a time of 47.54, but was injured trying to lean over the finish line to eke out a second-place performance. The Tigers fell short by .01 seconds.
Gatzke noted that Cook had X-rays taken on his shoulder and is going to miss the East Central Conference meet this week, but will hopefully be back to compete in regionals as he pursues a state title in pole vault.
Other members of the third-place 400 relay team were Henry Walheim, Bryson Kasuboski and Zane Meyer.
Landon Shidell also had a strong day for the Tigers as he placed third in high jump (5-4) and fourth in the long jump (17-8.25). Gatzke noted the long and high jumps were going on when the bad weather came through and Shidell "did a nice job not letting the adverse weather conditions affect his performances."
He also was pleased with the improvement Ripon is seeing in the throwing events. Noah Hanson placed eighth in the shot put with a throw of 40-0.5, while just missing scoring in the discus with a ninth-place toss of 108-4. Both were personal records for the sophomore, who had his freshman season wiped away.
"I know he's a sophomore, but he's a freshman track athlete seeing how we didn't have our season last year," Gatzke said. "It's nice to see that level of work and performance coming from our underclassmen."
Junior Jose Sanchez also recorded a personal record in the shot put with a 16th-place throw of 34-11.75.
Adding top-eight finishes for the Ripon boys at the Tom Callen Invitational were Walhheim in the 200 dash (fifth, PR 24.1), the 800 relay team of Kasuboski, Donovan Huber, Shidell and Meyer (seventh, 1:45.06), the 1,600 relay team of Huber, Tyler Bradley, Shidell and Kai Agamaite (seventh, 4:04.94) and Garrett Mitchell in the long jump (34-0).
Ripon finishes third at Waupun Quad
Before running in the Tom Callen Invitational, both the Tiger boys' and girls' teams finished third out of four schools at the Waupun Quadrangular last week Tuesday.
Kewaskum finished first for both the boys' and girls' competitions, while Kettle Moraine Lutheran came in second in both and host Waupun rounded out the four-team fields.
Winning events for Ripon at the quadrangular were Lillian Schram in the 100 dash (14.12), the girls' 800 relay team of Schram, Beuthin, Ireland Roskopf and Lopez (1:54.39), Lopez in both the long jump (16-6.5) and triple jump (34-10.5) and Henry Walheim in the pole vault (9-6).
Recording second- or third place performances for the Tigers were Walheim in the 200 dash (24.24), Remington Mueller in the 400 dash (third, 56.55), Radtke in the 800 run (third, 2:58.02), Payton Steggall in the 3,200 run (second, 13:37.14), Bradley in the 3,200 run (third, 13:46.74), Huber in the 300 hurdles (third, 45.38), the boys' 400 relay team of Bryson Kasuboski, Noah Olson, Walheim and Cook (third, 47.26), Hanson in the shot put (third, 38-9) and discus (second, 104-9), Brandyn Beahm in the pole vault (third, 8-6) and Shidell in the long jump (second, 18-10).
Ripon recorded 18 personal-record performances at the competition last week Tuesday.
Up next
The Tigers are looking to get some athletes back who were missing at the Tom Callen and to try to build off recent performances Tuesday, when they travel to Kewaskum for the East Central Conference meet.
"Middle of the pack for the conference is what we're shooting for," Gatzke said. "With Hunter being out, there's some key points being missed there, so we're looking to fill those places. And then, we're looking to build and try to get prepared for the regional."
Regionals will take place Monday, June 14 at Kewaskum. Competition is slated to begin at 3:30 p.m.