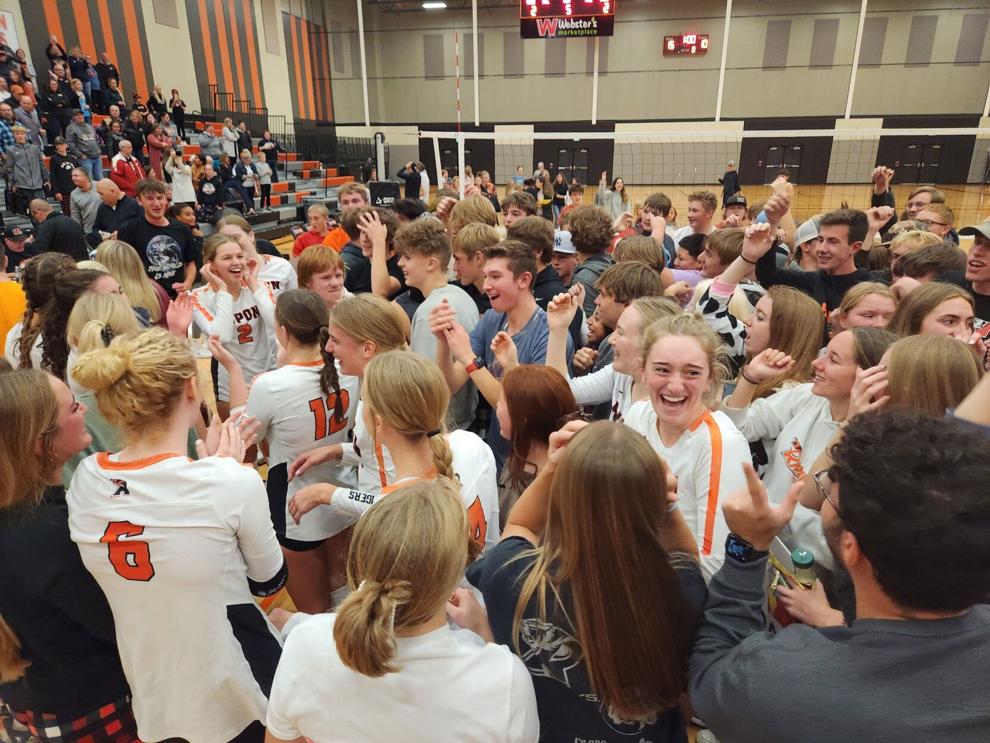 For the second-straight Thursday, the Ripon High School Tiger volleyball team went five games with the Winneconne Wolves.
This time, however, it was able to come out on top.
Ripon, which was the No. 4 seed in its 14-team half-sectional bracket came back after being down two games to one to defeat the No. 5-seeded Wolves 16-25, 25-20, 22-25, 25-20, 15-10 in a home regional semifinal matchup. With the win, it advances to face top-seeded Sauk Prairie Saturday on the road for the regional championship.
"It was a crazy, exciting match," Ripon head coach Tracy Landerman said. "You could tell we were evenly matched as far as player for player, the way we played and it ended up being a very tight match all the way down to the wire. But how exciting to be able to do that on our home court. [I'm] really proud of the girls. They played very well and very hard. We were put in positions again where we were down, but they never stopped fighting."
The Tigers (29-9 overall) fell behind right away as they had some unforced errors and struggled a little bit in their passing game en route to dropping the first game 16-25. They bounced back, however, in the second game as they led it for pretty much the entire way and won it 25-20 to even the best-of-five match at one game apiece.
Winneconne (27-8 overall) then jumped out to a 7-1 lead to begin game three, prompting Landerman to call a timeout. Ripon regrouped and managed to come back to tie the game at 16, before taking a 19-17 lead. But the Tigers were unable to finish it off as Winneconne closed the game on an 8-3 run to take a 2-1 lead in the match.
While Ripon was unable to win game three, Landerman noted the comeback gave her team the confidence entering the fourth game, which they were able to pull away late in to win 25-20 and force a game five.
"We got ourselves down and we should never let that happen," Landerman said. "But the fight back was the momentum we needed to carry us into next. … We fought back into it and that gives them that mindset of 'All right, we dug the hole. We dug out of it. We know where we stand with this team.' That carried through to the next games."
Ripon High School volleyball vs. Winneconne — Oct. 20, 2022