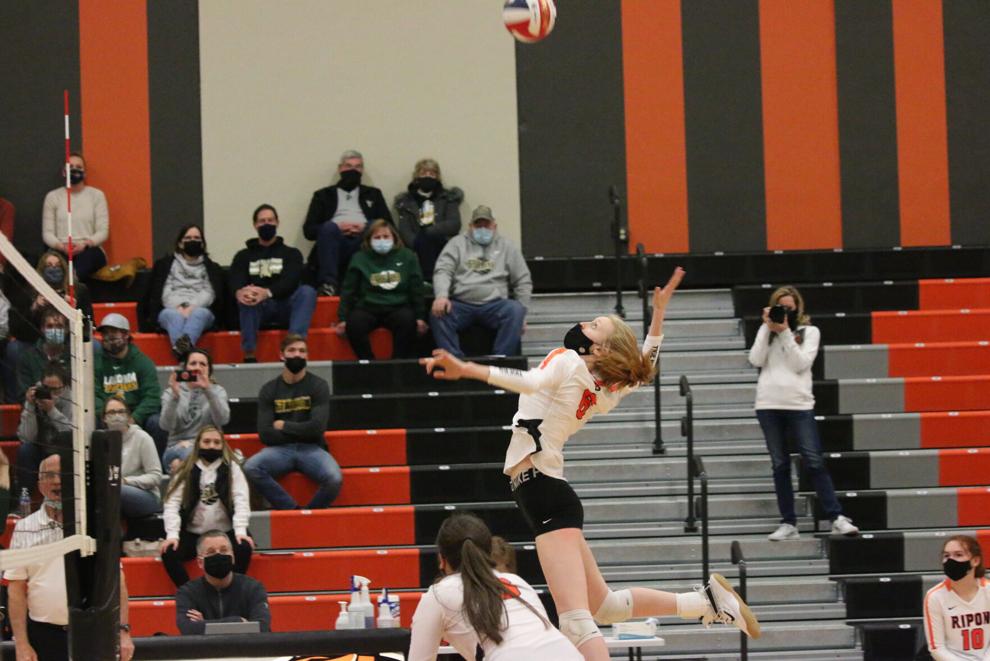 After scoring a come-from-behind victory in the second set Tuesday against Laconia, Ripon High School head volleyball coach Tracy Landerman hoped her team could run with the success.
That, however, was not in the cards as the Tigers lost the final two sets 12-25, 11-25 to fall in four sets at home. They lost the first set 18-25, before rallying to win the second 26-24.
In the second set, Ripon was down 23-20 before winning a long volley and scoring six of the final seven points. That stretch included consecutive block kills to tie the set at 23 and allowed it to take that lead at 24-23. After the Spartans scored the next point, it then tallied the final two.
Ripon High School volleyball vs. Laconia — March 2, 2021
"We put a complete offensive and defensive attack together for that string that we were in," Landerman said. "We were passing well. We had lots of good [play] at the net; we put a couple really nice blocks up. We made them rethink a little bit how they were going to approach the ball and we took advantage of that. Our goal was to try to keep them out of system so that we would be able to utilize our strengths, and in that short period of time, we did a really nice job of that."
She added that the Tigers made some major changes in the lineup of the first set and kept with that entering the third set, but they weren't unable to sustain what allowed them to be successful.
"Laconia was doing a much better job of utilizing [its offense]," Landerman said, noting that when she was watching warmups she noticed that the Spartans had some very good hitters.
Part of the reason why Laconia was able to take advantage offensively was due to the Tigers struggling with receiving serves, which led to them scrambling defensively. While the problem reared its ugly head a bit in the first set, Landerman noted it became increasingly problematic in the final two sets of the match.