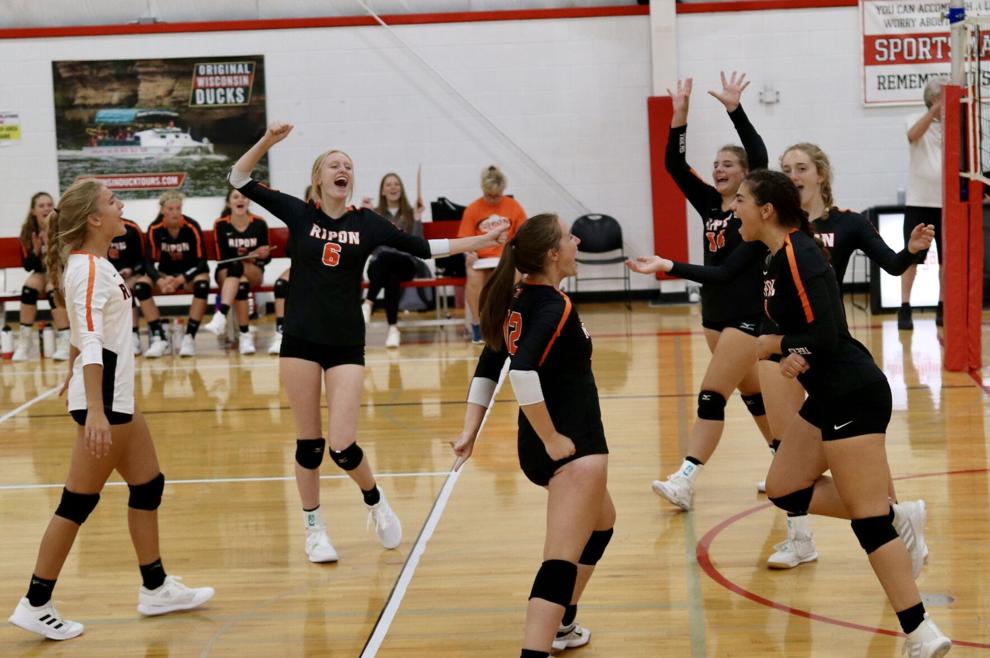 The Ripon High School volleyball team got the season off to a good start last weekend as it finished fifth out of 24 teams at the Friendship Tournament in Wisconsin Dells.
The Tigers went 5-2 at the competition, which took place last week Friday and Saturday at Just A Game Fieldhouse.
They defeated Wittenberg-Birnamwood (25-16, 34-32), Bruce (25-8, 25-7), Royal (25-16, 25-18) and Green Bay Preble (30-28, 25-21). Losses were suffered against Peshtigo (19-25, 29-25, 16-18) and eventual champion Holmen (7-25, 11-25).
"It was a great tournament for us," Ripon head coach Tracy Landerman said. "They were excited to finally match up because when you're working in practice and you're playing against your own teammates, you get to that point where it's like, 'We need to match up with somebody else now and see how that goes.' And they rose to the challenge."
One of the highlights from the tournament for the Tigers came in the first match. After defeating Wittenberg-Birnamwood 25-16 in the first set, they pulled off a 34-32 win in the second set, which Landerman noted was the highest-scoring game in her 37-year coaching career.
The previous high she recalled was either 33-31 or 32-30 against Kimberly in regional play.
"That set was super exciting," Landerman said, noting it drew quite the crowd by the end. "The intensity level was off the charts. It put them in a position where at any given time, a mistake was going to end it. They fought through that and the perseverance, resiliency, tenaciousness, they just had it all in that set. They invested everything they had and they weren't going to drop it."
Ripon High School volleyball at Friendship Tournament — Aug. 27-28, 2021 (Kay Bumby photos)
While Ripon won the set and the match, it may have had its consequences going into the second match of the day as the Tigers came out a little flat against Peshtigo, dropping the first set 19-25.
They bounced back to win the second set 29-25, but lost the third and decisive set 16-18.
"The intensity level was off the charts in that 34-32 win and it also was an exhausting game for them," Landerman said. "When they were done, they were exhausted because it was very tight, very intense. There was no time to let down. And so we went into the Peshtigo match, I think, a little flat. We came back and I'm glad we took it to three games and we took it 16-18 again, but I think if we look back at it, and I know the girls would agree, that we should have had that match."
Ripon was able to bounce back from the loss to defeat Bruce 25-8, 25-7 in its final match of the day.
The Tigers then opened up the second day against eventual champion Holmen and dropped the match, which began bright and early at 8 a.m., in lopsided fashion 7-25, 11-25.
"Holmen was a phenomenal team," Landerman said. "It's unfortunate we hit them that early, but it was a good test for them to see a team like that in this tournament. They were very good; I told the kids they were a well-oiled machine. They had a slew of seniors and they were just good, they were tough."
While Landerman noted in past years Ripon would sometimes come off a loss like that and struggle to get back in a rhythm, that wasn't the case last week Saturday. It won its next match against Royal 25-16, 25-18 and then won a couple of close sets against Green Bay Preble 30-28, 25-21 to finish.
One area where the Ripon head coach thought her team did well throughout the tournament was passing.
"We did a great job in serve receive and we did a great job defensively passing the ball, which allowed us to utilize our offense and it made a big difference in how we started," Landerman said. "So right from the get go, we were on top of our game and playing well."
She also noted the Tigers got stronger as the tournament progressed in terms of blocking, which was an area that she figured would be a strength of the team entering this season. Avary Makarewicz led Ripon with eight block kills, while Karysn Bauman added seven and Maleigha Kovalaske recorded four.
"We had … maybe not as many kills, but we had a ton of touches on the ball blocking," Landerman said.
While she was pleased with the team's blocking and passing, she noted serving was one area where Ripon needs to have more control as it had too many missed serves during the two-day tournament.
"That came back to haunt us quite a few times," Landerman said. "I think it kept us in games that we could have taken care of maybe a little quicker ... They serve well. It's just a matter of having a routine, following that routine, taking their time … We just had many where I think they had that split-second where they feel rushed, so we have to turn that around because our serves can work to our advantage in a lot of scenarios because we have good servers and they're hard serves to return."
Sheridan Zimmerman led the Tigers with 17 service aces in the tournament, while Makarewicz, Abby Radloff and Ari Brooks added nine, eight and seven service aces, respectively.
Zimmerman also led the team in assists with 117. Taking advantage of her assists to pace Ripon in block kills were Erika Mills (36), Kovalaske (31), Makarewicz (27) and Bauman (21).
Meanwhile, Brooks recorded a team-high 52 digs. Kovalaske added 26 digs, while Erika Mills and Alli Bumby chipped in with 23 and 21, respectively.
Up next
Ripon will look to build off of its strong start to the season Thursday, when it opens conference play on the road against the Winneconne Wolves. It also will travel Saturday to Marshfield for an invitational.
The match against Winneconne is slated to begin at 6:45 p.m., while the invitational is set for 9 a.m.