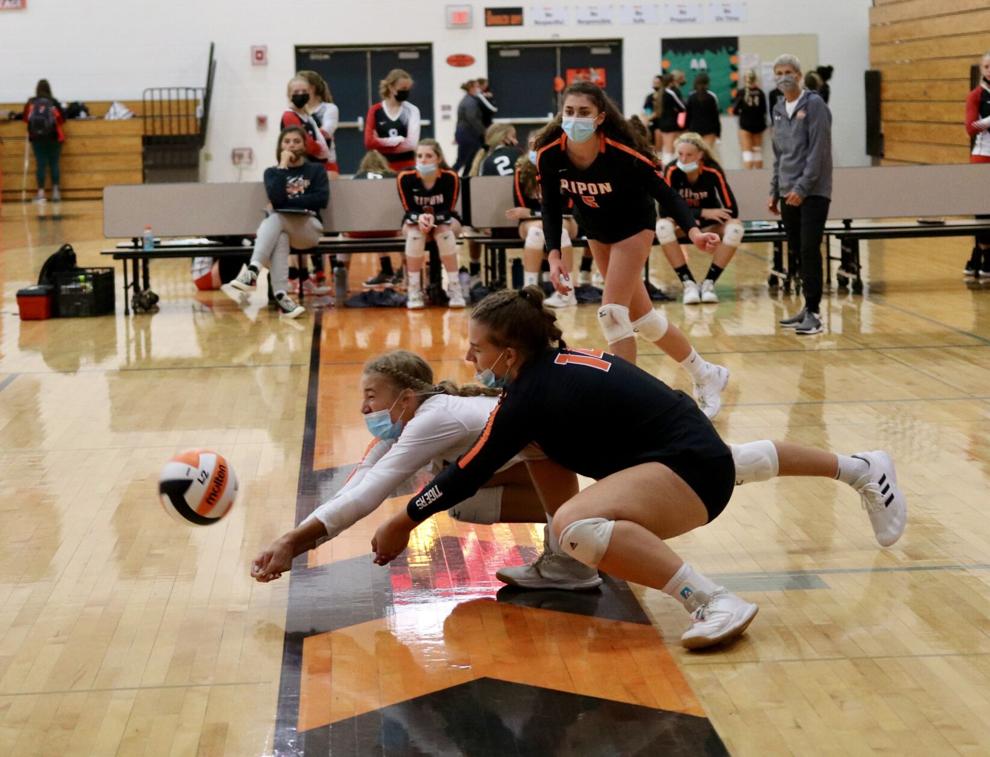 The Ripon High School volleyball team's pursuit of a third-straight invitational championship was thwarted last week Saturday by an untimely bye and a strong Evansville squad.
Ripon won its first three matches at the Portage Invitational before taking a break for lunch and then having a bye in the round robin competition. When it finally returned to the court, it started off slowly against Evansville in the match to determine the champion and lost 14-25, 14-25.
The Tigers picked up wins against Princeton/Green Lake (25-11, 25-14), Portage (26-24, 25-20) and Tri-County (25-16, 25-21).
"We had a great morning; we played well," Ripon head coach Tracy Landerman said. "... We were feeling pretty good going into the afternoon. And I think, without making excuses, it was a little tougher on us because we had that lunch break and then we had our bye round."
She noted that Ripon went into its match with Evansville after Evansville just finished a match and that Ripon had just a three-minute warmup that she believes impacted how it began.
Ripon High School volleyball at Portage Invitational — Oct. 2, 2021 (Kay Bumby photos)
"We got off to a slow start, and I don't know if that just carried us all the way through those first two sets with them, but it didn't help," Landerman said. "It was nice to have the break, my kids needed a break, they were hungry, they needed a little extra hydration … but I think it was unfortunate that we had the bye right after ... I wish maybe that would have been a little different, but it is what it is; you've got to be ready to play with whoever you're matched up with."
She credited Evansville for being a good team and taking advantage of the Tigers' being flat.
In addition to being sluggish against Evansville, Landerman noted Ripon struggled with the first pass and closing its blocks. Those challenges prevented the Tigers from utilizing their offense.
"We have kids that hit the ball well and [we need to] be able to take advantage of that by getting that first pass, and just working on not getting caught flat footed, moving through the ball," she said.
While Ripon struggled a bit in that final match, the Ripon head coach was pleased with the way her team came out on the day, which helped it win its first three matches of the competition.
"They were more aggressive," Landerman said. "They were definitely the 'take charge team.' Right away, they controlled the tempo of the games. When we are able to capitalize on the offensive attack that we have, it makes a big difference for us. And so in those first three matches we did that, and we jumped out right away and controlled the tempo and took them out of system."
Team leaders
Service aces: Erika Mills 4, Alli Bumby 3, Maleigha Kovalaske 3, Sheridan Zimmerman 3, Avary Makarewicz 2; kill points: Mills 29, Kovalaske 23, Makarewicz 12, Karsyn Bauman 5; block kills: Makarewicz 5, Bauman 4, Mills 3, Zimmerman 3, Bumby 2; digs: Ari Brooks 21, Bumby 18, Zimmerman 10, Kovalaske 9; assists: Zimmerman 59.
Ripon swept by KML
The Tigers ran into a tough opponent last week Thursday as they lost on their home floor to the Kettle Moraine Lutheran (KML) Chargers 16-25, 11-25, 22-25.
The Chargers are ranked No. 10 in Division 2 in the Wisconsin Volleyball Coaches Association's rankings.
"KML is a good team; they've always been a good program," Landerman said. "We were on our home court, so I was hoping that we might see a little different outcome than what we did."