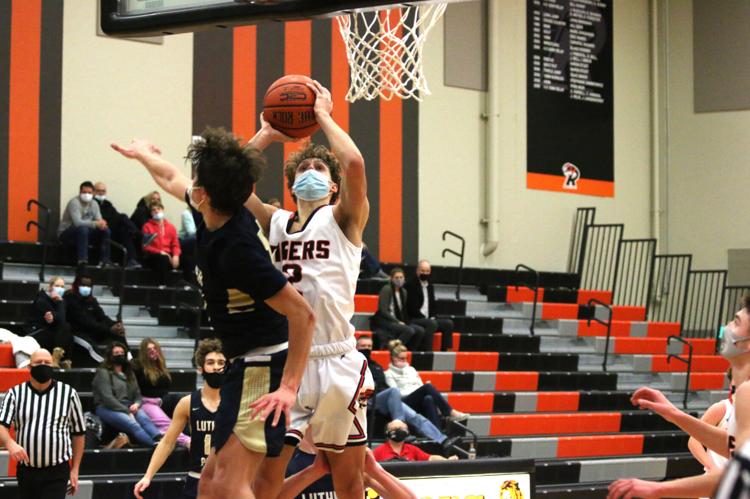 On a couple of occasions in the second half Monday night, the Ripon High School Tiger boys' basketball team let the Watertown Luther Prep (WLP) Phoenix make it a one-possession game.
Each time, it had an answer.
Ripon showed resilience, fighting off several runs with runs of its own to defeat the Phoenix 75-63 at home in a non-conference game. With the win, Ripon improves to 8-2 overall, while WLP falls to 3-5.
"That's something that we've not always had," Ripon head coach Steve Brooks said of the Tigers' ability to withstand runs the last few years. "And I thought that in the last few games ... we answered and we're always answering. And it's not really always the same person, the same set, but we're finding ways now to understand weaknesses and play to our strengths and just calm ourselves down a bit to answer those situations. When they hit a couple of baskets and we were sluggish or we turned the ball over, then we got a decent look and we put the ball in the basket to kind of break that momentum."
Ripon High School boys' basketball vs. WLP — Jan. 11, 2021
One of the instances in which WLP got within a possession only to see the Tigers respond was with six minutes left in the game. After seeing a 57-51 lead shrink to 60-58, they went on a 15-5 run to close out the game. Riley Brooks was a big part of that as he scored 11 of his game-high 32 points in that stretch.
"He's kind of taken over that responsibility and he's OK stepping up and wanting the ball in those situations; kind of directing traffic and getting guys involved and just understanding the game-management piece," Steve Brooks said. "That's starting to catch on with some more people, but I was happy definitely with how he finished the game for us and helped maintain that lead and build the cushion at the end."
The Ripon head coach added that while Riley Brooks took some "questionable shots" at times, the team is starting to realize that it can put the sophomore guard in spots to capitalize if he's open and that if he's covered up or doubled team, he can find the open teammate if they're moving and that he did both.
That was evident early in the game as Riley Brooks helped jumpstart a struggling offense. With Ripon trailing 12-6 with a little more than 10 minutes left in the first half, he found Grant Schneider near the basket which led to two made free throws. Riley Brooks then made a 3-pointer and assisted on one of two back-to-back 3-pointers by Schneider. He then capped off what was a 15-0 run with a pair of baskets.
The long-range shot played a major role in Ripon's ability to turn the game around in the first half and take a 35-29 lead into halftime as it converted seven 3-pointers — four of which came from Schneider. The senior, who was coming off a career-high 33 points last week Friday, finished the game with 22 points.
"When Grant stepped up and hit some shots that kind of changed their defensive focus and then they started the second half by doubling him right away, which allowed other guys to open up," Steve Brooks said. "... I thought that the other kids that were out there when Riley and Grant had the ball, were moving without the ball, we were finding people going to the basket, which we've talked about a lot. So I thought we had a good energy once we got going a bit ... and probably played a decent first half offensively."
In the second half, WLP scored seven of the first nine points to cut the deficit to 38-36, before Spencer Schultz delivered a big three-point play to stem the momentum. Ripon eventually built a 53-43 advantage, only to see the Phoenix close to within two points at 60-58 with six minutes remaining in the contest.
While Ripon was able to come away with a victory, Steve Brooks noted there's room for improvement.
"Our perimeter defense was bad again tonight; [there's] no way around it and the kids know that," he said. "Getting beat from the 3-point line off two dribbles is unacceptable against any opponent … And in order for us to continue to win games and then do anything in the postseason, we have to be better defensively."
The Ripon coach added his team's game management also could be better as there was a stretch with about two minutes left where it was up by 10 and shot five contested layups and got three of them blocked.
"There's no need," Steve Brooks said. "They have to come foul us. We make free throws, we win by 20. So just kind of having a little bit of patience, knowing when to take your foot off the gas [is important]."