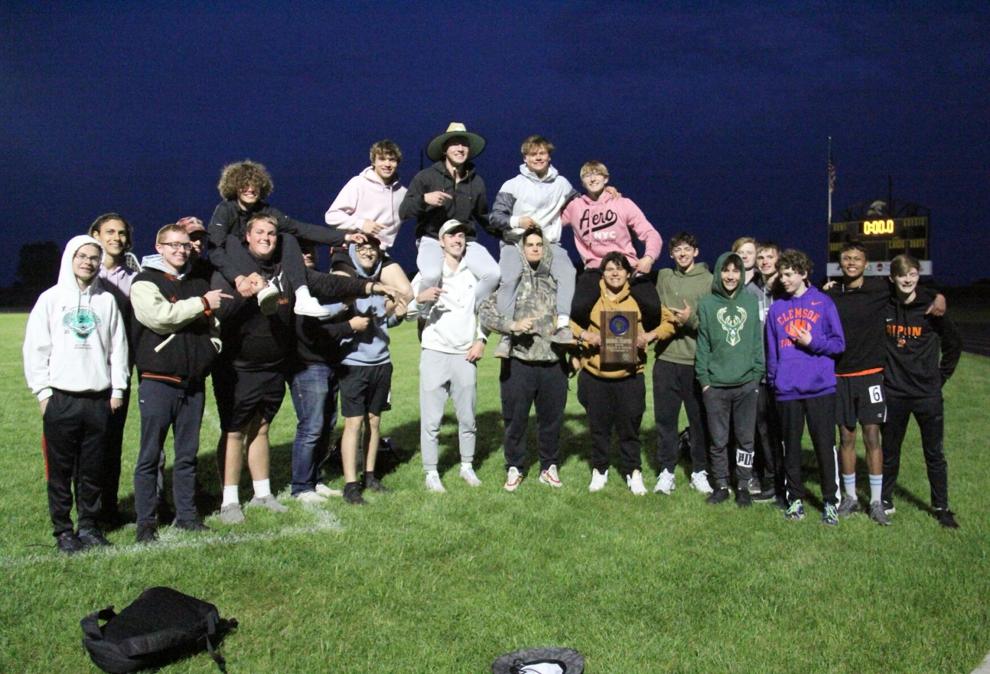 At the beginning of Monday's regional meet, the Ripon Tiger track and field team gathered and the coaching staff told everybody that every place, every finish mattered and every point was going to make a difference.
The pep talk paid off.
The Tiger boys edged Campbellsport 144-143 to claim the regional championship. Winnebago Lutheran Academy didn't finish far behind with 136 points, while Kewaskum (81), Waupun (80), Lomira (54), Laconia (30) and North Fond du Lac/Horace Mann (18) rounded out the eight-school field. The regional competition took place in Waupun.
"Everybody pushed forward. We got places from people that we needed the one extra point, one extra place," Chris Gatzke said. "It was truly a team effort, not just from sectional qualifiers, but from everybody that was able to score."
In addition to winning the title on the boys' side, Ripon also qualified 25 entries to Thursday's Waupun Division 2 Sectional with top-four finishes. The 25 entries mark the most it has advanced since sending 26 to sectionals in 2013.
While the Tiger girls' team did not finish as high as the boys, placing sixth out of eight schools with 76 points, Chris Gatzke noted it helped get the regional meet off to a good start with a second-place finish in the 3,200-meter relay.
Ripon High School track at Waupun Regional — May 23, 2022 (Tracy Landerman photos)
The relay, which Ripon put together because it saw a chance to advance, consisted of Leah Page, Adalin Nodolf, Libby Gatzke and Lucy Beuthin. Jake Cox served as an alternate for the relay, which ran a time of 10 minutes, 56 seconds.
"Just put a whole bunch of excitement in the air because you qualified a relay team the very first event, and so everybody was willing to just keep pushing and trying on both the boys' and the girls' side, so that was awesome," Chris Gatzke said of the impact he believes the second-place finish the girls' 3,200 relay had on the meet.
He added that the excitement could be felt and that the Tigers just kept pulling out finishes when they needed them.
"We were kind of disappointed with a fourth-place finish at conference, but again, our conference is very tough," Chris Gatzke said after the meet Monday. "There was good competition here tonight, too, but it was competition that was more in line with the same level we are and we just fought back and forth, so that was awesome to see."
One of the events that stood out to Gatzke on the boys' side was the 200 dash. Ripon had three athletes score (top-eight) in the race and accumulated 20 points toward its team score. Gannon Stellmacher won the 200 dash with a time of 23.37, while Landon Shidell placed third (24.35) and Roman Mueller came across the line fifth (24.82).
Ripon also racked up 18 points in both the shot put and discus. In the shot put, Cameron Hahn and Noah Hanson finished first and second, respectively, with heaves of 47 feet, 0.75 inches and 46-3.75. They also placed second and third, respectively, in the discus with throws of 130-1 and 126-07, while Jose Sanchez finished eighth (113-06).
Other events in which the Tiger boys had multiple athletes score points were the 100 dash with Stellmacher (second, 11.73) and Henry Walheim (fourth, 11.85), 300 hurdles with Donovan Huber (sixth, 45.20) and Jack Schoelzel (46.61), 400 dash with Kai Agamaite (third, 54.09) and Tyler Bradley (fourth, 55.84), long jump with Agamaite (fourth, 18-9) and Landon Shidell (fifth, 18-4.5), pole vault with Brandyn Beahm (third, 11-6) and Walheim (fifth, 11-0), and triple jump with Agamaite (third, 39-5.75) and Shidell (fourth, 39-2.75).
"We were able to win the meet based on depth in the events and kids not giving up and pushing everything they had in every event we ran," Chris Gatzke said, noting the Tigers didn't even field an entry on the boys' side in four events. "I can't say enough about how the excitement was there and everybody just kept going for it. It was wonderful."
Also scoring points to help the Tigers come away with the regional title were Jason Vega in the 800 run (sixth, 2:16.63), Aidan Ruedinger in the 3,200 run (sixth, 11:26.38), the 400 relay of Stellmacher, Walheim, Shidell, Huber, Hahn and Zane Meyer (first, 45.93), 800 relay of Mueller, Declan Dudzinski, Jason Vega, Joel Nieves, Jonathan Vega and Meyer (third, 1:41.98) and the 1,600 relay of Walheim, Agamaite, Huber, Bradley, Mueller and Schoelzel (first, 3:39.20).
Ripon was led on the girls' side by Celina Lopez. The senior advanced all four of her events to sectionals as she won the 100 dash (13.22), long jump (17-3.25) and triple jump (35-1.75) and placed fourth in the 200 dash (27.07).
Also winning an event for the Tiger girls and breaking a school record in the process was Anya Duffy in the pole vault. The junior vaulted 9-1, which was 1 inch more than the previous school mark that she shared with Lydia Schwertfeger.
In addition to being part of the sectional-qualifying 3,200 relay, Beuthin and Libby Gatzke also advanced in individual events. Beuthin placed fourth in the 400 dash (1:06.28), while Libby Gatzke finished fourth in the 800 run (2:38.77).
Scoring points for Ripon, but missing out on moving on to sectionals were Duffy in the 100 hurdles (eighth, 19.98) and 300 hurdles (seventh, 55.62), Nodolf in the 400 dash (seventh, 1:08.49), Hayden Durovy-Meeker in the discus (eighth, 79-11), 400 relay of Isabella Osheim, Ava Osheim, Ralissa Rudolf, Durovy-Meeker, Niyah Garcia, Kasie Badtke (sixth, 1:01.17) and the 1,600 relay of Page, Nodolf, Beuthin, Libby Gatzke, Cox and Duffy (fifth, 4:48.15).