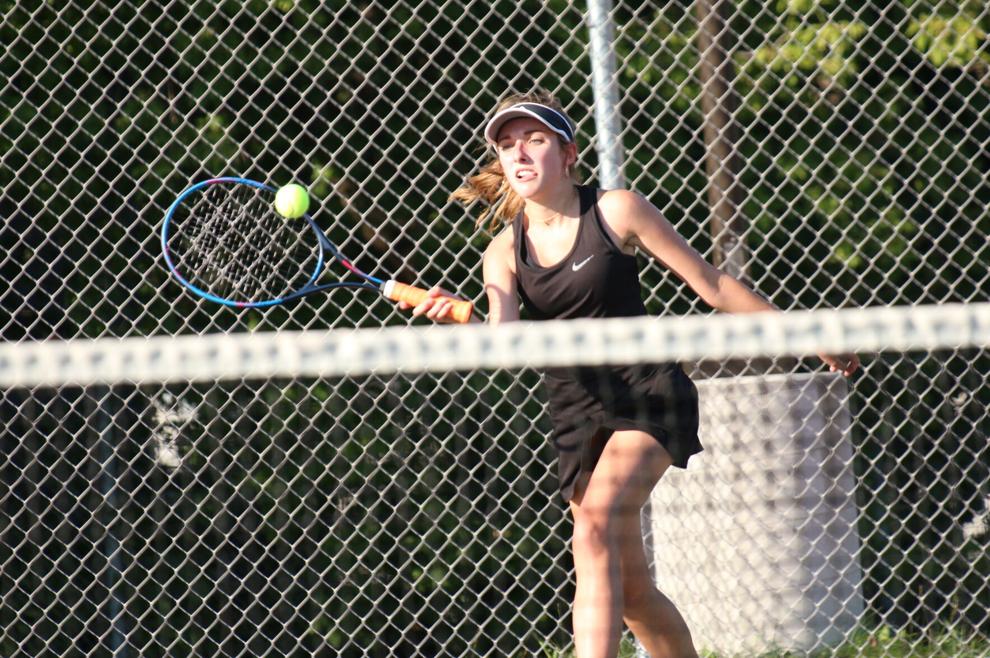 After coming close to winning her first career varsity singles match in a couple of her previous matches, Katie Skoog managed to break through last week Thursday afternoon.
The Ripon High School senior defeated the Warriors' Mackenzie Grams 6-2, 7-5 at No. 4 singles to notch the Tigers girls' tennis team's fourth win of the dual and secure the team victory on Senior Day.
Ripon's other three seniors — Emma Mott, Lillian Schram and Celina Lopez — also picked up victories for the Tigers, which completed their home portion of the schedule with the dual against Waupun.
"The team wanted to win this one for the seniors," Ripon head coach Brent Sanderfoot said. "And to have all four seniors win tonight is something awesome. I couldn't have been prouder of this team."
Ripon High School girls' tennis vs. Waupun — Sept. 16, 2021
Mott and Schram teamed up to win their No. 1 doubles match 6-1, 6-3, while Lopez joined forces with junior Quinn Diedrich to win at No. 2 doubles 6-1, 6-1. Sanderfoot noted that Mott and Schram played some of their best tennis of the season, while Lopez and Diedrich cruised to the victory.
Also earning a win for Ripon against the Warriors to help it sweep doubles play was the No. 3 tandem of Mackenzie Whitrock and Bella Engstrom. The sophomores won their match 6-2, 6-4.
Ava Nankervis joined Skoog in picking up a singles win as the junior won her No. 3 singles match 6-4, 6-2. According to Sanderfoot, Nankervis is really hitting her stride lately and continues to be a force.
Ripon also put up a fight at the top-two singles position. Junior Guimauve Engelschenschilt won her first set at the No. 1 spot 6-2, before dropping the next 1-6, 1-6. Meanwhile, fellow junior Grace Retzlaff dropped a hard-fought match for the Tigers at the No. 2 position 6-7 (4), 4-6.
Up next
The Tigers will try to build on the win Thursday, when they travel to Roncalli to face the Jets.
They also will hit the road Tuesday for a dual against Plymouth, before entering subsectionals competition in October.
Duals will begin at 4 p.m.