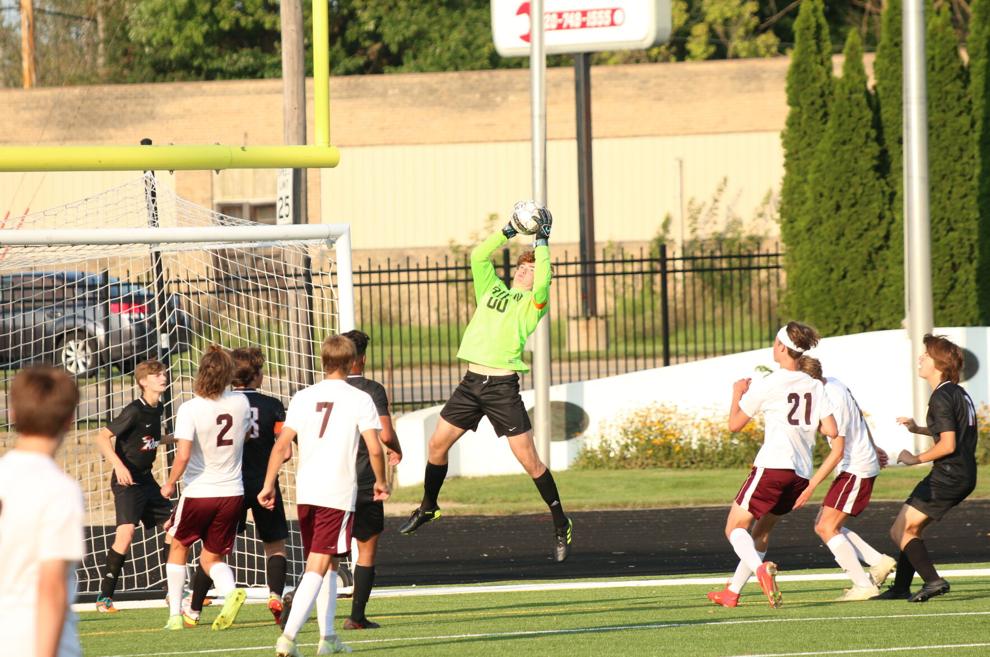 A shorthanded Ripon High School Tiger boys' soccer team dropped its third-straight game last week Friday afternoon as it fell to the Clintonville Truckers 3-0 on the road in a non-conference contest.
The Tigers, who were down a handful of players due to illnesses and injuries, gave up a goal in the seventh minute and two more in the 4th and 77th minutes of the second half en route to the loss.
"I was basically without five starters on Friday against Clintonville, which was apparent in how the game went," Ripon head coach Steve Nankervis said. "Defensively, we just weren't deep enough and ... I had four subs with not a whole lot experience ... We were just definitely shorthanded and outmanned."
Ripon also didn't have a call go its way early in the game, which led to the Truckers' first goal. According to Nankervis, who noted he never likes to blame officials, "it was clear to everyone" that one of Ripon's players got pushed in the back and knocked off the ball, but the referee didn't call it. He said that goalkeeper Liam Gilfillan stood up because it was "an obvious foul" and that gave the advantage to the Truckers.
"It wasn't a defensive letdown by no means," Nankervis said of the goal. "Our defender did exactly what he's supposed to do, got fouled, but we didn't get the foul; the ref let play continue on."
He added the second goal for Clintonville, which came in the 45th minute, was "a good goal" that came off a little bit of a missed clearance.
"We tried to clear it," Nankervis said. "They gave a nice little give-and-go at the top of the box and finished."
The third goal in the 77th minute did come as a result of a defense breakdown as the Ripon head coach noted the Tiger overstepped on the Truckers fastest guy and he was able to get behind the defense for a one-on-one with Gilfillan, who slipped a little bit coming off of his line to make it an easier goal.
Gilfillan did make 10 saves as Clintonville finished with 13 shots on goal compared to six for Ripon.
While Ripon was out-shot 13-6 in the game, Nankervis doesn't have a doubt in his mind that had the Tigers been completely healthy with everyone there that the game would have looked a lot different.
"We matched them on corner kicks [and] possession was about 50/50 … even though they were full strength and we weren't," the Ripon coach said.
Ripon High School boys' soccer vs. Winneconne — Sept. 9, 2021
Ripon falls to Winneconne
The Tigers also were without three starters in a 4-2 home loss to Winneconne last week Thursday.
Ripon got on the board first with a goal in the eighth minute from Kaiden Pollesch, but allowed the Wolves to score in the 23rd, 39th and 44th minutes to fall behind 3-1 in the early stages of the second half.
The Tigers cut the deficit in half in the 63rd minute when Landon Shidell headed in a free kick from Isaac Whitrock, and nearly tied it in the 64th minute, but the ball hit the goal post just as Drew Kastenschmidt was about to finish it in a wide-open goal. Winneconne answered a minute later with another goal to make it 4-2.
"I think momentum shifts a little bit there because everyone thought that goal was in and it hits the post and they come back a minute or two later and score that fourth goal," Nankervis said of Kastenschmidt's potential game-tying goal. "That definitely would have helped momentum a little bit, or at least shifted it somewhat."
Outside of that unlucky bounce, Nankervis pointed to passing as being a reason the Tigers lost the game as they completed just 49% of its passing and didn't string a lot of three or more pass strings together.
Ripon also had some defensive breakdowns which led to goals for the Wolves.
"I had a new guy starting out there on the back, and we were just overstepping and we let No. 10 (Hunter Ward) get behind us a couple times and he ate us up," Nankervis said, noting he was thankful this was not a conference game, but rather a game against a conference opponent. "We know what to do when we play them next week in conference. And, hopefully, we'll be at full strength, too, because I think that game looks different as well once I get my starting center defender back and put people back in their correct positions."
He added Winneconne is a good team that was young a couple years ago when the Tigers won pretty comfortably and that he knew the Wolves were going to be a decent team this year.
Ripon finished with 13 shots in the game, but only four of them were on goal. The Wolves, meanwhile, took a total of 15 shots, 10 of which were on frame. Gilfillan recorded six saves, which included a penalty kick.
Nankervis noted possession was 50/50, with Winneconne taking three more corner kicks than Ripon.
Early goals costs Tigers against Mayville
Ripon allowed just three shots during a non-conference home game against Mayville last week Tuesday.
Unfortunately, two of them found the back of the net.
That was the difference as the Tigers fell to the Cardinals 2-1.
All three goals in the game came in the opening nine minutes as Mayville scored twice within 32 seconds in the sixth minute and Adam Banerjee found the back of the net in the ninth minute on an assist from Whitrock.
"We dominated them offensively possession-wise, it's just they got those two quick scores in the sixth minute and for some reason, we just could not find the back of the net," Nankervis said, noting the majority of the Tigers 11 shots on goal were kicked right at the Mayville goalkeeper.
He added the loss was disappointing as Mayville is a team Ripon has defeated in the past, same with Winneconne and Clintonville.
"It was just really a rough week having guys missing and not having a lot of depth on the bench and people able to fill positions correctly, but it's part of the game," Nankervis said. "Every team goes through it, every coach goes through it, the players all have to go through it, so it's just what we do this coming week."
Up next
Ripon will try to turn it around this week and get people back from injuries and illnesses, when it opens conference play Tuesday at home against Plymouth and Thursday on the road against Kettle Moraine Lutheran. It then will get a rematch with Winneconne Tuesday, Sept. 21 on the road.
Games are slated to kick off at 4:30 p.m.