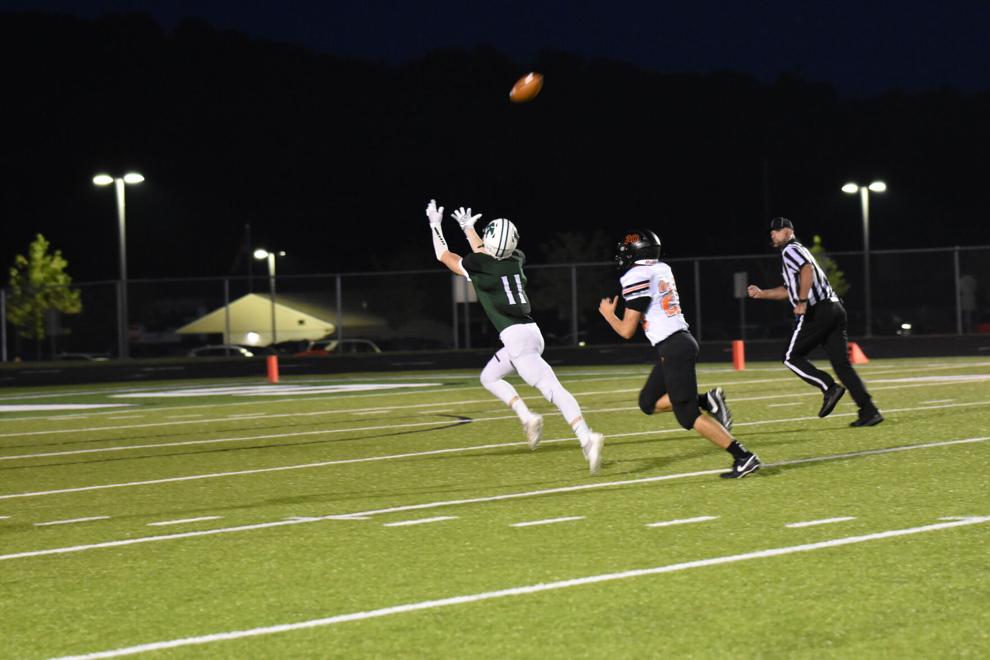 It was a game of inches for the Ripon High School Tiger football team early in its road conference match-up against the Kewaskum Indians last week Friday.
Kewaskum threw a long pass on the second play from scrimmage that its receiver was able to stretch out and make the catch to lead to a touchdown, while Ripon slightly overthrew a wide-open receiver on a flea flicker for a potential touchdown on its first play from scrimmage.
The Indians (3-2 conference, 5-2 overall) added another touchdown a couple minutes later and never relinquished the lead en route to a 45-13 home victory over the Tigers (1-4, 1-6).
"It very easily could have gone the other way where theirs was a little overthrown and ours was a touchdown, but unfortunately for us it didn't go that way and we got behind early," Ripon head coach Mark Bradley said.
After allowing two touchdowns in the first five minutes, Ripon settled down a little bit as it didn't allow another score the rest of the quarter. It also was able to get on the board itself on the first play of the second quarter as Ethan Struble connected with Gannon Stellmacher for a 27-yard touchdown pass to cut Kewaskum's lead to 12-7 after Cameron Hahn's extra point.
Ripon High School football at Kewaskum — Oct. 1, 2021 (Miya Grunert photos)
"We noticed that when we went Double Twins on offense that they only had one guy that would come out there, so we did a quick double screen to Gannon and Caleb Hopp made a good block on the corner and Gannon was able to get to the outside and then run it in for the 27- yard run," Bradley said. "That was a good play for us. We read the coverage and were successful with it."
Kewaskum, however, answered with 17 unanswered points in the final six minutes of the first half, which included a 5-yard touchdown run and 19-yard touchdown pass, to take a 29-7 lead into halftime.
The Indians then came out of the intermission and scored two touchdowns on 5-yard runs in the third quarter to stretch their lead to 43-15 after three quarters. Ripon cut into the deficit slightly in the fourth quarter as Gannon Stellmacher scored on a 4-yard touchdown run to cap off a long drive.
"That was important for the kids to keep battling and keep fighting," Bradley said of the late score.
Ripon finished with 184 yards of total offense, with 94 of them coming through the air and 90 on the ground. Bradley attributed some of the struggles on the offensive end to Kewaskum being big and physical, which made it tough for the Tigers to get started offensively in the contest.
The 94 yards passing was a bright spot after Ripon did not complete a pass in the last two games (it didn't attempt one in a win over Waupun last week). Struble completed 4 of 13 passes for 75 yards and a touchdown, while Stellmacher connected with Kai Agamaite for 19 yards on a halfback pass.
Stellmacher also caught three passes for 34 yards, while Hopp hauled in a 41-yard reception.
"We're trying different things to get the ball down the field and give our guys a chance to make plays," Bradley said of the Tigers' offense.
Defensively, the Ripon head coach noted the Tigers gave up a couple of big plays and had some mental mistakes that allowed Kewaskum to get control of the game late in the first half.
The Indians finished with 397 yards of total offense, 213 of which came on the ground. They also completed 8 of 12 passes for 184 yards, two touchdowns and an interception, which Agamaite recorded.
Up next
The road won't get any easier for Ripon Friday as it will travel to Plymouth to face the conference-leading Panthers, who are ranked No. 6 in the WisSports.com Division 3 Coaches Poll and have a 7-0 record.
"We're just going to do our best," Bradley said. "We're going to try to do some different things on offense and defense and try to keep ourselves in the game. It's a game we have to win if we want any chance of the playoffs. We have to have an error-free game and take advantage of some situations, get some turnovers. We have to be able to move the ball on offense and eliminate any mistakes for us to have a chance against them. We've shown in the past that when we play mistake-free ball or we do our roles or our keys that we can play with people."
Kick off is set for 7 p.m.