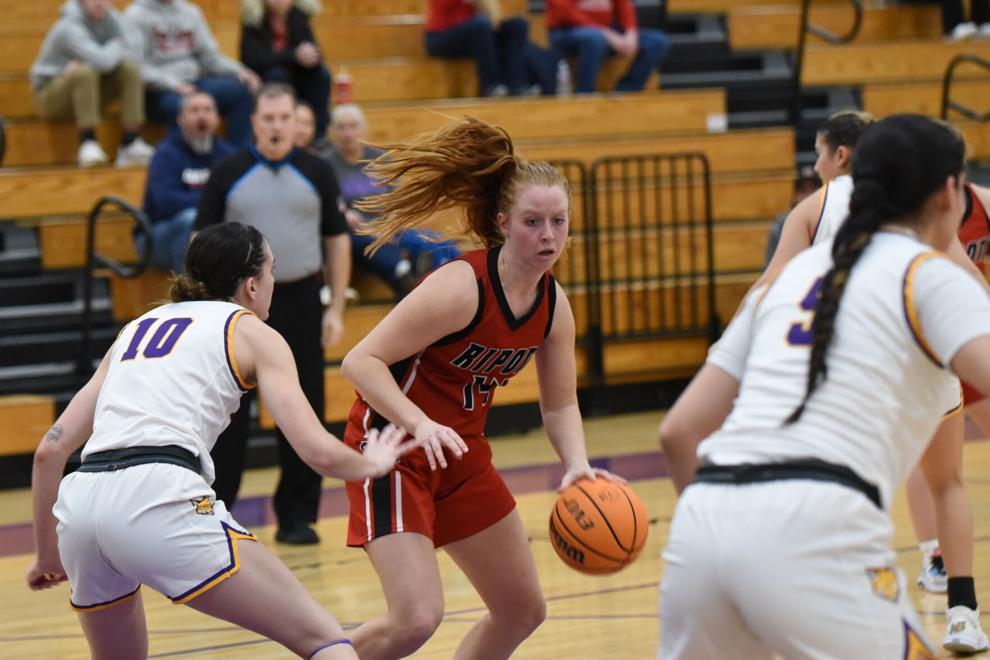 A combination of poor shooting and defense cost the Ripon College Red Hawk women's basketball team last week Saturday as it suffered its first Midwest Conference loss of the season, losing to the Knox College Prairie Fire 67-54 on the road.
Ripon shot a season-worst 34.5% (19 of 55) from the field, while allowing its second-highest field goal percentage of the season as the Prairie Fire converted 54% (27 of 50) of its chances. Carroll shot 58% (28 of 48) two weeks earlier.
"We couldn't throw it into the ocean on Saturday," Ripon head coach Lauren Busalacchi said. "We started off well the first five minutes of the game and then seemed to just get rattled by their athleticism and our misses. Defensively, we didn't execute our help defense well after those first 5 minutes and we weren't sharp [in] decision making either. I wasn't sharp rotation-wise and didn't make the necessary adjustments on either end to help us."
The game got off to a good start for the Red Hawks (2-1 conference, 4-5 overall) as they scored the first eight points and led by as many as 13 points at 18-5 with two minutes left in the first quarter. That was thanks in part to 47% shooting (7 of 15) from the field in the opening quarter, as well as getting to the free-throw line eight times and knocking down five of the attempts.
"[I] thought our defense and offense looked sharp those first 5 minutes," Busalacchi said of what went well. "We were aggressive on offense and aggressive on defense, which created contested shots and turnovers for Knox."
Knox (3-0 conference, 6-2 overall) closed the gap a bit to end the quarter as it got within 21-14 and then out-scored the Red Hawks 18-12 in the second quarter to enter the half down just 33-32. Knox eventually broke the game open in the third quarter with a 15-0 run that turned a 37-34 deficit into a 49-37 advantage with around two minutes left in the third.
The run was part of a larger 24-5 stretch that gave the Prairie Fire a 58-42 lead with a little more than seven minutes remaining in the fourth quarter. Ripon never got closer than 12 points after that and trailed by as many as 17 points.
"Our help defense needed to be sharper, as well as our communication on the defensive end," Busalacchi said. "We gave up some second chances rebounding-wise and just got lost on screens and out of position which gave Knox a lot of uncontested looks. Catessa Duran also couldn't miss with turnaround jumpers and a made 3-[pointer]. I think missing a lot of shots in combination with her getting comfortable really led to that run. We probably should have double teamed her at the free-throw line to help minimize the damage and I didn't make that adjustment.
Skyylar Brescia led Ripon in scoring with 17 points of 5-of-12 shooting from the field. She also made 7 of 8 free throws, while pulling down seven rebounds and dishing out four assists. Alison Leslie chipped in with 12 points on 5-of-13 shooting from the field, which included 2 of 7 behind the 3-point line. She also recorded five rebounds and two assists.
Bonnie Jensen joined Brescia and Leslie with double-digits in scoring with 10 and grabbed a team-high eight rebounds.
Ripon was out-scored in the paint 34-20. It also was edged in points off turnovers 19-16 and fast-break points 10-6.
Ripon downs Beloit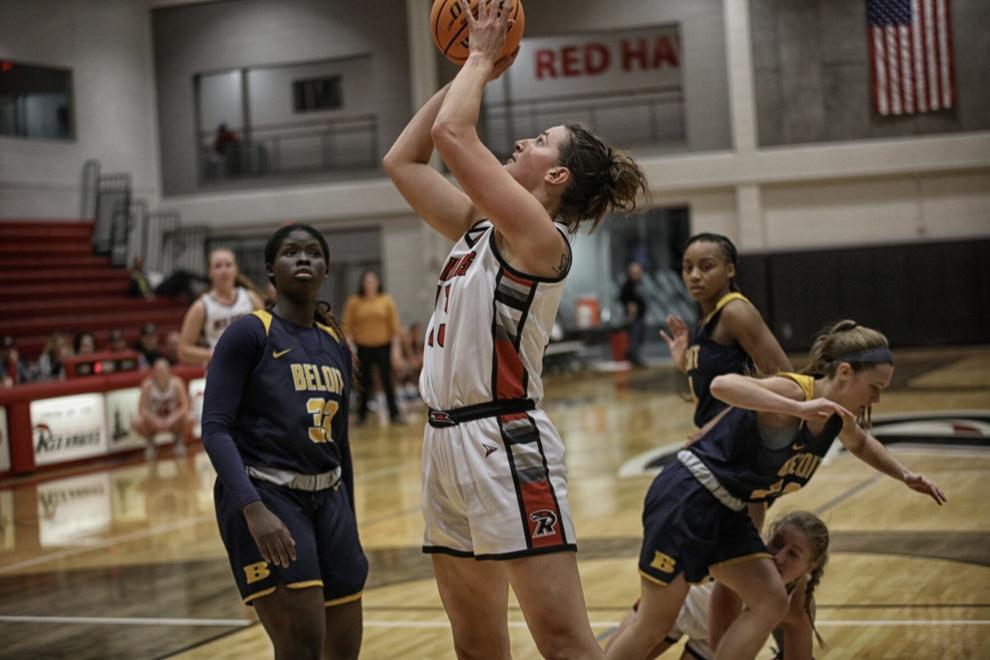 While the second and third quarters cost the Red Hawks a chance to defeat Knox, it was the opposite last week Wednesday during a 78-56 home victory over the Beloit Buccaneers.
Ripon out-scored the Buccaneers 38-17 in those quarters to turn a 16-14 deficit after one quarter to a 52-33 lead entering the fourth quarter. It then edged the Buccaneers 26-23 in the fourth quarter to come away with the win.
"We finally put some consecutive stops together, rebounded really well and were aggressive offensively, hitting shots and taking it to the rim," Busalacchi said about what went right for the Red Hawks during the middle quarters.
Brescia was a big reason for the Red Hawks' success as the fifth-year senior recorded a monstrous double-double of 19 points and 17 rebounds in just 16 minutes of action. She shot 7 of 12 from the field and also made 5 of 8 free throws.
Jensen also had a strong game for Ripon as she scored a team-high 20 points on an efficient 7-of-8 shooting from the field. In addition, the senior converted 6 of 10 free-throw attempts, while recording six rebounds and two assists.
Due in large part to Jensen's and Brescia's play, the Red Hawks won the points-in-the-paint battle 42-30.
"Skyy and Bonnie were great," Busalacchi said. "Really impressive performances by each, as well as their defense. They didn't shy away from contact and did a great job finishing."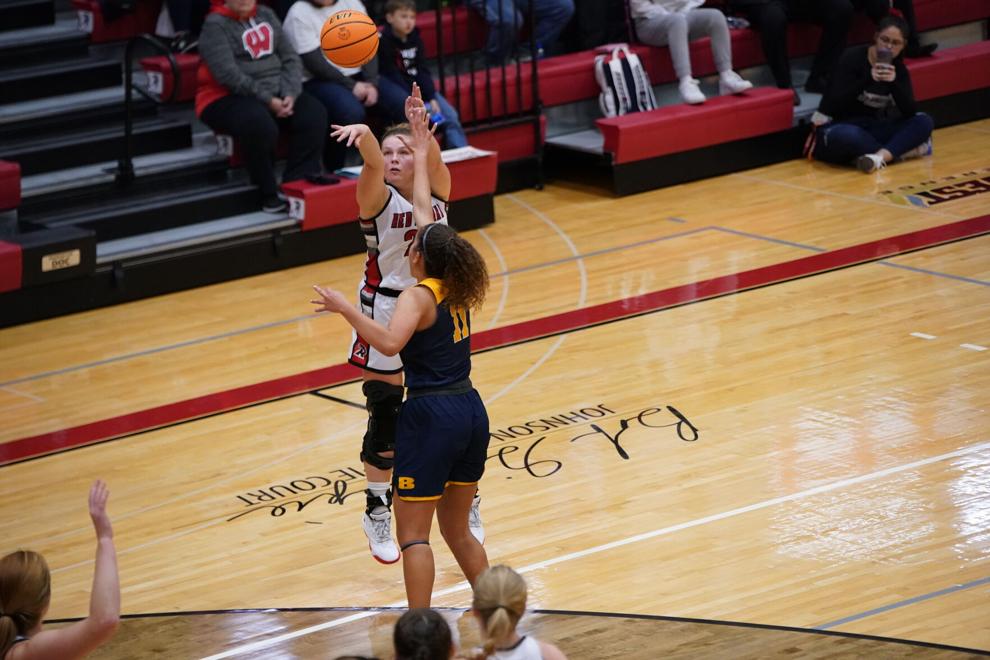 Ripon also received some production from behind the 3-point line as Leslie knocked down 4 of 7 shots from long range to finish with 12 points. Her first 3-point basket, which came early in the second quarter, gave her the all-time school record for most career 3-pointers. She surpassed the mark of 167 3-pointers, which she shared with Emma McDonald.
"We had pretty good ball movement, which helped Al get those looks and then Al was knocking them down," Busalacchi said, noting that Leslie is one of the "most efficient shooters we've seen."
Kiana Fall added six points for the Red Hawks in the win over Beloit, while dishing out a team-high five assists.
Ripon finished the game shooting 45% (29 of 65) from the field, while holding the Buccaneers to 36% (20 of 56).
Both teams had their struggles at the free-throw line as the Red Hawks shot just 50% (15 of 30) and Beloit converted 48% (13 of 27) of their attempts.
Up next
Ripon will try to get back on track Saturday, when it travels to University of Wisconsin-Stevens Point to face the Pointers in a non-conference contest. It will be its last game until taking part Dec. 29 and 30 in the UW-Oshkosh Tournament.
"We have to get sharper on both ends of the floor," Busalacchi said. "Execute our screen and help defense better and maximize our looks offensively. They will be a physical team and rebounding, free throws and putting multiple stops in a row together defensively will all be pertinent in helping us compete."
Tip off is set for 4 p.m.