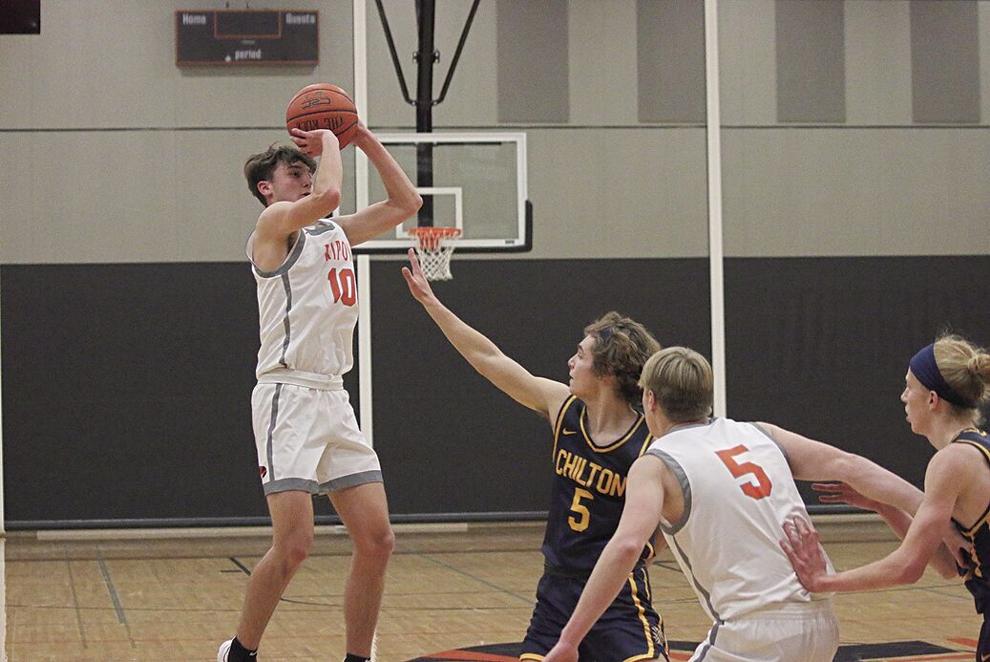 A career day from Riley Brooks wasn't enough for the Ripon High School boys' basketball team last week Tuesday as it fell to the Omro Foxes 76-74 in overtime in a non-conference road contest.
Riley Brooks scored a career-high 41 points on an efficient 17-of-21 shooting from the field, pulled down a team-high 14 rebounds and played a major part in holding Omro's leading scorer on the season entering the game, Isaiah Hubanks, to nine points on 2-of-14 shooting.
Hubanks entered the game averaging 17.5 points per game.
​​"He hit some shots right away and got into a good rhythm," Ripon head coach Steve Brooks said of his son, Riley. "As you start to feel that way, the basket looks bigger and bigger. He made some tough shots throughout the game and really kind of kept us in it when we were struggling to get other things going in the second half … But even on the defensive end, his play altered a lot of shots or did a lot of things to help us get the ball back and try to score more points."
Due in large part to Riley Brooks' play on both ends of the court, the game was close throughout. Steve Brooks noted that the margin probably never got more than six or eight points in either way and that in the last three, four minutes of regulation it was pretty much a tie game or one-possession contest.
Ripon led Omro 40-39 at halftime and then the teams were tied at 69 at the end of regulation, forcing an overtime that similarly was tightly contested.
In the extra frame, Steve Brooks recalled that Omro was up a little bit and then the Tigers managed to tie the game and got a defensive stop to give themselves a chance to take the lead, but they were unable to capitalize.
Omro ended up hitting the game-winning shot and came away with the 76-74 overtime victory.
The Ripon head coach noted that at the end of regulation and in the overtime period that Ripon had some game-management pieces and just some defensive assignments that were not executed as well as they could have been and believes that might have changed the outcome of the game a little bit.
For the game, Steve Brooks said there were some breakdowns on some areas the Tigers had worked on getting ready for the game as far as personnel and actions that they were going to see and plays that Omro was going to run. He also pointed to rebounding as being the biggest glaring issue that Ripon faced as it had several players who played a lot of minutes and typically are in the paint a lot, finish with just two or three rebounds in the contest.
"They got a lot of second-chance opportunities," Steve Brooks said. "We defended well enough to get them to miss shots, but then we gave them two or three opportunities, and you're not going to win many games when you do that."
While he acknowledged there was room for improvement in those areas, the Ripon head coach was pleased with his team's ability to get the ball to where it had advantages. He noted that he thinks the Tigers balanced playing with tempo and patience fairly well, and that the defense for the most part gave them opportunities to be successful.
"Despite the couple of missed opportunities at the end of the game, I thought that as far as defense goes, we did a good job holding their leading scorer to half of his average, and contesting shots and doing things which hasn't been stellar for chunks of time throughout the season," Steve Brooks said of a positive he took away from the game.
Another positive was the play of Spencer Schultz. The senior came close to recording a triple double as he finished with 10 points, eight rebounds and eight assists in the losing effort. Steve Brooks noted that Schultz has done a good job this year of just being more physical and is able to take some of that contact and help in different ways.
"He was able to get by the defender and get to the rim a lot," Steve Brooks said. "In talking to him, I know that something he's been working on, and trying to have a balance between a perimeter shot, mid-range or at-the-rim finish. He's been pretty solid on the glass floor and that was no different the other night in Omro. And then with the assists that he had, part of his role is to distribute the ball and find people. Those are all things that are positive."
Ripon High School boys' basketball vs. Chilton — Dec. 20, 2021
Tigers rally to defeat Chilton
Trailing by as many as 10 points with around eight minutes left, Ripon rallied to take the lead and then held on in the final minutes to defeat Chilton 63-62 last week Monday in a non-conference game.
Alex Mancl scored the game-winning basket for Ripon off an assist from Riley Brooks with 1 minutes, 30 seconds left and Ripon benefitted from Chilton missing two free throws and a shot at the buzzer.
Mancl also hit a big 3-pointer with Ripon trailing 58-50 with a little less than five minutes left to jumpstart the comeback for Ripon. After Chilton drained some clock and made a layup to go out in front 60-53, Riley Brooks answered with a layup and then Kai Agamaite drained a jumper to get Ripon within 60-57.
From there, it was Ripon's active hands that got it the lead as it forced three-straight turnovers and scored baskets off two of them to take a 61-60 lead. Mancl stole the ball on one of the plays and fed Riley Brooks for an easy basket, while Riley Brooks stole another pass and cashed in with a layup.
Chilton responded with a pair of free throws, before Mancl scored the game-winning basket.
"We unfortunately find ourselves in this situation a lot, but they did a very good job of making plays," Steve Brooks said. "[Mancl's 3-pointer] was a big shot for us and then he got his hand on a lot of loose balls and we kind of scrapped and clawed our way back to it and then were able to hang on at the end."
Ripon put itself in that position where it needed to come from behind due to what Steve Brooks described as questionable shot selection in the second half. He also credited Chilton for hitting some shots and picking up its defensive energy, but noted that Ripon got itself out of sync on the offensive end.
Ripon began the second half ahead 35-30 and still led 40-34 a few minutes in, before allowing Chilton to go on a 13-2 run to take a 47-42 lead. Chilton eventually stretched that lead to as many as 10 points at 56-46 with a little more than eight minutes left, before Ripon began its comeback.
While Ripon struggled with its shot selection in the second half, Steve Brooks noted that he thought it played a good first half. It fell behind early in the game 9-5, but rattled off the next 10 points to take a lead it didn't relinquish until Chilton went out in front 41-40 a few minutes into the second half.
While the game had its ups and downs, Steve Brooks was proud of how Ripon continued to persevere and that the players kept helping each other. He said that is important in terms of long-term growth.
The Ripon head coach noted that his team can improve with its shot selection and just playing defense.
"There were times in the second half where we didn't guard the ball," Steve Brooks said. "We made some adjustments to try to take some things away, but we still allowed too many things to occur."
Riley Brooks led Ripon in scoring with 29 points. Kai Agamaite added nine points, while Mancl and Cole Burdick added seven points each. Schultz chipped in with six points and a team-high five assists.
Up next
Ripon will have an opportunity to showcase itself this week, when it takes part in the Rick Majerus Wisconsin Basketball Yearbook Shootout at Concordia University in Mequon. It will face Onalaska Wednesday at 4 p.m. and Catholic Memorial Thursday at 5:30 p.m. This marks its first time playing in the competition since 2016.
Steve Brooks noted that when Wisconsin Basketball Yearbook Editor Mark Miller called him over the summer and pitched the idea of playing in the shootout, that he was hesitant at first because the competition typically is full of really good teams and he wasn't exactly sure of where the Tigers would be at this point of the season.
"Record-wise, it's not where any of us had hoped we would be, but we're making gains. And the only way to really improve is to play against good competition," Steve Brooks said, noting Onalaska and Catholic Memorial are going to be two really good opponents. "... Our kids are excited. It's a great stage to play on. They get to play in front of a lot of people, just basketball enthusiasts who are there to watch kids play, so there will be people in the stands."