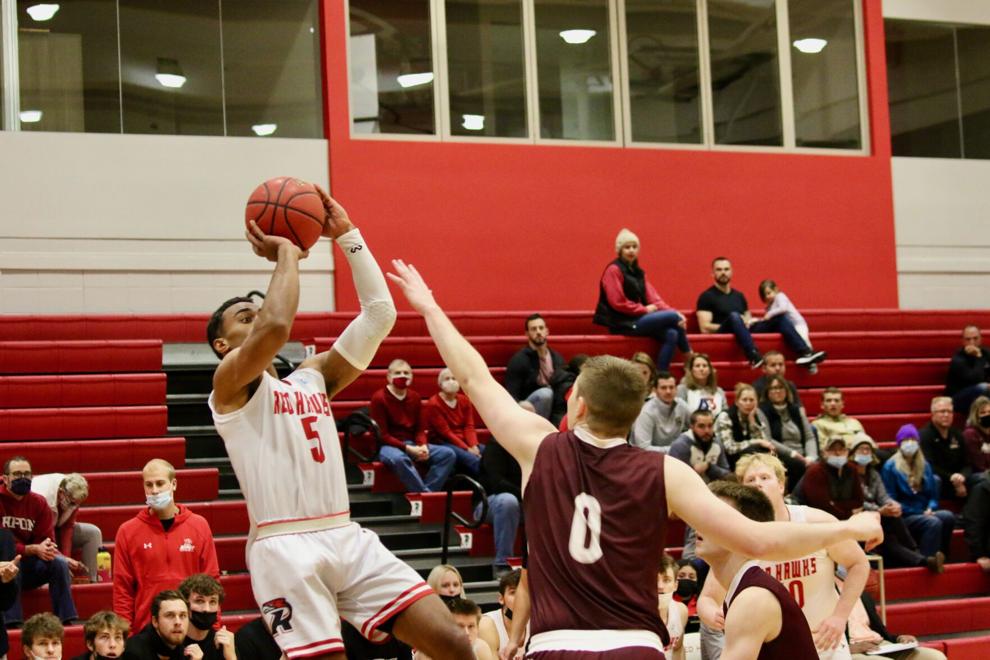 For the third time in eight days, the Ripon College men's basketball team put itself in position to defeat a team ranked in the top-25 or receiving votes in the D3Hoops.com preseason poll last week Saturday.
The Red Hawks led the No. 6-ranked Wheaton Illinois Thunder 62-61 with a little more than a minute left following a basket by Brandon native Jaylen Mahone, but could not hold on as they fell 66-62 on the road.
The loss follows a 75-74 overtime home defeat at the hands of the No. 16-ranked University of Wisconsin-La Crosse and an 83-71 road loss to the College of Wooster Saturday, Nov. 20.
The close game between Ripon and Wheaton was nothing new between the teams as the Red Hawks defeated the Thunder 68-66 at home in overtime in 2019 and lost 74-67 on the road in 2018.
"I have a ton of respect for their program; they're always a team that's going to be in the hunt for a national tournament appearance and likely a deep run in the tournament," Ripon head coach Ryan Kane said, noting this year's Wheaton team is better than the one it beat in 2019. "... But I still felt like we were going to be in the game. We have a great defense. We have a fighter's mentality."
The fighter's mentality was on display early against Wheaton as the Red Hawks fought back from a 28-15 deficit with a little more than eight minutes left in the first half to get within 32-29 entering halftime. It marked the third-straight game that it closed a first half strong as it ended the first 20 minutes against La Crosse with a 9-2 run and out-scored Wooster 17-4 in the final five and a half minutes of the opening half.
Ripon also battled back from a 44-36 deficit against Wheaton in the second half, eventually taking the lead at 53-52 with five minutes left on a 3-pointer by Ryan Steffes. The game went back and forth from there, with the lead changing hands seven times in the final five minutes of the contest.
"I just think we did a better job of executing," Kane said. "We took care of the ball; we got shots … We were trying to get guys certain looks in certain spots and we did that. I felt like against La Crosse, we ended up settling for what were some really difficult shots towards the end because we just did a poor job of handling their pressure. I felt like we were more poised with the ball. We didn't have any careless turnovers late in the game like we did against Wooster or against La Crosse."
While Ripon is starting to figure out that it has the ability to fight back, Kane noted he's also seeing that it's having a problem taking care of the ball consistently and finishing games in the last five minutes.
"If I think about some of the great games that we've won against really good teams over the last 10 years, we've always had somebody that was the guy that we knew could take the shot and wanted that shot," Kane said, adding that Ripon is so balanced. "We're still trying to figure out who that person is."
Another takeaway for the Ripon head coach is that in all three games the Red Hawks lost, in particular the last two, they were beaten by seniors. Against Wheaton, Cade Alioth hit a 3-pointer with 56 seconds left to give the Thunder a 64-62 lead despite being just 1 of 10 from deep on the season up until that point.
Alioth also had two layups in the possessions before the shot that erased a one-point Ripon advantage.
"We had really defended [the 3-pointer] well and we could probably live with that shot," Kane said, noting in the prior game earlier in the week against UW-La Crosse it was senior Wyatt Cook that hurt Ripon late in the game. "... You tip your hat to those teams and those seniors, but it's something that I want our team to remember given that we only have one senior. We want to start playing more like seniors as the year goes on and then certainly as we look into next year, we want to be able to kind of finish those games."
Taking a couple of the big shots for Ripon and making them prior to Alioth's 3-pointer was Mahone. The Brandon native converted jumpers to give the Red Hawks leads of 60-59 and 62-61 late in the game. He was starting in place of Cade Tackmier, who suffered an injury in practice, and finished with 17 points.
"We've always felt like it's been a luxury with Jaylen," Kane said. "He is basically a starter and probably one of the top-15 best players in our conference. For him, it was just a matter of him trying to establish himself defensively, be more consistent that way in practice and he wasn't there. We felt like it was great to have some scoring punch off the bench … Jaylen has had a great week and I'm hoping that he builds on that going forward."
Steffes also finished with 17 points for Ripon, while Owen Theune chipped in with 13 points in the loss.
The Red Hawks out-shot Wheaton 47 to 40% from the field and 38 to 36% from behind the arc, but had four more turnovers (14-10) and gave up five more points off them (12-7). They also were out-scored in fast-break points 14-4 and second-chance points 8-5, getting out-rebounded on the offensive glass 11-4.
Check out 70+ photos of the Ripon College men's basketball team's 75-74 OT loss to No. 15-ranked UW-La Crosse (Nov. 23, 2021)
The Ripon College Red Hawk men's basketball team came up just short of upsetting No. 15-ranked UW-La Crosse Tuesday, Nov. 23 as it fell 75-74 in overtime.