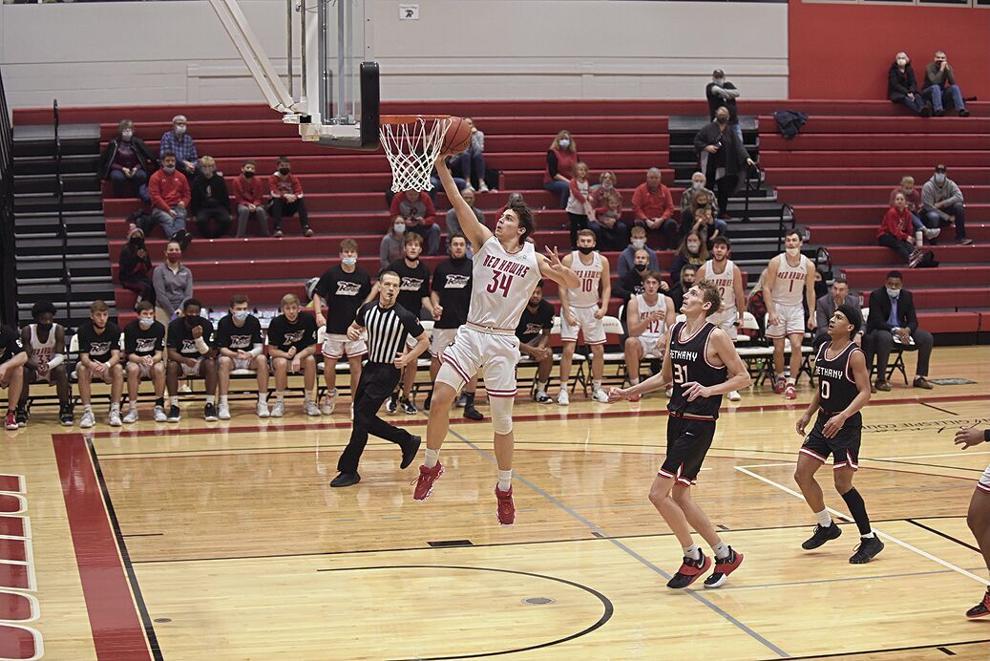 After a high-scoring first half with the Bethany Lutheran Vikings last week Saturday, it was the defense that took over for the Ripon College Red Hawk men's basketball team in the second half.
Ripon held the Vikings to just 33% (10 of 33) from the field in the final 20 minutes to stretch a 45-38 halftime advantage to as many as 23 points late in the game. It ended up winning 84-69 at home.
The Red Hawks (7-3 overall) were playing their second game in less than 24 hours, while Bethany Lutheran (4-6 overall) was well rested after having its game against Marian University canceled the previous night.
"We knew that they were going to have the energy," Ripon head coach Ryan Kane said, noting his team wants to be in the position of playing back-to-back games as that is how the conference tournament is set up. "It was just going to be a big challenge for us, no different than playing Knox the previous weekend; they didn't play on Friday night either, catching us on short rest. It was nowhere near an excuse. It was just a matter of, as we like to say, 'Do we have enough in the bank to do it?' And we answered that challenge."
Ripon's defense didn't start the game great as Bethany Lutheran jumped out to a 16-11 lead five minutes into the contest. The Red Hawks settled in a bit after that as they went on a 21-8 run over the next eight minutes to take a lead they never relinquished. While they never trailed after that run, they were unable to extend their lead before halftime as they entered the intermission ahead 45-38.
The Vikings shot 48% from the field in the first half, which included 35% (6 of 17) from behind the 3-point line. Ripon converted 50% (17 of 34) of its shots from the field in the first half.
While the Red Hawks were able to cool Bethany Lutheran down considerably in the second half, they kept shooting the ball well from the field as they shot 48% (16 of 33) during the final 20 minutes.
Ripon did a lot of its damage inside the paint as it scored 42 of its 84 points around the basket. It also made 38% (6 of 16) of its 3-point attempts and converted 92% (12 of 13) of its free-throw tries.
"We shot it great; that's what we're capable of doing," Kane said, noting it got contributions from many players. "We're playing at home, we should shoot it well at home, that's kind of what we pride ourselves on."
The Red Hawks were paced by a balanced scoring attack as they had five players score in double digits. Brandon native Jaylen Mahone led the scoring with 17 points. Ryan Steffes, David DeValk, Drew Jorgensen and Luke Meinholz added 16, 14, 13 and 12 points, respectively, in the winning effort.
Kane especially was pleased with Meinholz as the 12 points were a career-high for the freshman. It followed an eight-point game for him a night prior against the University of Wisconsin-Whitewater.
"You're seeing what a freshman should see by Christmas," Kane said. "He's had some opportunities, played some minutes … His confidence is growing and he does a tremendous job on the defensive end of the floor. He had four steals against Bethany Lutheran and he probably had at least that against Whitewater as well."
Ripon knocks off Whitewater
The Red Hawks came out on top in a game full of runs last week Friday as it knocked off the University of Wisconsin-Whitewater Warhawks 82-77 at home.
"I think it was great for our guys," Kane said of the victory. "We had a few heartbreaking finishes against some good teams like that and you hope that you're better for playing in those types of environments, and I think it showed on Friday night. We had tremendous confidence and energy. We came out a lot stronger than we had in the past against those other teams that we played. And then they punched us pretty hard back. Part of it was we were in some foul trouble and we had to adjust and we had some different lineups on the floor. [I was] just really happy to see the guys continue to stay the course and come out on top."
Check out 67 photos from Ripon College men's basketball win over UW-Whitewater
The Ripon College men's basketball team knocked off the University of Wisconsin-Whitewater 82-77 Friday at home.
Ripon jumped out to a 32-14 lead, before the Warhawks stormed back to take a 40-36 lead into halftime.
UW-Whitewater stretched the advantage to as large as 13 points in the second half at 53-40, but Ripon fought back and took the lead for good at 67-64 with a Ryan Steffes 3-pointer with a little more than three minutes remaining.
Drew Jorensen led all scorers with 22 points, while Steffes and David DeValk added 16 points apiece. Brandon native Jaylen Mahone also scored in double digits for Ripon with 11.