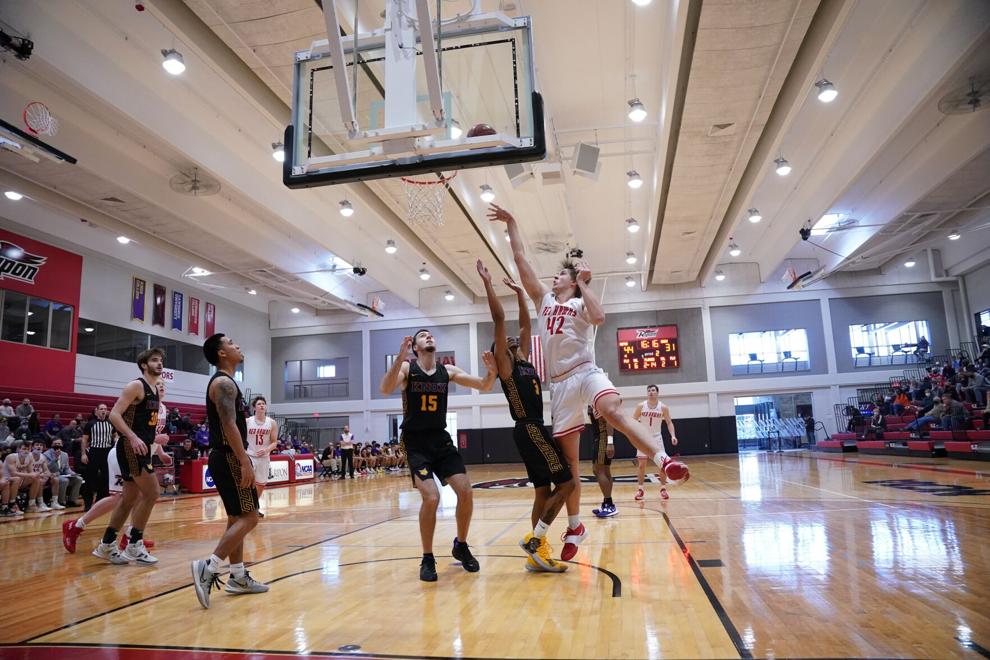 Coming off a road game the previous night that didn't see it get home until around midnight, Ryan Kane was a little worried about whether the Ripon College men's basketball team would come out slowly last week Saturday.
And while the head coach wouldn't say it was as much of a slow start as the Knox Prairie Fire being hot from the field, it did take a little bit for the Red Hawks to get going, They fell behind by as many as nine points early in the game, before eventually taking the lead for good with a little more than seven minutes left in the first half.
Ripon (3-0 conference, 5-3 overall) eventually built a 55-35 lead a little more than seven minutes in the second half, before the Prairie Fire (1-2 conference, 3-5 overall) battled back to get within eight points a couple of times.
"The thing that I'm learning about this team is that they're building trust every game," Kane said. "I think they trusted that if they can just stay the course, we'll be fine. We knew that we had a deep roster; we tried to play a lot of different guys the night before as we got out to such an early lead against Beloit ... And I knew that we could go to our bench if we needed to against Knox on Saturday. We went to it early and it helped us get a little energy with that second group. And then, eventually, we really started to defend toward the last 10 minutes of that first half."
He added that in the second half, when the Red Hawks got up by 20, he thought Ripon could maybe go to its bench again. But that didn't work out so well, so he had to go back to the first group and it closed out the game.
David DeValk had a lot to do with the victory for the Red Hawks as he was an unstoppable force around the basket. The junior center made all 10 of his shots from the field and was 3 of 8 from the free-throw line to finish with a game-high 23 points. He also added a game-high 12 rebounds to record a double-double.
Behind DeValk's performance, Ripon more than doubled up the Prairie Fire in points in the paint 40-18.
"He's been a little inconsistent here to start the season, but I was delighted to see him put together a full game for us on Saturday," Kane said, noting Ripon knew it had an advantage with DeValk as Knox has some size, but not guys who like to play in the paint.
He also was pleased with DeValk's ability to finish around the paint and play with tremendous poise when he caught the ball around the basket because he is drawing a lot of attention and it has plagued him in the past.
"You can see him getting more and more comfortable every game with that role," the Ripon coach said.
Ripon also held a commanding edge in points off turnovers as it out-scored the Prairie Fire 20-8 in that department. Ripon accomplished that despite committing just five fewer turnovers (16-11) than Knox.
In addition, the Red Hawks held an edge in shooting percentage as it converted 52% (30 of 58) of their shots from the field compared to 44% (24 of 55) for Knox. Ripon made one more 3-pointer (7-6) than the Prairie Fire.
To go along with DeValk's game-high 22 points, Brandon native Jaylen Mahone chipped in 15 points. Drew Jorgensen and Luke Meinholz added nine and eight points, respectively, in the winning effort.
Ripon dominates Beloit
Ripon rode a strong defensive performance to a 71-44 road win over the Beloit Buccaneers last week Friday.
It held the Buccaneers to just 29% shooting from the field (28 of 66), which included 18% from behind the 3-point line (4 of 22). Ripon also forced 15 Beloit turnovers, which it turned into 21 points on the other end.
"When you go on the road, especially in our conference, the only thing that you can really guarantee that you should bring is your effort defensively, rebounding, and taking care of the ball," Kane said. "Those are the three things you really need to do and we had yet to really win a true road game … I knew it was a team that we matched up well against, but they had some good interior players. They rebound the ball particularly well. I was very pleased to see that we did such a good job on the glass against them."
The Red Hawks didn't shoot the ball that poorly either as they converted 42% (28 of 66) of their shots from the field, which included 28% (8 of 29) from behind the 3-point range, despite playing 19 players.
Twelve Red Hawks got in the scoring column in the game, with 17 of them putting up at least one shot.
Jaylen Mahone and Ryan Steffes led the way in scoring for Ripon with 14 and 11 points, respectively. Jorgensen and DeValk added nine points apiece.
"We didn't shoot particularly great from a percentage-standpoint, but everybody got a hand in there," Kane said. "There were some guys playing minutes that hadn't played before and some combinations together, so for it to be a little inconsistent was OK given that we did a good job of just really keeping our bench fresh."
Ripon scored the first eight points of the game and never trailed. They led 41-23 at halftime and stretched the advantage to as many as 28 points in the final minutes of the second half.
In addition to outshooting Beloit, the Red Hawks out-scored the Buccaneers in points off turnovers 21-5, fast-break points 14-2, points in the paint 30-24, second-chance points 14-6 and bench points 24-21.
Up next
Ripon will take a break from conference play for the rest of 2021 as it will test itself with some non-conference action. It hosts the University of Wisconsin-Whitewater Friday at 7 p.m. and Bethany Lutheran Saturday at 3 p.m., before facing UW-Stout and No. 17-ranked UW-Oshkosh Dec. 29 and 30 in the UW-Oshkosh Winter Classic at the Menominee Nation Arena. The Stout game will tip off at 4:30 p.m, while the Oshkosh contest starts at 5:30 p.m.
"Excited about the opportunity for our team over the course of the next few weeks here," Kane said. "... We're playing three teams from the Wisconsin Intercollegiate Athletic Conference ...I really want to see us continue to keep building that trust in each other and find ways to finish games out."