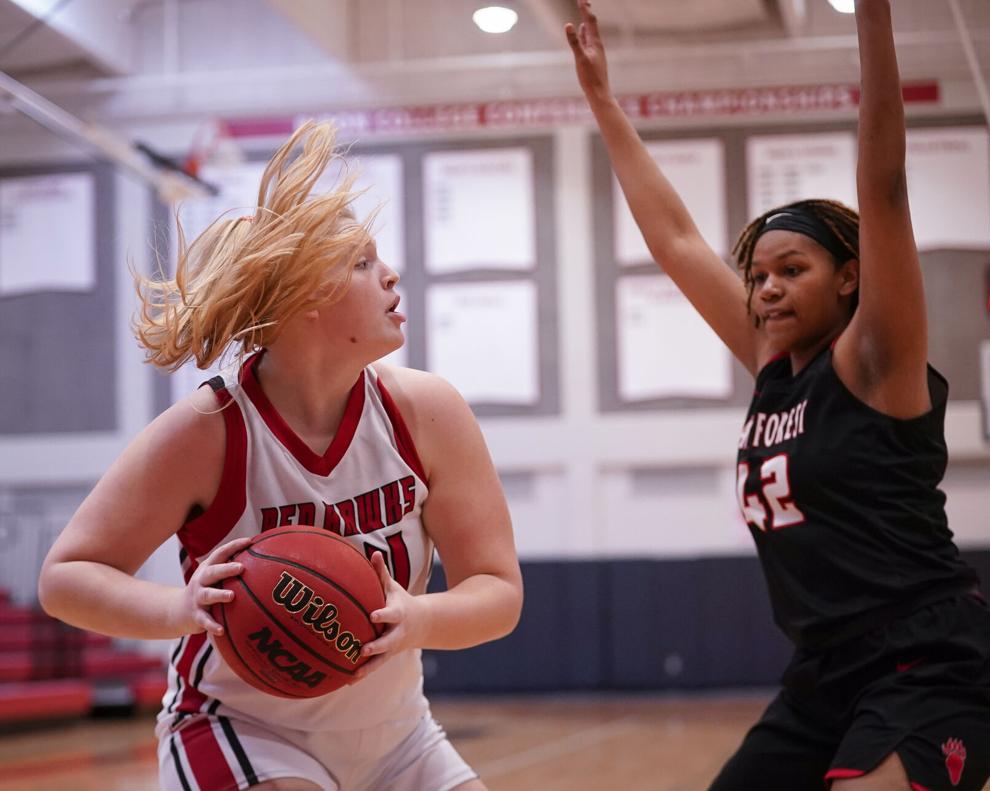 "Somewhat fortunate."
That was how Ripon College head women's basketball coach Lauren Busalacchi summed up her team playing three games and one scrimmage in a COVID-19-abbreviated year.
"A lot of mixed emotions," Busalacchi said of the opportunity. "There were teams in our league that decided not to play and then there were teams on the opposite spectrum that have played double-digit amounts of games in our league as well this season … Fortunate to be able to play it, but still just frustrated with the whole experience of the year."
The Red Hawks finished their shortened season with a perfect 3-0 record after defeating Lake Forest 68-41 last week Saturday. All three of their games came against the Foresters and they won them — two of which took place on the road — by an average of 24.6 points.
In the most recent game, Ripon jumped out to a 17-7 lead after the first quarter and blew the contest open in the third when it out-scored the Foresters 25-5 to take a 57-26 lead. A big reason it was able to control the game early was the play of its defense as it held the Foresters to just 28% shooting (12 of 43) from the field.
The Red Hawks, meanwhile, converted 43% of its shots (23 of 53) and won several statistical categories which include points in the paint (36-14), points off turnovers (27-16), second-chance points (13-4) and bench points (31-14).
Kiana Fall led Ripon in scoring with 13 points, while Bonnie Jensen and Skyylar Brescia added 13 and 11 points, respectively.
While Busalacchi was pleased with the results and thankful to Lake Forest for giving the Red Hawks a chance to play as a lot of other teams passed on the opportunity due to a variety of reasons, she noted the season will leave them with some unanswered questions. They had won the past three Midwest Conference regular season titles and were looking to make it four-straight and return to the NCAA Division II Tournament for the second time in three years.
"[We didn't] really get a fair chance this year to figure [out how good we could be]; we just got a little taste of it," Busalacchi said. "And so it was fun to get a little bit of a taste of that with the last three games against Lake Forest and the scrimmage against Lawrence, but it also just kind of makes you think, 'Man, what could have happened? What could have been?' And we'll never know."
The Ripon head coach added her team got "a taste of what it takes to be successful and to compete again" and that will make it hungry moving forward. She also was proud of how her players handled the adversity from an unusual and frustrating season. The Red Hawks began practicing in October with limited numbers, no contact and were unable to play 5-on-5 until the mid- of November. At that point they had five players with COVID-19. It wasn't until the second week of February that it had a full week of 5-on-5 and the team practiced pretty much daily.
"It's really a big testament to our student-athletes," she said, noting they had an opportunity taken away from them that they essentially are paying money for as Division III doesn't offer athletic scholarships. "We're just really proud of our team for their approach and their effort every single day with the time that we had because they could have just responded a completely different way ... It was a big deal for them to just get over it and move forward and try to maximize the chances that we did have, which were limited, but they did a really good job with that."
She especially was pleased with the three seniors who concluded their collegiate careers and was happy that they at least got a chance to take part in a few final games. Among them are Megan Dille, Shannon Sorbo and Jesi Nay. While all three would be eligible to return next year tuition free as part of the Ripon Plus initiative, Busalacchi noted Dille is looking to get a full-time teaching job after this semester, Sorbo is planning on attend graduate school at Florida State after this semester and Nay is looking to begin her career in a sports management position.
"To be able to put some closure on their career, I think, was a big deal for that class," Busalacchi said of the seniors. "They can leave Ripon being the only class for a really long time that can say they graduated after an undefeated season ... They were a class that competed every year for a conference championship [in which they could] … I think that's something that they can take with them as well, outside of just the frustration of this season."