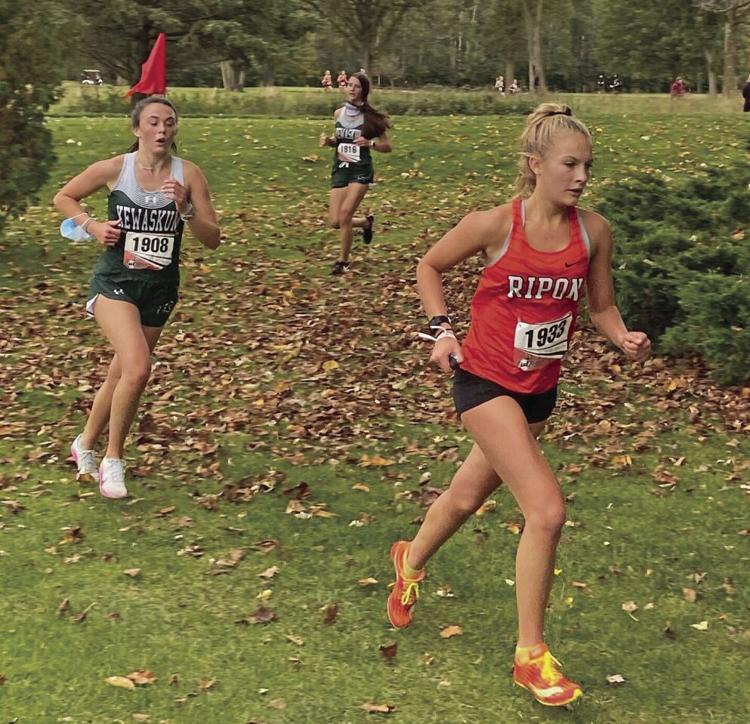 Running their final tune-up before Thursday's East Central Conference meet, the Ripon High School cross country teams ran some of their fastest times of the season last week Tuesday.
Fifteen of the Tigers' 20 runners turned in their best performances of the year at the Kewaskum Triangular, with three of the other five finishing within 7 seconds of their top times.
This comes despite the racing surface at Hon-E-Kor Golf Course featuring more drastic terrain changes than many of the other places Ripon ran, which included its home course at Barlow Park.
"The Kewaskum course was awesome," Ripon head coach Chris Gatzke said, noting it was a two-lap course like its other three races this season. "... Over 75% of the team had improvement and big improvement from the previous meet, so we saw some really good things and it was exciting to see that. I think we're on the right direction going into the conference meet Thursday."
The competition at the Kewaskum Triangular was strong as well as the Tigers finished third out of the three teams in both the boys' and girls' races despite running the fast times. They were narrowly edged out by Berlin for second in each race, while Kewaskum ran away with first place in both.
Kewaskum's dominance was especially on display in the girls' race as Ripon's Julia Long was the only runner who stood between it and a sweep of the top-five spots. Long finished fifth out of 39 runners with a season-best time of 22 minutes, 18.1 seconds. That was 2.9 seconds clear of the Indians' next runner.
Overall, Kewaskum occupied nine of the top-12 spots, which include six of the first seven finishers.
"There was a lot of pressure for Julia because Kewaskum on their home course was looking for a perfect score. And Julia took the perfect score away from them," Gatzke said. "A lot of the Kewaskum fans ... they were close enough that they were continually saying '... You've got to get her' and there were a lot more Kewaskum fans than there were Ripon fans at that point, so it was a big deal. So, Julia really stepped up and it wasn't at the finish line; she pulled away and made a statement that she wasn't going to give up that perfect score, so I thought she did an awesome job there."
Long wasn't the only runner on the girls' side that Gatzke was pleased with last week Tuesday. He also was happy with the effort of Ripon's next seven runners, which resulted in them occupying seven spots between 13 and 23. Jasmine Moldenhauer finished 13th with a time of 23:24.2 and was followed by Tirion Radtke (16th, 23:35.3), Anya Duffy (18th, 23:42.5), Madalyn Leinweber (19th, 23:42.9), Lucy Beuthin (20th, 23:47.7), McKenzie Nodolf (22nd, 24:11.1) and Hannah Yeomans (23rd, 24:11.8).
"That group has improved immensely and is moving further and further towards the front," Gatzke said. "We're still not at a Winneconne, Kewaskum level at this point, but the way we continue to improve, it's exciting to be able to see and knowing that we have two bigger meets to go in conference and subsectionals, that should bode well for even some more improvement as there'll be more people there to be pushed along and and have us improve more as a group and see what we can do."
The Tigers' eighth and ninth runners at the Kewaskum Triangular, Elena Williams and Grace Schoelzel, weren't far behind as they finished 24th and 25th, respectively, with times of 24:26.9 and 24:35.2.
In fact, eight of the top-nine girls for Ripon recorded their fastest times of the season, with the only one not being Radtke and she was just 1.1 seconds slower than what she ran at the previous meet.
Kasie Badtke rounded out the field for the Tiger girls, finishing 36th with a time of 33:22.5. That was just 38 seconds off her fastest pace of the year, which she also recorded a week earlier at Ripon.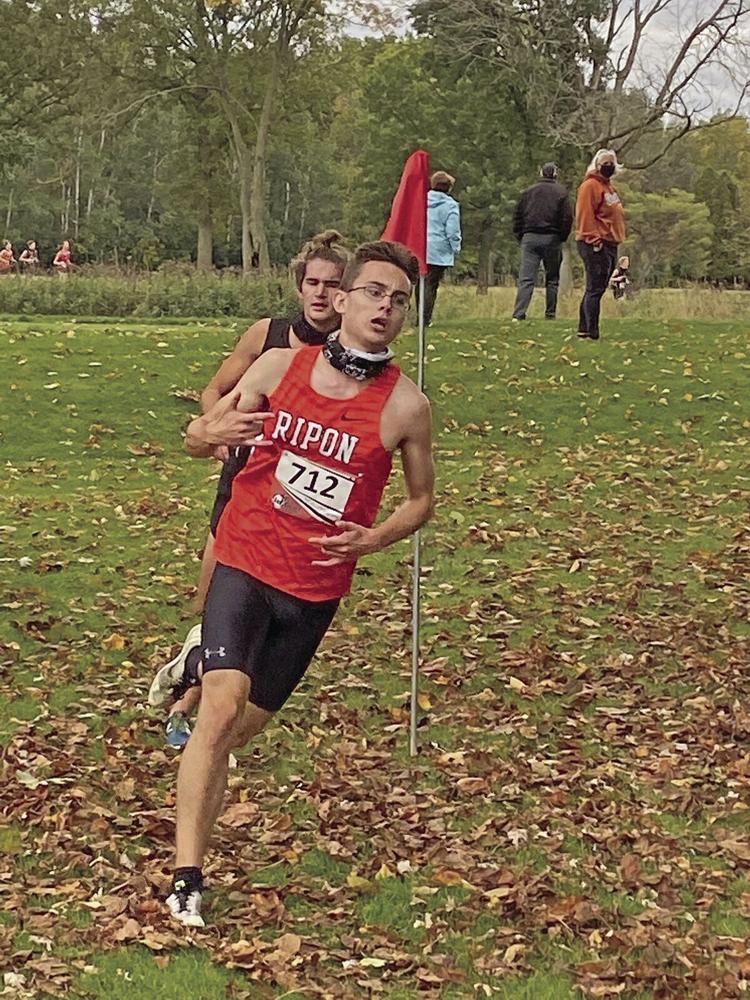 Another runner who came up just short of his previous season-best time, but didn't let it stand in the way of a strong finish was J.P. Stanfield. The senior finished second out of 30 runners with a time of 17:50.4, which was .4 seconds off his fastest time. Stanfield was 16 seconds behind the winner.
"That's still somewhat of an improvement because it was a much more difficult course," Gatzke said, noting the Kewaskum course was tougher. "J.P. did real well; he's gaining on the top spots in the conference, and I think he will at the conference meet have a very good chance of being in the first-team all conference and being in contention as one of the front runners through the meet."
Also continuing to improve was Dayton Baird, who ran a season-best time of 18:41.7 to finish seventh.
"He's run a couple of his fastest times now, not his overall fastest time, personal best, but definitely in the season and he's making [a] really strong headway," Gatzke said of the Ripon High School junior.
Ripon also received a strong finish from Miles Fisch, who trimmed almost a minute off his time from a week earlier to place 14th with a time of 20:32.7. He was followed by Mason Killam (15th, 20:46.8), Remington Mueller (16th, 20:53), Tyler Bradley (20th, 21:59.4), Jayden Trochinski (21st, 22:00.1), Payton Stegall (23rd, 24:25.9), Cale Agamaite (25th, 25:10.1) and Henry Beuthin (26th, 25:11.5).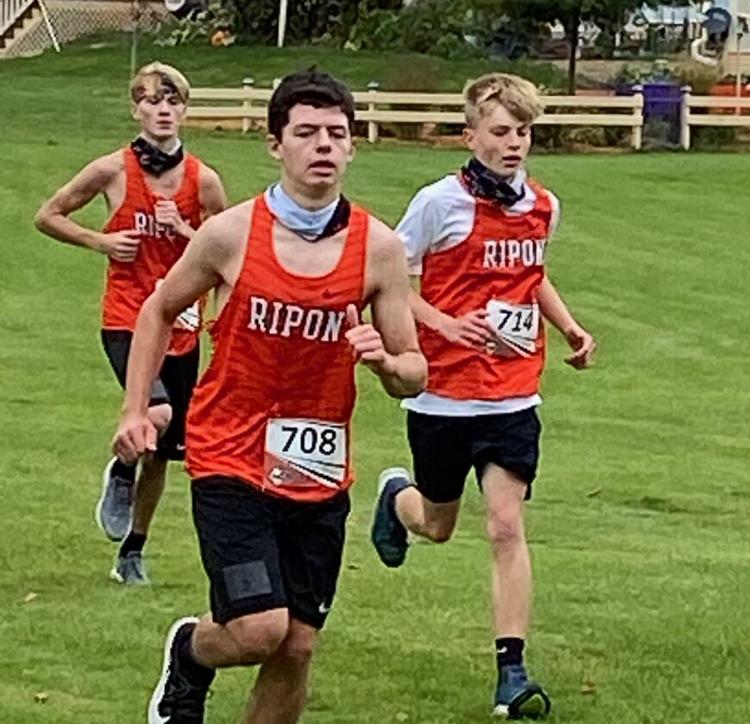 "[Fisch] continues to improve and that's bringing Remington faster; Tyler Bradley's moving up, Mason Killam is improving as well," Gatzke said. "And a couple of them are still youngsters and they're learning what they can do. It's just unfortunate that that was our fourth meet, while it was Kewaskum's seventh or eighth meet ... But we're gaining on them by leaps and bounds."
He added that the boys' team likely isn't going to be fighting for a conference championship this year, but it has a chance for a couple all-conference selections. The Ripon head coach also believes that the Tigers will see a "huge improvement" when all eight schools run together Thursday at Campbellsport.
"There's going to be people closer; there's going to be more constant pushing," he said, noting the hill, speed and distance workouts the Tigers have been doing in practice this year will help as well. "... We're going to see that we can run faster when we are pushed and have competition with us."
The meet is scheduled to begin at 4 p.m.