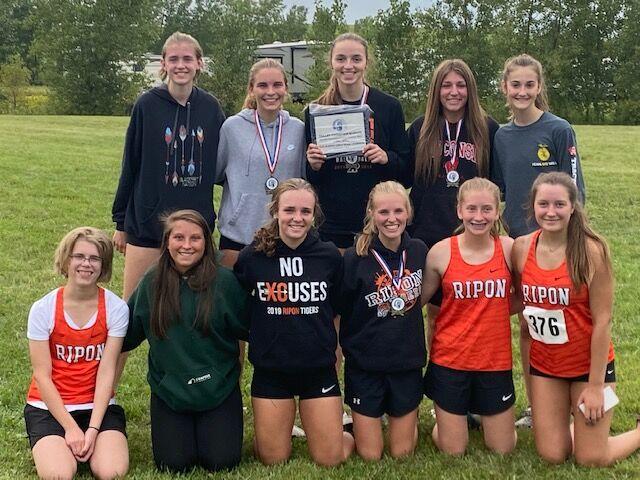 Chris Gatzke and Johnny Brewer felt the Ripon Tiger girls' cross country team could see success this season.
What the head coach and assistant coach didn't expect was for it to come in the first competition.
That's exactly what happened, however, as the Tigers placed first out of eight schools in the Oshkosh Valley Christian Invitational last week Thursday, which took place at Hickory Oaks Campground in Oshkosh.
The Ripon girls' team finished with 59 points, which was 10 points clear of second-place St. Mary's Springs. Winnebago Lutheran Academy, meanwhile, finished in third with 89 points and was followed by Laconia (100), Chilton (107), Campbellsport (122), Markesan (150) and Valley Christian (189).
"We were expecting it to be like two-thirds of the year when they finally figured out what they could do and how they could put things together," Chris Gatzke said of the girls' team's victory.
Ripon High School Cross Country at Oshkosh Valley Christian Invitational — Sept. 2, 2021
Ripon won the meet by placing four of its five-scoring runners in the top-10. Senior Lucy Beuthin led the way with a fifth-place time of 23 minutes, 32.42 seconds and was followed by fellow senior Hannah Yeomans (sixth, 23:47.84) and freshmen Leah Page (ninth, 23:58.75) and Libby Gatzke (10th, 24:03.79).
Junior Madalyn Leinweber rounded out the scoring runners for the Tigers with a 29th-place time of 25:43.71.
One reason why the girls' team was able to exceed the expectations of its coaches this early in the season was its bility to improve upon its performance in the middle of the race. A focus for Chris Gatzke entering the year, the Tigers' top runners moved up from between 13th and 19th places to finish in the top-10.
"They just jumped one at a time; they weren't trying to take everything all at once and just listened to us," he said. "We had done some finish work on Tuesday before the meet and we were able to find a point and reference it, and they did a great job of having good, strong finishes and not letting anybody beat them."
The Ripon head coach noted that Leinweber kept moving up and improving as well and that there's going to be a lot of room for improvement as the season progresses, which he has confidence in her doing.
He also is excited for Ripon's sixth and seventh runners — Adalin Nodolf and Ava Osheim — who are both freshmen. Nodolf placed 31st with a time of 26:04.71, while Osheim crossed the line in 27:05.19 to finish 40th.
While the Tiger girls' team won the competition, the boys' team finished on the other end of the extreme as it placed eighth out of eight schools. It ended with 181 points, which was just one point behind seventh-place Princeton-Green Lake. Campbellport won the boys' title with 42 points and was followed by Chilton (74), St. Mary's Springs (115), Winnebago Lutheran Academy (116), Laconia (117) and Markesan (123).
Despite bringing up the bottom of the pack in the team standings, Chris Gatzke noted the boys can build off the success of their girl counterparts and that will make them stronger as well. He also added that many of the boys, like the girls, improved upon the time they ran at the Fun Run a week earlier by quite a bit at the invitational.
The performance in the middle of the race also was a step forward from what he had seen from the boys.
Ripon was led on the boys' side by Dayton Baird, who just missed out on a top-10 finish and medal as the senior placed 11th with a time of 20:04.84. He was a little less than three seconds behind the 10th-place finisher.
"Dayton ... has always been an end-of-the-season runner, so I'm excited that he's at a decent point now and will continue to improve," Chris Gatzke said, noting Baird had a "great finish and good, strong race."
Outside of Baird there was a lot of inexperience on the Tiger boys' side as the other five runners that competed were either freshmen or sophomores. Freshman Aidan Ruedginger was Ripon's second-finisher with a 39th-place time of 23:10.13 and was followed by sophomore Jayden Trochinski (42nd, 2:56.82), freshmen Cyan Volkmann (43rd, 24:19.15), sophomore Henry Beuthin (47th, 25:53.50) and Riley Kuzelka (50th, 27:19.18).
"We're learning," Chris Gatzke said of the boys' team. "They did a great job; there was decent competition."
He added Ripon worked on trying to break out and not having to run with somebody to do the best it possibly could and that Trochinski surprised himself on how well he can do and there's still room for improvement.
Up next
The Tigers will try to make some of those improvements Friday, when they take part in Mayville's Mike Hurlbert Invitational. Gatzke noted that after last week's race, Ripon had a recovery run last week Friday, followed by the three-day holiday weekend in which the runners were given workouts to do on their own.
The team did speed and hill workouts earlier this week in preparation for the 10-team invitational.