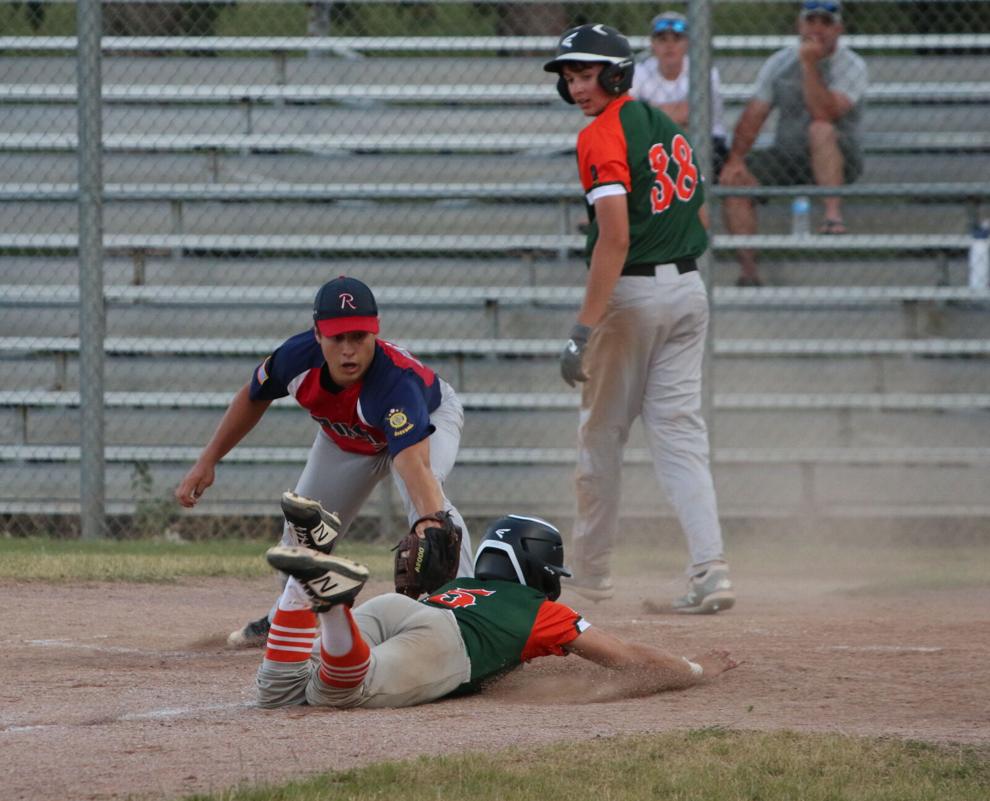 Walks and errors came back to haunt the Ripon American Post 43 baseball team in its season-opening game against the Green Lake Legion Post 306 last week Friday night.
Ripon walked 10 batters and committed five errors en route to a 12-4 loss at Barlow Park.
"When you give any team ... 15 bases for free, it's going to be tough to win any game," Ripon assistant coach Kyle Bethke said. "That's going to be something we're really going to have to emphasize going forward because you just cannot give bases away like that. You have to make another team earn it because you just can't do anything about it when you give it to them."
The walks and errors reared their ugly heads early as Ripon committed an error against the first batter of the game and then walked the next two to load the bases for Tyler Bloom, who drove in a run with an RBI single. The top of the first inning could have been much worse for Ripon, but pitcher Conor Diedrich got Derek Zamzow to line out to Ethan Schuld for a double play and then struck out Max Hartman after issuing his third base on balls of the inning to keep the deficit at just 1-0.
"That was definitely a huge point where at least we kept ourselves right there," Bethke said. "It could have been easy after the first inning after something like that happens to really get down defensively and a pitcher. You see that and it's easy to kind of say, 'Oh great, here we go.' But we got ourselves out of it by good defense and that's stuff we have to learn to work off of offensively … Definitely our defense, at times, did step up, but we need to keep playing at that level."
The score stayed 1-0 until the top of the fourth inning, when Green Lake plated three runs on three singles and a walk. Two of the three runs came across to score on wild pitches, while the other touched home plate as a result of an error.
Ripon got two of the runs back in the bottom half of the fourth. Sam Vanevenhoven started the inning with a double and scored a batter later on Garrett Jennings' double.
Dwight Koehler then grounded into a fielder's choice, but an error allowed Jennings to come across to score. The next batter, Brett Bock, was hit by a pitch, to put the tying run on base for Ripon, but the next three batters were retired as the score stayed 4-2.
Green Lake then broke the game open in the sixth and seventh innings as it scored eight runs in the two frames on six hits and five walks to cruise to the 12-4 win.
Ripon scored single runs in both the sixth and seventh innings.
Ripon finished the game with six hits. Leading the way offensively for Ripon were Vanevenhoven and Jennings as they each recorded two hits and one RBI. Koehler and Cameron Hahn also accounted for the other two hits, with Koehler's being a triple in the bottom of the sixth inning.
Green Lake was led by Bloom's 3-for-5 day at the plate and three RBIs. Also notching multiple hits for Green Lake were Maddux Poock and Ethan Stibb as they went 2 for 3 and 2 for 4, respectively. Poock also walked twice and drove in two runs, while Stibb had an RBI. Also recording hits for Green Lake were Colin Kinas, Max Hartman and Dash Hartman.
Diedrich picked up the loss on the mound as he allowed seven runs — five earned — on seven hits and six walks in 5 1/3 innings. He struck out seven batters in the loss. Jacob Riddick relieved Diedrich and allowed four runs, all earned, on one hit and four walks, while Koehler recorded the final two outs, giving up one run, earned, on two hits.
Bloom picked up the win for Green Lake on the mound as he kept Ripon's hitters off balance, limiting them to three runs, two earned, on four hits in 6 2/3 innings. He struck out eight batters.
"Offensively, I think the biggest struggle was not being prepared for his speed," Bethke said.
He added that Bloom also kept the ball down, worked the corners well and had a nice curveball that threw off the timing of Ripon's hitters. In addition, when Ripon got ahead the count, it did not jump on that first strike and that can cost a team a game, Bethke said.
Ripon will try to bounce back from the loss Thursday, when it travels to Marian University to face St. Mary Springs at 7:30 p.m. It also is slated to travel Saturday to Brownsville for a 7 p.m. contest.