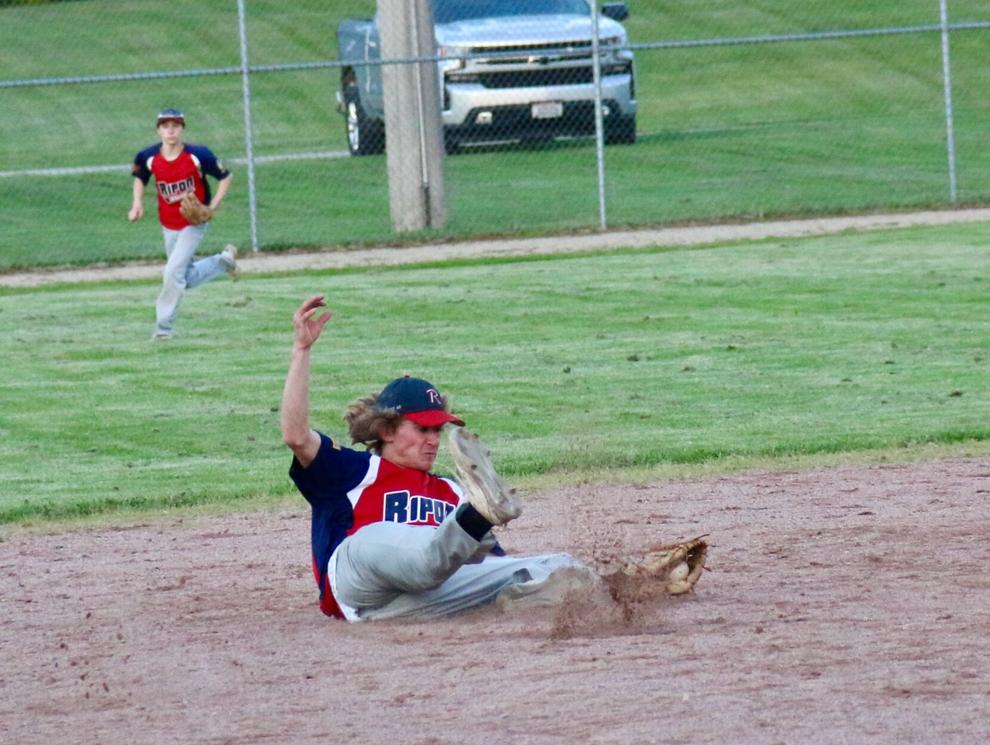 The Ripon American Legion Post 43 baseball team opened up its season last week Tuesday with a 7-1 home loss to Green Lake.
It also was scheduled to play Omro on the road last week Thursday, but the game never happened.
Ripon avoided trouble in the top of the first inning against Green Lake as Conor Diedrich walked the bases loaded, before getting a strikeout to end the threat. Diedrich, who graduated from Ripon High School in 2021, wasn't so fortunate in the second inning as he and his defense allowed four runs to score.
Green Lake collected the four runs on three singles, two doubles and a walk, with Sam Sonntag, Maddux Poock, Colin Kinas and Ethan Stibb driving in the runs. Kyle Bond and Dash Hartman also reached base.
Ripon Legion baseball vs. Green Lake — June 7, 2022
Diedrich, who threw 62 pitches in the first two innings, was lifted in favor of Jacob Riddick in the third inning.
The incoming Ripon High School junior kept the score 4-0 until the top of the fifth inning, when Green Lake scored two more runs on a Bond bases-loaded walk and a Sonntag fielder's choice groundout.
Green Lake drew three walks in that fifth inning, while also collecting a single and benefitting from an error. It added another run in the top of the seventh inning on a Sonntag sacrifice fly. It came after a hit by pitch, double and sacrifice fly. Ripon did pick off a runner before the sacrifice fly to limit the damage to just one run.
Riddick pitched the final five innings for Ripon and allowed the three runs, two earned, on two hits and five walks. As a team, Ripon walked nine Green Lake batters and hit a batter, while giving up seven hits in the loss.
Ripon plated its lone run in the sixth inning, when Henry Willett led off with a single, stole second, advanced to third on an error and then scored on a Mason Killam ground out.
Despite scoring just one run, Ripon hit the ball hard a number of times off Kinas throughout the game, but right at Green Lake defenders, who made nice plays.
Ripon finished the game with five hits, with Diedrich, Willett, Killam, Gannon Stellmacher and Dayton Baird collecting one apiece. Brett Bock and Baird also reached base on walks for Ripon, which stranded six runners.
Up next
Ripon is slated to return to action Thursday, when it travels to Beaver Dam. First pitch is set for 7 p.m.
Its home game against Allenton Friday and road contest against Allenton have been canceled.
Ripon is scheduled to travel to Markesan Monday, June 20, with first pitch slated for 6 p.m.