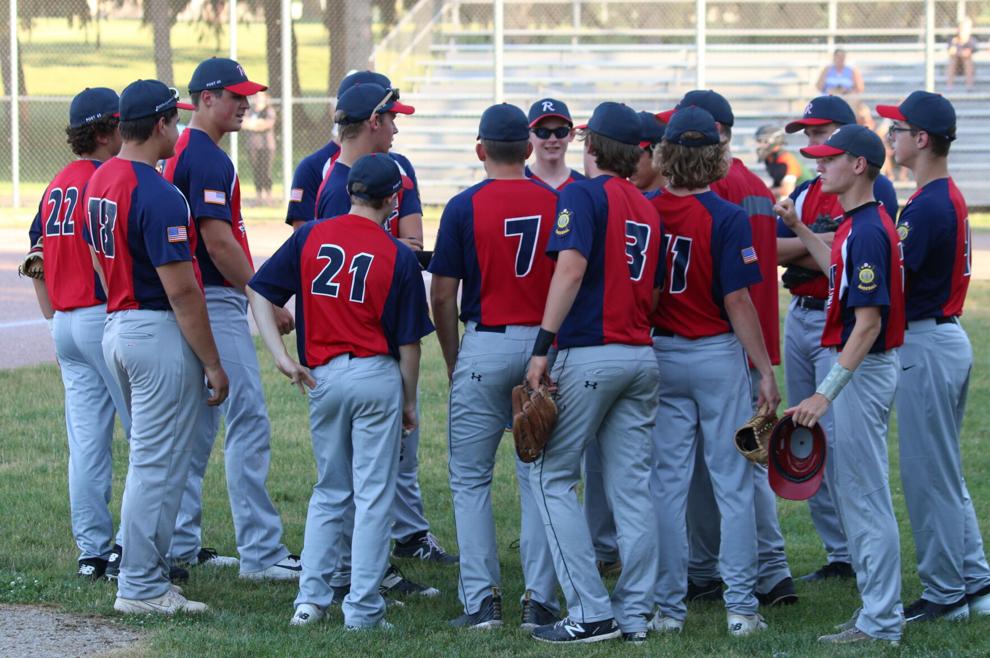 The Ripon American Legion Post 43 baseball team may have an abbreviated schedule this year.
But just the fact that it has a season is a positive for Ripon head coach Austin Fenner.
This comes after last season was canceled due to the COVID-19 pandemic. Many of the players on the team also are coming off a high school season in which Ripon struggled and finished 2-15.
Walks and errors came back to haunt the Ripon American Post 43 baseball team in its season-opening game against the Green Lake Legion Post 306…
"It was unfortunate we weren't able to play last year, but I think we've just got to make the most out of this time they get to play this summer," Fenner said. "And I know [assistant coach Kyle Bethke and I] are looking forward to trying to turn this thing around for them. I know it's been kind of a rough spring, so hopefully this summer we can get a few wins before the tournament and get some momentum going [into that end-of-the-season competition]."
The Ripon Legion baseball team will have limited time to turn things around as it is scheduled to play just eight regular season games, one of which was last week Friday, before entering the regional tournament July 23-27. That is compared to usually having around 20 games.
Fenner noted that is due in part to the East Central American Legion splitting the North Division in two. Cutting that number down even more, according to Fenner, is the fact that Rosendale-Brandon never got back to Ripon to schedule games, which cost it two competitions.
While the head coach said the shortened season was "kind of unfortunate," he believes it could benefit Ripon when it comes to pitching. Among the pitchers on its team that threw innings this past high school season are Conor Diedrich, Dwight Koehler, Garrett Jennings and Jacob Riddick.
"We tried not to schedule so many non-conference games as well, just to save our pitching because with the pitching rules implemented a couple of years ago now, the more games you play, the harder it gets to schedule and be able to have enough pitching to do that," Fenner said.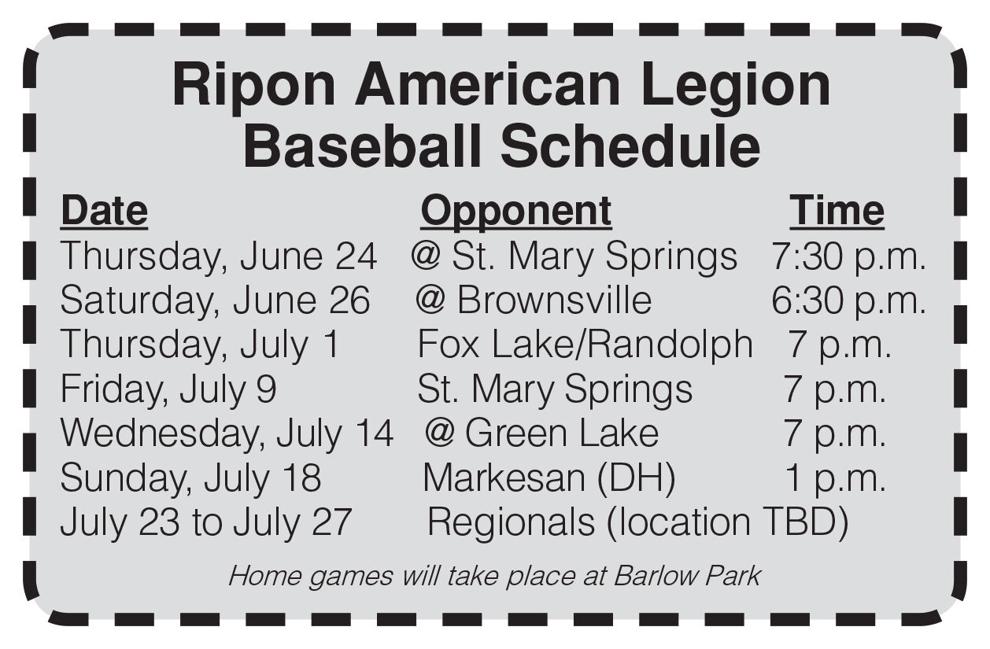 He added that it hurts not to have a pitcher like Max Huseboe, who graduated from high school last year and was not eligible to play this year, on the team as that is a major arm that can be relied on.
Ripon does still have a hard thrower in Diedrich, but Fenner noted the key is controlling his pitches. He also is excited about Riddick, who came onto the high school scene as a freshman this year and pitched in some games for varsity, which included starting the regional quarterfinal game.
"I've heard really good things about Jacob Riddick," Fenner said, noting the experience will help Riddick. "I was really happy when he went out for Legion, just to get [him] that extra playing time and to get to play with some of the upperclassmen more. From what I understand, he played a little bit on the varsity level, but just to get this full Legion season, although it is shorter, will be beneficial."
While he is excited that Riddick will have an opportunity to grow this year and is looking forward to seeing how the other pitchers fare as well, he knows the main focus for Ripon will be its offense.
Ripon struggled hitting the ball during the recent high school season and that was a major reason it finished the season just 2-15 overall. Fenner noted Ripon already spent a couple hours last week in the batting cage and plans to spend more time today (Tuesday) to give each player "a ton of swings."
"From what I've heard from the high school coaches, there were games where they really just couldn't make anything happen, a lot of games where they didn't have a lot of hits. In order to get runs, you've got to have hits," the Ripon head coach said. "We're going to really focus on that and then also the mental side of the game where if you're having a bad day, or if the team's having a bad day at the plate, you've got to find a way to correct that in order to get something brewing."
Ripon will have a few different hitters from this past high school season as it welcomes back Ripon High School Class of 2020 graduates Ethan Greff and Sawyer Damm. The two were eligible to return based off when their birthdays fall, allowing them to have closure after last season was cancelled.
"It's good to have them back, kind of like bonus leaders," Fenner said of Greff and Damm. "They missed out on a season last year, so it's good for them that they were able to come back and play. It's good to have that extra leadership and help the seniors kind of guide this team. They're both going to get a lot of playing time, so I think they're going to like that as well."
Overall, the Ripon head coach believes the experience will be good for everybody that decided to go out for Legion baseball, which he said was 14 players, and is excited to see what they can accomplish.