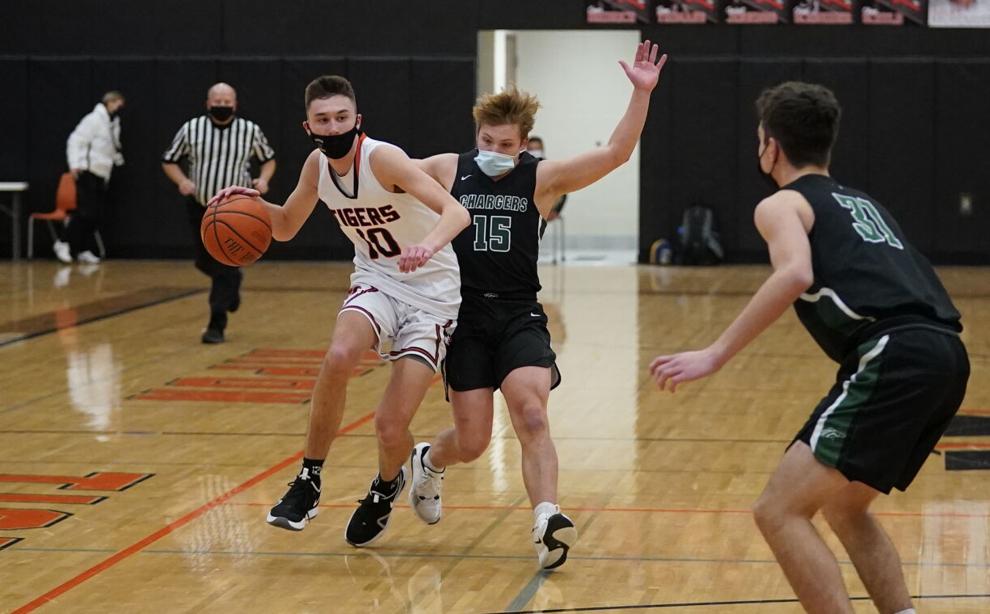 For the second-straight game, the Ripon High School boys' basketball team gave up 80-plus points.
Unlike the first time when it defeated the Campbellsport Cougars 92-83 last week Friday, it was unable to come out on top as it lost to the visiting Kettle Moraine Lutheran (KML) Chargers 86-77 Monday night.
"We didn't get to a point where we strung together two or three stops and we got into a habit of just trading baskets and, obviously, that was an issue for us," Ripon head coach Steve Brooks said.
The game got off to a rough start for Ripon as it fell behind 11-2 a little more than three minutes into the game. However, it rallied to tie the game at 14 and traded single-possession leads with the Chargers the rest of the half.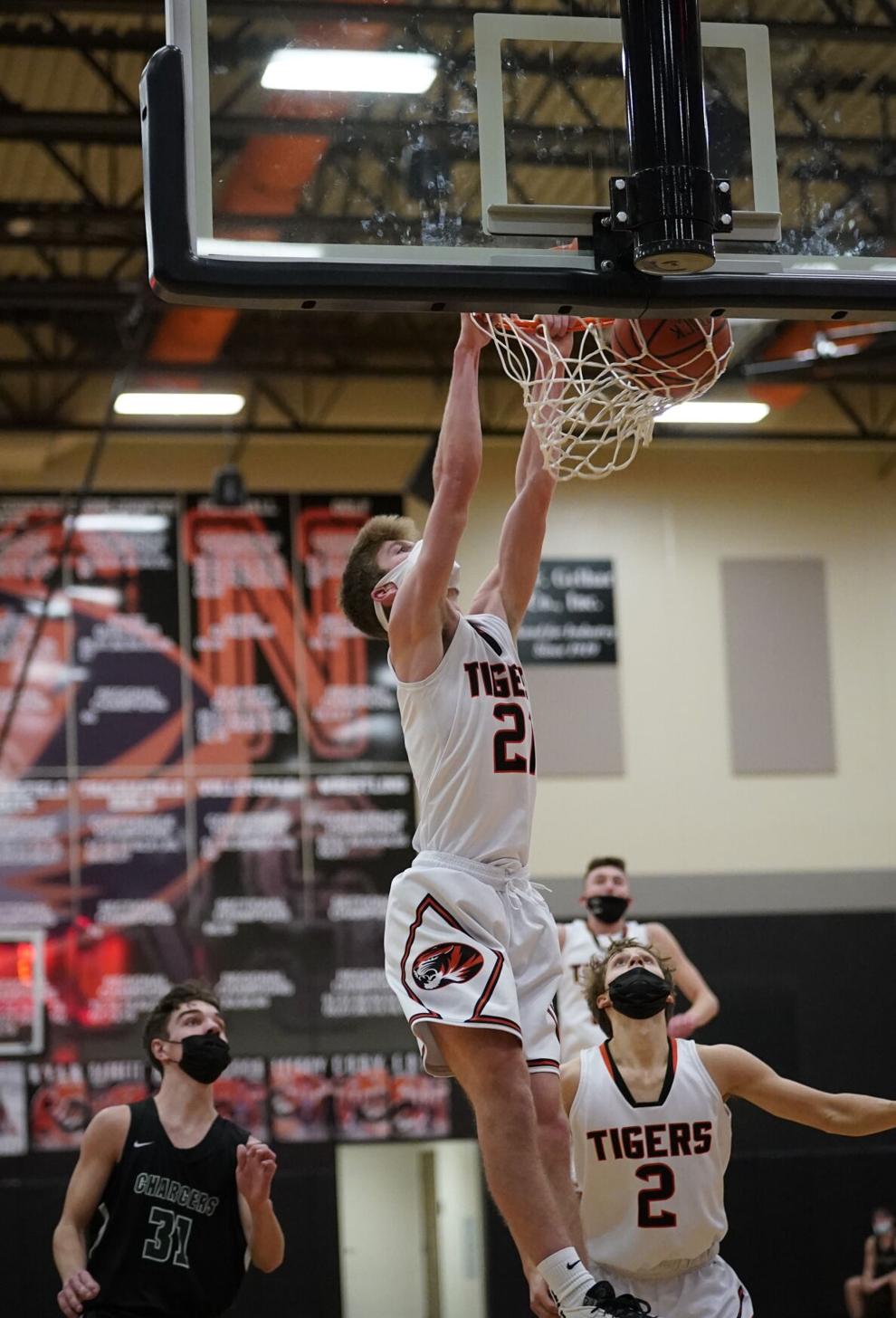 After entering intermission deadlocked at 38, the Tigers built as large as a 55-48 lead with a little more than 11 minutes left. But the cushion was short-lived as they went 3 minutes and 40 seconds without scoring, which allowed KML to take a 57-55 lead. In the back-and-forth game, Ripon did respond and eventually led by as many as five points at 72-67 with around four minutes to play. It was at that point that the Chargers banked in a 3-pointer from high off the glass, which sparked a 10-0 run that proved to be the difference in the game.
Ripon got within two at 77-75 and three at 80-77, but could never quite recover from the Chargers' late run.
While KML got a little lucky on the banked-in 3-pointer, it made a number of open long-range shots as well, which included one that made it 77-72. For the game, the Chargers knocked down 11 3-pointers, five of which came from freshman Garrett Murphy. Murphy came in averaging just a little more than two made 3-pointers a game.
"Looking at their last few games on tape, I personally didn't think that they would shoot as well as they did ...," Steve Brooks said. "Obviously, the 3-[pointer]s hurt us. It seemed like some of those were real timely shots when we were making a run that kind of put us back a little bit, so that was definitely an issue for us."
Offensively, the Ripon head coach noted he thought his team played a better first half than second half. He especially thought that down the stretch in the second half that Ripon reverted back to kind of standing and abandoning the things that the coaches asked them to do in timeouts.
"That was frustrating, but we're scoring well, right now," Steve Brooks said. "It's just a matter of we've got to put the brakes on the other team and we can't give up so many points."
Ripon was led offensively by Riley Brooks and Grant Schneider as the sophomore and senior scored 25 and 22 points, respectively. The Tigers also received 15 points from Kai Agamaite and 10 from Spencer Schultz.
Tigers defeat Cougars in shootout
Defense was hard to come by last week Friday during Ripon's game against Campbellsport.
Luckily, the Tigers were able to generate a little more offense as they came away with a 92-83 win at home over the Cougars.
"I told the guys the other day at practice that we can't rely on scoring 92 points because they can't play defense, and that's kind of what it turned into the other night," Steve Brooks said Monday. "We can play well offensively; it's just that we continue to struggle on the other side of the ball."
He noted it was basic areas that were plaguing the Tigers defensively, such as getting beat on penetration and communicating screens. The Ripon head coach also credited Campbellsport for doing a good job of executing its offense and putting players in the right spots to be successful.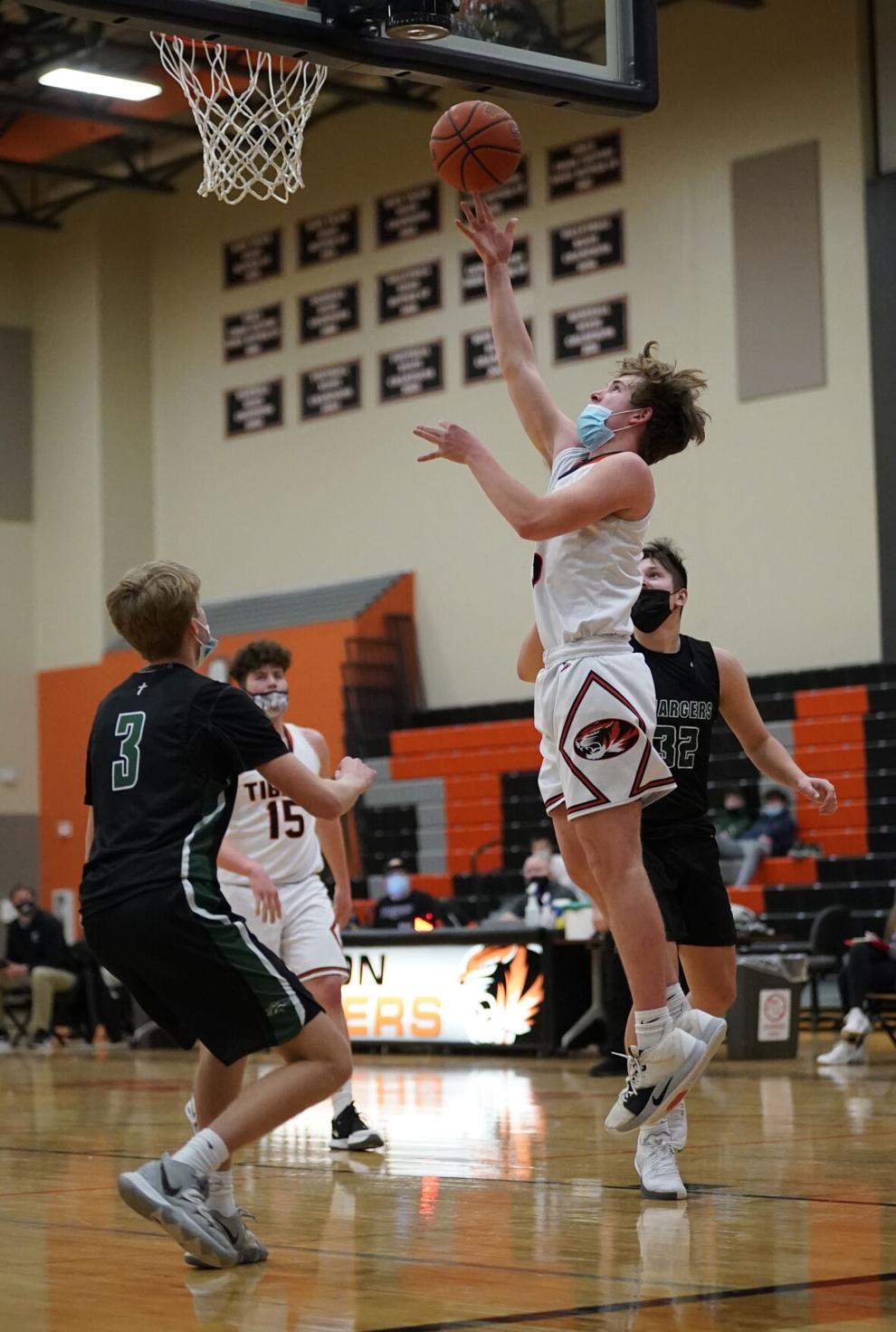 Offensively, Steve Brooks believes Ripon shared the ball fairly well, mixed up transition opportunities with half-court sets and had a better shot selection than it had in recent weeks.
"We forced Campbellsport into some situations where they had to decide how to guard certain people," Steve Brooks said, noting Riley Brooks did a "really good job" getting teammates involved.
The Tigers also did a good job of getting to the free-throw line and capitalizing on their chances as they converted 25 of 27 attempts. Eight of the free throws came during two possessions in the second half, after Campbellsport was called for technical fouls after committing fouls that sent Ripon to the line.
Both times it helped Ripon stem a run by the Cougars — the second of which came with a little more than two minutes left and turned a six-point lead into 10. Ripon led by at least eight points the rest of the way.
Campbellsport went to the free-throw line 15 times in the game, making only 10 of them.
"We've been working at that a lot and haven't always gotten to the free-throw line," Steve Brooks said. "So it's a win for us to get to the free-throw line 20-plus times, but then not only do you get there, but then you make them, that's a definite plus too. So I was happy our kids stepped up, hit some shots."
He added taking advantage of the technical free throws, which Riley Brooks knocked down all four of them, are momentum swings in the game, and he was proud of his guys for converting free throws.
Riley Brooks, who was a perfect 9-for-9 on free throws, finished with a game-high 32 points, while Schneider, Grant Jennings and Spencer Schultz added 24, 16 and 11 points, respectively, in the win.
Ripon falls to conference-leading Plymouth
The Tigers were able to stay within striking distance of the conference-leading Plymouth Panthers through the first half last week Tuesday, but were unable to recover from a rough start to the second half.
After being within 34-32 with a little more than a minute left in the first half and 38-32 at halftime, Ripon was out-scored 20-12 to open the second half and trailed by at least nine points from there as it lost 77-64 at home.
"We knew we'd have to play well on both ends and, I thought, we did some really good things offensively," Steve Brooks said. "... Even though we lost that game, our offense looked better than it has and we created shot opportunities for guys and put them in spots. We didn't shoot the ball as well [as we did last week Thursday], didn't shoot free throws as well, and then defensively, we struggled to stop runs that they were making."
While Ripon had difficulties minimizing runs by the Panthers, the Ripon coach liked how his players didn't quit.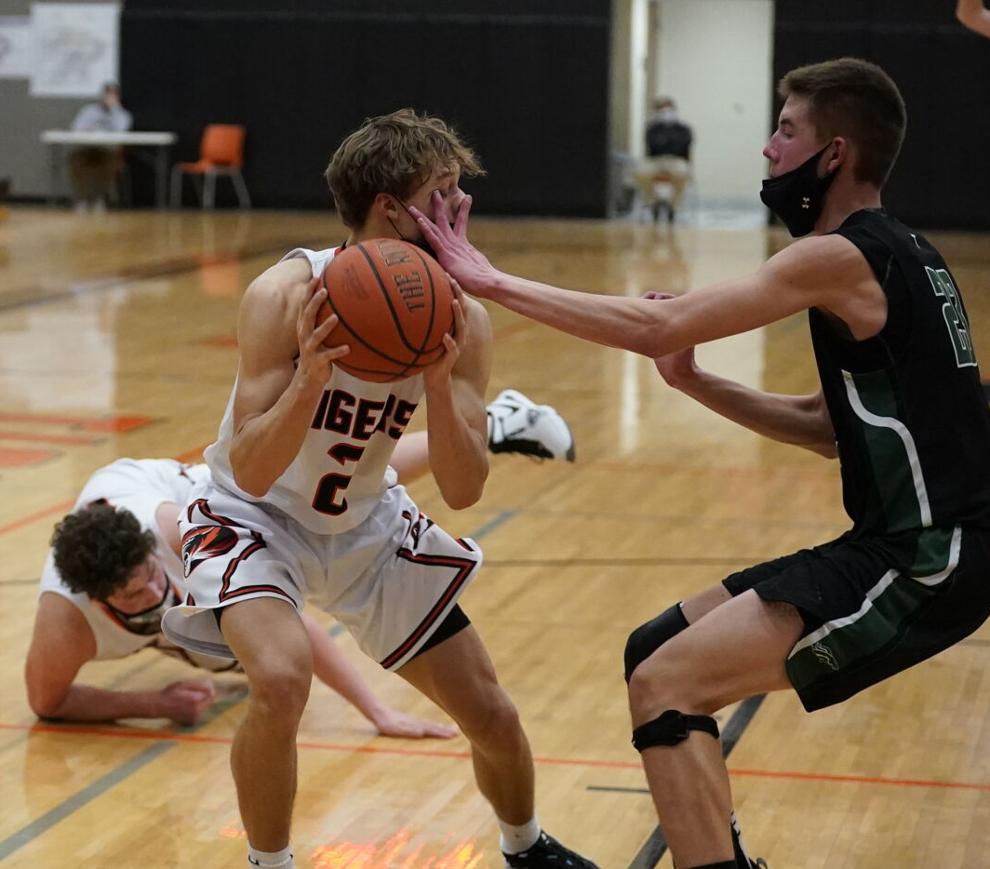 "There have been times this year when that has been called into question a little bit, but I felt like that was something that they did a good job of; they worked hard," Steve Brooks said of the fight shown by the Tigers.
He added Plymouth (12-1 conference, 15-4 overall) is a good team that is well coached that did a lot of good things, which include making the extra pass and always seeming to be one step ahead of the Tigers.
Riley Brooks led Ripon with 32 points, while Schneider and Schultz added 11 and nine points, respectively.
Up next
Ripon will try to close the regular season on a positive note and secure second-place in the East Central Conference Thursday, when it travels to Berlin to face the rival Indians in a game that tips off at 7:15 p.m.
While Berlin hasn't won a conference game this year, Steve Brooks knows the Tigers need to play better than they have been.
"We got to play, no matter who it is," Steve Brooks said. "We've got to work on some things and we're going to have to play hard to compete against them, and at the same time, putting a little bit of stuff in to try to polish up so that we're ready to try to make a run starting on Tuesday."
After facing Berlin, the Tigers then will prepare for their regional quarterfinal home game Tuesday against conference foe Winneconne, which will begin at 7 p.m.
The Tigers have won both games in the season series, but needed to overcome an 18-point second-half deficit in the first one and stave off a comeback attempt by the Wolves in the second one after jumping out to a big lead.
Ripon is the No. 4 seed in its six-team regional bracket, while the Wolves are the No. 5 seed.
"I'm looking forward to the challenge," Steve Brooks said. "Hunter [Ingles] is a really good player and [head coach] Troy [Buelow] always does a really good job and he always gets his kids to play hard, so they'll be hungry. We've had two fun games [against them and] they're a fun team to play against, so we're looking forward to a challenge."
The winner of that game will face No. 1 seed Xavier Friday, Feb. 19 in Appleton.