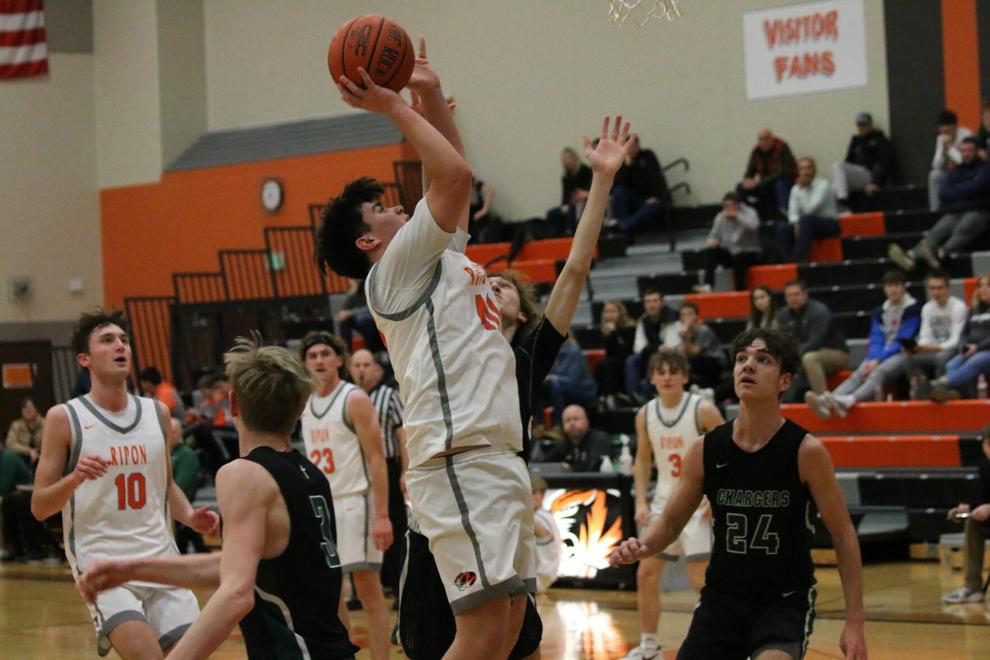 The Ripon High School Tiger boys' basketball team was no match for the deeper, more experienced Kettle Moraine Lutheran (KML) Chargers last week Thursday as it fell 97-66 at home.
The Chargers, who improved to just 5-7 on the season but played a number of ranked and larger schools, wasted no time taking control. They jumped out to a 28-9 lead nine minutes in and led by at least nine points the rest of the way.
"They're skilled; they can all shoot," Ripon head coach Steve Brooks said. "The tempo that they play with is great and they put a lot of pressure on you. If you can force them to miss some shots, like in our zone, which we did, our margin for error is very small because we can't afford to turn the ball and miss shots. They can play eight or nine or 10 guys and they don't really miss a beat, and so then our fatigue got in the way there. And they're good. And I liked the way they played. They're unselfish. They do a lot of really good things, so [coach] Josh [Lindner] has a good thing going there."
While the score got lopsided early on, the Tigers (0-5 conference, 2-11 overall) were able to make cut into the deficit as they went on a 10-0 run to make it 28-19 and were within 36-26 with around three minutes left in the first half. They trailed 45-33 at half.
Much like the first half, the Chargers began the second half strong as they out-scored Ripon 18-5 in the first five minutes to take a 63-38 lead and led by at least 20 points the remainder of the game, which included by as many as 36 points.
"I was hoping for the same kind of thing in the second half; we weren't able to do it," Steve Brooks said of Ripon being able to put some runs together. "We did some things and we made some adjustments and there were elements of the game that we improved upon like we've been talking about. [There's] just still a lot of work to do."
Ripon High School boys' basketball vs. KML — Jan. 9, 2023