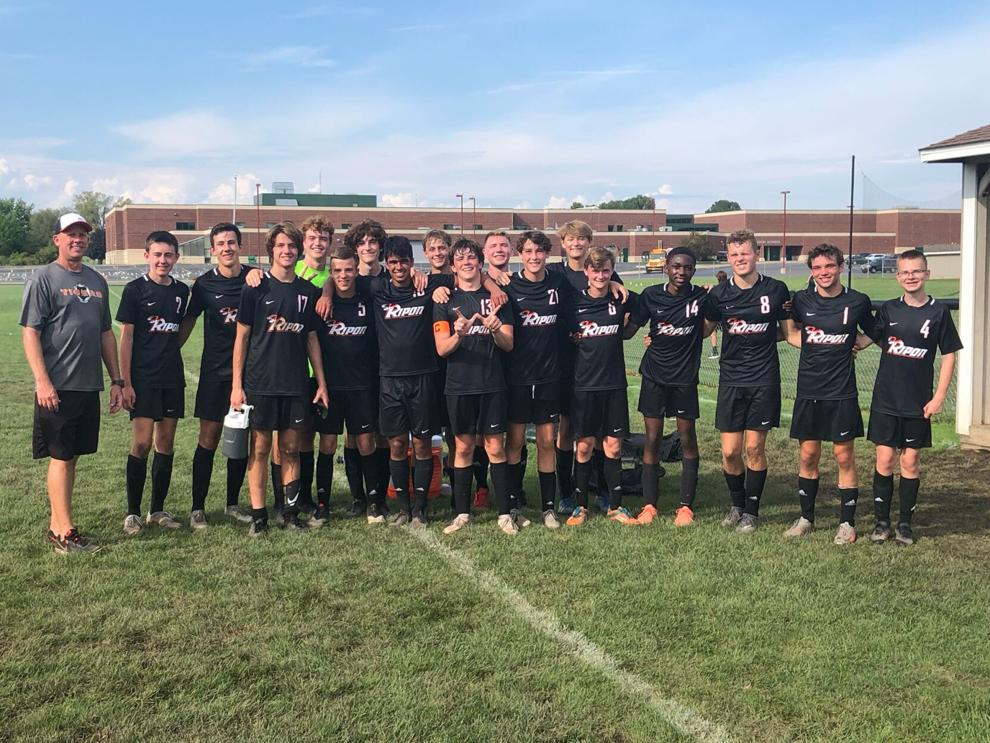 The Ripon High School boys' soccer team sweated its way — both figuratively and literally — to its third Berlin Tournament title in its past four appearances at the competition last week Saturday.
Playing on a hot, humid day, and on a field that wasn't in the best condition due to rain the night before, the Tigers went 2-0-1 in the tournament.
They defeated Omro 1-0 thanks to a goal in the final minutes of the first game; tied Kewaskum 1-1 in the second game, but advanced in the winner's bracket by prevailing in a shootout; and overcame an early deficit to edge Portage/Poynette 3-2 in the championship game.
Ripon also won the tournament in 2017 and 2018, before falling to Omro in a shootout in 2019. The competition did not take place in 2020 due to the coronavirus pandemic.
"They weren't the prettiest games, but it kind of did come down to conditioning," Ripon head coach Steve Nankervis said. "Our boys are pretty well conditioned and in shape; their fitness was right where it needed to be to kind of pull through all those games. To win is always nice; to spend all that time out there and playing in the conditions we were playing in and not come away victorious for the whole thing would have been disappointing, so I'm glad the boys found it in themselves and were able to finish the tournament strong."
The Tigers started off the tournament against Omro, which is the school that edged them in a shootout in 2019 for the title. This year's game also appeared like it may be headed to a shootout, but Ripon received a goal from Adam Banerjee with two minutes left in the 50-minute contest to come out on top in regulation.
Banerjee received the ball at the top of Omro's box on a pass from Spencer Schultz and was able to finish it.
"It was just a well-played game," Nankervis said, noting possession was 50/50 and that Ripon out-shot Omro 8-2. "... It was definitely nice to not go to a shootout, especially since that would add another 15, 20 minutes in that hot, blistering sun."
While the Tigers didn't need a shootout in that game, the same can't be said about their second game. After taking a 1-0 lead in the eighth minute on a goal from Jonathan Muenchow that was assisted by Landon Shidell, Ripon gave up the equalizer with four minutes left on a penalty kick after committing a foul in the box.
It was the only shot that Kewaskum took in the game as Nankervis noted that Ripon dominated possession.
The Tigers did bounce back in the shootout as their first four shooters — Banerjee, Isaac Whitrock, Dylan Kamin and Muenchow — converted their penalty kicks. Goalkeeper Liam Gilfillan, meanwhile, saved two of Kewaskum's first four shots to give Ripon a 4-2 victory and a chance to win the tournament title.
After playing what Nankervis described as "two very hot, nasty games with the weather and with the field conditions" that resulted in players being "pretty much on their last leg," Ripon got off to a rough start against Portage/Poynette as it allowed a goal in the first 15 to 20 seconds as a result of miscommunication.
But the Tigers were able to dig deep and got the goal back in the 17th minute when Schultz took a pass from Shidell and finished. After recovering for the five minutes of halftime, Ripon came out and dominated the second half. It received the go-ahead goal from Shidell in the 36th minute on a scrum by the net.
"Shidell just had a nose for a goal and stayed with the ball and was able to finish on his own," Nankervis said.
The Ripon head coach added that the Tigers played keep away from the final 14 minutes to secure the win.
Nankervis was pleased with the play of some of the newer, younger players for Ripon in the tournament, which included juniors Shidell and Muenchow. He also noted that a lot of other players got some minutes due to the hot conditions and that they were able to step in and fill in where they could and were needed to.
Up next
Ripon will look to get back to some normalcy both in terms of temperature and field conditions this week, when it travels to Wrightstown Tuesday and hosts the Wautoma Hornets Friday at Ingalls Field.
"I'm looking forward to hopefully having some good showings against those two teams and getting some more minutes for some of these younger guys and looking for more contributions and playing good team soccer," Nankervis said.
The game against Wrightstown will begin at 4:30 p.m., while the contest against Wautoma starts at 5:30 p.m.