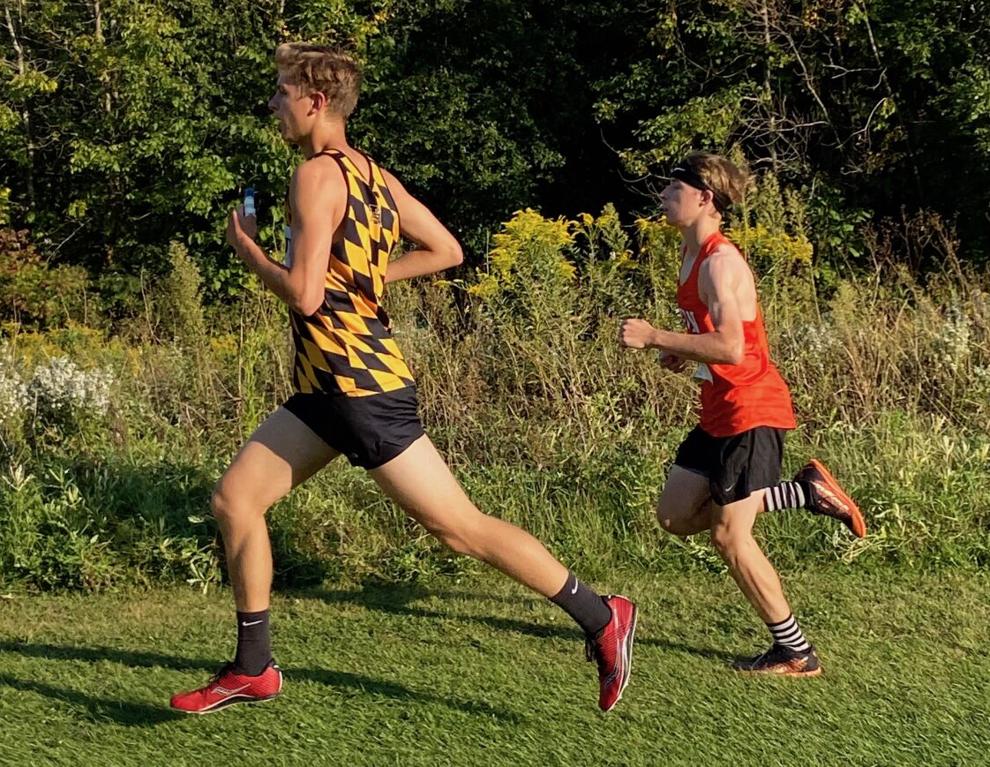 While each course is different and it's not really fair to compare times from one competition to the next, the Ripon High School Tiger cross country teams appeared to take a step forward last week Friday at Mayville High School's Mike Hurlbert Invitational.
Every runner for the Tigers improved upon their time, most of them by a few minutes, from the Oshkosh Valley Christian Invitational a week earlier. The Tiger girls ended up placing eighth out of 13 teams, while the boys were 12th out of 14 teams.
Kiel won both the boys' and the girls' races. Other schools in attendance were Berlin, Campbellsport, Horicon, Kettle Moraine Lutheran, Laconia, Lomira, Mayville, New Holstein, North Fond du Lac/Oakfield, Omro, Plymouth, Randolph/Cambria-Friesland and Waupun.
"What you want to see is an improvement from times before," Ripon head coach Chris Gatzke said. "There was some very good competition there and the times, I think, were faster. I had a couple of coaches who wanted to make sure that the course was correct. We've run Mayville enough times that the course didn't change; things just seemed to be just right. All the runners did a great job."
He added Ripon was aiming to have as many runners medal by finishing in the top-25 as possible. It had three achieve the feat as Dayton Baird placed 11th out of 95 competitors on the boys' side, and Hannah Yeomans and Lucy Beuthin finished 22nd and 25th, respectively, out of 92 finishers.
Ripon High School cross country at Mike Hurlbert Invitational
Baird, who also finished 11th in the first meet of the season, crossed the line with a time of 17 minutes, 51 seconds, which was 2:05 faster than what the senior ran the previous week.
"He was very surprised and we were very pleased with that result," Gatzke said. "For finishing 11th last time and being one [place] out of the medals to being right smack in the middle … that was great."
Yeomans and Beuthin, meanwhile, recorded personal-best times at the meet to finish in the top-25.
Yeomans crossed the line in 21:42, which was 2:05 faster than a week earlier and 1:59 quicker than her previous personal-best time that she set as a sophomore at the East Central Conference meet in Berlin.
Beuthin finished with a time of 21:48 to top her previous personal record, also set as a sophomore at the East Central Conference meet in Berlin, of 23:04. She ran a 23:32 at the season-opening meet.
Three freshmen joined Yeomans and Beuthin in setting personal-record times as Leah Page (22:20), Libby Gatzke (23:57), Adalin Nodolf (25:31) all improved upon their times from their first high school race. The times were good for 32nd, 58th and 69th places, respectively.
While not running their personal-best times last week Friday, junior Madalyn Leinweber and sophomore Grace Schoelzel also improved upon their times from a week earlier. Leinweber trimmed 32 seconds off to finish 67th (25:11), while Schoelzel cut off 1:47 to place 73rd (26:05).
Also making strides from a week earlier on the junior varsity side were junior Elena Williams and freshman Natalie Erickson. Williams finished 16th (27:47), while Erickson placed 26th (32.18). Senior Kasie Badtke ran her first race of the year and finished 29th with a time of 34:27.
Improving their times significantly on the boys' side for the Tigers were freshman Aidan Ruedinger (73rd, 21:18), sophomore Jayden Trochinski (81st, 22:10), freshman Cyan Volkmann (82nd, 22:10), sophomore Henry Beuthin (85th, 22:40) and freshman Riley Kuzelka (90th, 24:35).
Beuthin trimmed the most time off of the group as he ran 3:13 faster than a week earlier. Kuzelka and Volkmann cut more than two minutes each, while Ruedinger and Trochinski were just shy of two minutes quicker than the opening race. All but Trochinski also recorded personal-best times.
In addition to the improvement, another area Chris Gatzke was pleased with was how the Tiger runners fared in the middle of the race. It has been an area of emphasis for Ripon early on this season.
"The majority of the runners continue to pick up in the middle and end of the race, so we're moving up as other people are falling off," Chris Gatzke. "... The beginning everybody is pumped up ready to go and you can start too fast. At the end of the meet, everybody's excited because you're finishing and you've got a sprint coming in, but it's the middle part of the race that's always the most difficult."
Up next
Ripon will look to continue to trim its times Tuesday, when it takes part in the Berlin Invitational at Mascoutin Golf Course. First race is scheduled for 4 p.m.
"It's an eight- or nine-team invite with a couple of conference schools and a couple of our old conference schools thrown in, like Fox Valley Lutheran and Omro," Chris Gatzke said. "It's a good mix and we're looking forward to being able to build on what we did at Mayville, or improve on what we did at Mayville if we didn't have the best race that we probably should have had."
The Tigers then will get ready to run in its home meet, the Kris Greening Invitational, Saturday morning at Barlow Park. Thirteen teams are currently slated to take part in the competition.
Chris Gatzke noted there will be some very good teams there, so Ripon's hoping to do the best it can.
"We're not going to be the contender for the team champion[ship], but we want to see just how well we sneak in with the competition that's coming," the Ripon head coach said.
The junior varsity race will kick off the competition at 9:30 a.m. and will be followed by the boys' varsity race at 10:05, the girls' junior varsity race at 10:40, the girls' varsity race at 11:15, the middle school race at 11:50 and the awards at 12:30 p.m. or sooner if possible.