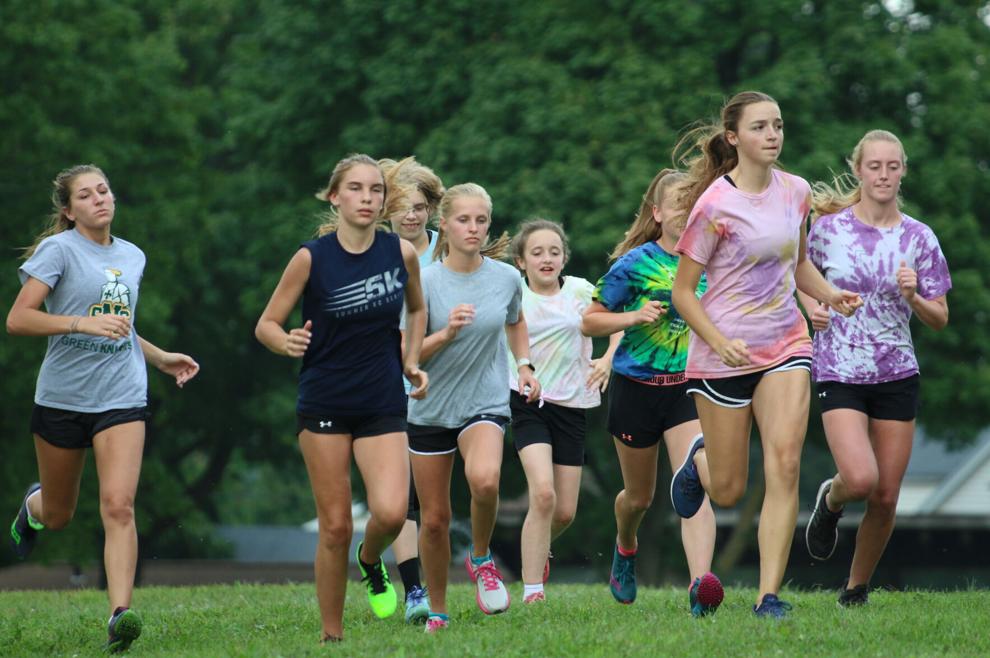 Numbers were down for the majority of the schools at the Fun Run last week Thursday at Barlow Park.
And the Ripon High School Tiger boys' and girls' cross country teams were no exception.
The Tigers enter the season with just nine boys and 11 girls, which while lower than past years is still enough to field complete squads. They also have a lot of young and more inexperienced runners.
"We have some experience, some seniors who have been here for a while, but we have a lot of people who had a very shortened first year of cross country with the COVID season last year ...," Ripon head coach Chris Gatzke said. "We're still young and have quite a bit of things to learn, but there's a lot of potential on both the boys' team and the girls' team to do some good things toward the end of the year."
Chris Gatzke noted he believes the seniors, who include Miles Fisch, Dayton Baird, Lucy Beuthin, Hannah Yeomans and Kasie Badtke — are going to be the strength of the team this season. Fisch and Baird were among the top finishers for the Tigers boys last year after the now-graduated J.P. Stanfield. Beuthin, Yeomans and Badtke also will be entering their fourth year with the high school program.
Ripon High School Cross Country Fun Run — Aug. 26, 2021
"I'm excited for what they have to bring and hopefully that we don't have a shortened season for their last year," Chris Gatzke said of the seniors.
The Ripon head coach also is looking forward to seeing what the underclassmen can accomplish this year, who include what he describes as "a pretty good-sized freshman class … which is unusual."
Among the freshmen, who Chris Gatzke hopes "will lead to better things," are Aidan Ruedinger, Cyan Volkmann, Riley Kuzelka, Natalie Erickson, Adalin Nodolf, Ava Osheim, Leah Page and Libby Gatzke.
Ripon also welcomes back juniors Madalyn Leinweber and Elena Williams, and sophomores Mason Killam, Jayden Trochinski, Joseph Williams, Cale Agamaite, Henry Beuthin and Grace Schoelzel from last year.
One big change from last season will be the return of invitationals as last year Ripon only took part in quadrangular meets until the conference meet and state tournament to limit the number of competitors due to COVID-19.
"Being able to run a real, legit meet with seven, eight teams should be an interesting thing for us, which is going to be different, so we will have to see how that turns out for us," Chris Gatzke said.
One area the Ripon head coach noted Ripon is going to have to improve to be competitive in the invitationals, as well as the East Central Conference and state tournament meets, is the middle of races.
"That's the weakest point for both the boys' and girls' teams," Chris Gatzke said. "That will come with experience and practice, and by the time we're done we should be able to run a full, complete race."
He added the lack of numbers also will be a weakness as the more runners a program has, the more opportunity there is for two people of similar ability to run together and push one another.
If the Tigers can overcome the lack of numbers and improve upon their performance in the middle of races, Chris Gatzke is hopeful both teams can improve upon their finishes at last year's conference meet. The boys' team finished eighth out of eight schools, while the girls' team were sixth out of eight schools.
Ripon is down a conference school from last year as Campbellsport left to join the Flyway Conference.
Chris Gatzke also would like to see at least one athlete qualify for the state meet. He believes there are a couple runners with the potential to do that, but that they have to work through the season to get there.
The Tigers will begin their season Thursday, when they travel to Oshkosh to take part in the Oshkosh Valley Christian Invitational. Host Oshkosh Valley Christian, Campbellsport, Chilton, Laconia, Markesan, Winnebago Lutheran Academy, St. Mary's Springs, Princeton/Green Lake and Ripon are scheduled to be there.
The first race is slated to get underway at 4 p.m.