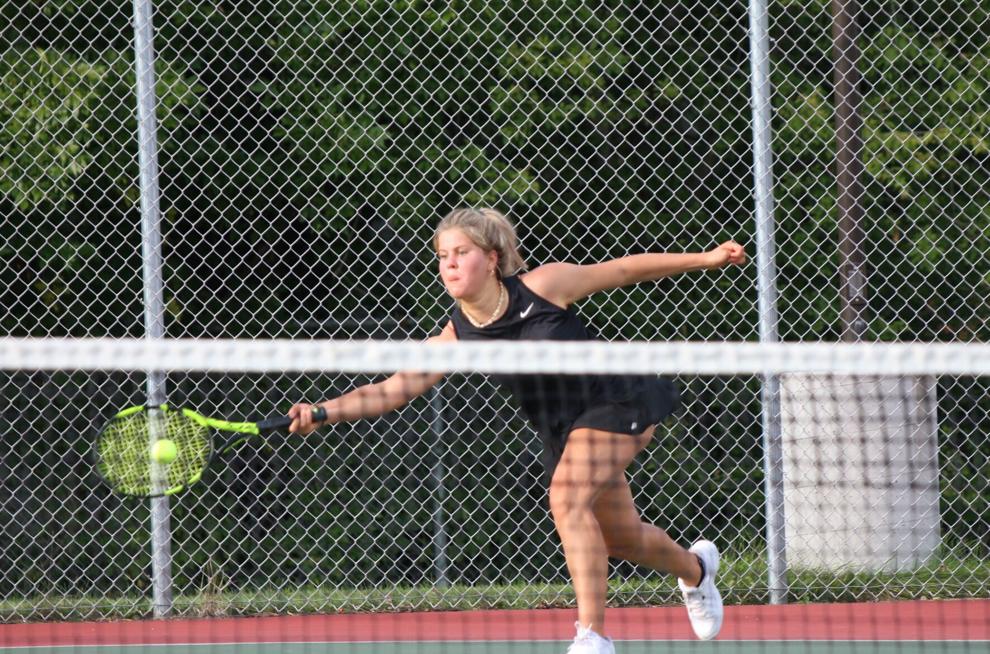 The Ripon High School Tiger girls' tennis was one match away from leaving the Lodi Quadrangular with a winning record last week Saturday, but came up just short as it finished with a record of 1-2.
Ripon lost to Onalaska Luther 7-0 to begin the day, before defeating Waupun 5-2 and dropping a close dual to host Lodi 4-3 to end the day.
According to Tiger head coach Brent Sanderfoot, Onalaska Luther is usually one of the better teams in the state and it proved that last week Saturday. He noted even though Ripon lost 7-0, the dual marked the closest it has been to Luther in the last several years.
The closest match came at No. 2 doubles, where Quinn Diedrich and Celina Lopez lost a three-set match. After dropping the first set 3-6, Lopez and Diedrich battled back to take the second set 7-6 (5) in a tie break and force a third set 10-point tie break. In that tie break it was back and forth and was tied at 8-all before Luther capitalized on two-straight points to secure the hard-fought victory.
"I was really proud of the way Quinn and Celina played," Sanderfoot said. "They really made Luther work for every point."
Also making Onalaska Luther work was Ava Nankervis. The junior won four games in the first set at No. 3 singles, before being shut out 6-0 in the second set. The No. 1 doubles team of Emma Mott and Lillian Schram and the No. 3 duo of Bella Engstrom and Mackenzie Whitrock also won four games, winning two in each set.
Dropping matches more convincingly against Onalaska Luther were Guimauve Engelschenschilt at No. 1 singles (0-6, 0-6), Grace Retzlaff at No. 2 singles (1-6, 1-6) and Katie Skoog at No. 4 singles (2-6, 0-6)
If Ripon was discouraged after being blanked by Onalaska Luther, it was short lived as it bounced back in its second dual match and defeated conference rival Waupun 5-2 in a non-conference competition.
"It was a really nice win for us and came at a great time," Sanderfoot said of the victory.
Picking up wins for the Tigers in singles play were Retzlaff and Nankervis.
Retzlaff dropped her first set at No. 2 singles 4-6, but won the second set 6-2 and the tie break 10-5.
"Grace just grinded it out," Sanderfoot said, adding the junior plays smooth and smart and rarely presses. "She kept her opponent back and kept her moving. Grace just tired her out; she played really well."
Meanwhile, Nankervis did everything she needed to do to win her match 6-3, 6-3, according to Sanderfoot.
"She played within herself and played to her strengths," the Ripon coach said of the junior. "I think she was a little down following the first match, but was able to rebound nicely and get a victory."
Ripon also was able to pick up victories over Waupun at all three doubles positions. At No 1 doubles, Mott and Schram defeated their opponents 6-3, 6-3, with Sanderfoot noting that it's nice to see how competitive they are at the position and they are the two captains and other players feed off their energy.
Diedrich and Lopez, meanwhile, came out and dominated Waupun 6-1, 6-1 at No. 2 doubles. Sanderfoot noted he was a little concerned they might have a small letdown following their heartbreaking loss to Onalaska Luther, but it didn't take long to see that wasn't going to be the case.
"Quinn and Celina continue to get better and are becoming a real force at No. 2 doubles," Sanderfoot said.
Completing the doubles' sweep were Whitrock and Engstrom at the No. 3 spot with a 6-0, 6-1 win.
"These two worked incredibly hard this off season to earn the varsity No. 3 spot," Sanderfoot said. "These two never get down on themselves; they are always positive. I actually wouldn't mind seeing a little more emotion out of them, but that's simply not their style."
Dropping the only two matches for Ripon against Waupun were Engelschenschilt at No. 1 singles (2-6, 1-6) and Skoog at No. 4 singles (1-6, 0-6).
While Engelschenschilt lost her match against Waupun, she bounced back to record one of the Tigers' three victories over Lodi as a result of an injury default. Sanderfoot noted that he knows Engelschenschilt was a bit disappointed about the results of her first two matches, but she has to remember that when playing No. 1 singles she's going to be facing the best tennis players each and every match.
"Guimauve is playing well and is having a good season," the Ripon coach said. "She's only a junior, so she's still going to grow and get better.
Ripon's other two wins against Lodi came on third set tie breakers as Nankervis prevailed 6-1, 4-6, 10-7 at No. 3 singles and the No. 2 doubles team of Diedrich and Lopez came out on top 6-1, 2-6, 10-7.
Sanderfoot noted that Nankervis was exhausted after the match and it was really good to see her pull through in the third set.
"I was really proud of her," he said. "She never quit and worked extremely hard."
The Ripon coach, meanwhile, was pleased to see Diedirch and Lopez regroup and get back to the basics in the third set tie break after losing the second set 2-6 following a dominating 6-1 win in the first set.
"At this juncture of the day everyone was exhausted," Sanderfoot said. "Celina and Quinn managed to fight through the exhaustion and prevail in the third set tiebreak."
Ripon High School girls' tennis vs. Sheboygan Falls — Sept. 9, 2021
Ripon drops dual to Sheboygan Falls
Ripon pushed Sheboygan Falls in many sets last week Thursday, but had little to show for it as it lost to the Falcons 6-1 at home. Four of the seven flights had a set finish 7-6 or 7-5, including all three doubles matches.
It marked the second-straight conference dual that the Tigers lost 6-1 as it also fell to powerhouse Kohler by that score.
"I am happy [with] the way we are playing," Sanderfoot said. "We knew this stretch of the season was going to be tough. Kohler and Sheboygan Falls are currently [Nos.] 1 and 2 in the conference so this past week gave us a good indicator as to where we stand and work that needs to be done."
The lone winner for the Tigers against Sheboygan Falls was Diedrich, who played No. 4 singles since her doubles partner, Lopez, was unavailable for the match. The junior won in straight sets 7-6 (4), 6-1.
"I had no doubt Quinn would be OK playing her first varsity singles match," Sanderfoot said. "She played quite a bit of singles last year on JV. She's a dynamic athlete who I knew would be able to adjust just fine."
Also playing well and nearly taking the first set were all three of Ripon's doubles team. The No. 1 tandem of Mott and Schram lost their first set 6-7 (3), 2-6, before dropping the second 2-6; the No. 2 duo of Engstrom and Whitrock came up short in its first set 5-7, prior to losing its second 1-6; and the No. 3 pairing of Skoog and Story fell in its opener set 5-7 and were defeated in the second 3-6.
"When you look at doubles, we were right there," Sanderfoot said, noting Ripon should be confident in the results.
Also dropping matches for Ripon against Sheboygan Falls were Engelschenschilt at No. 1 singles (0-6, 0-6), Retlzaff at No. 2 singles (1-6, 1-6) and Nankervis at No. 3 singles (3-6, 2-6).
Despite the 6-1 loss, Sanderfoot noted that he is seeing a ton of growth this year from the Tigers.
"It's hard to believe that everyone but Emma and Lilly were all on JV last year," he said. "I think if we keep showing up to practice each day we are only going to get better. We want to be playing our best tennis come the end of the month."
Up next
Ripon will face Waupun again Thursday as it hosts the Warriors in a conference dual at 4 p.m.
It is one of three regular season competitions remaining for Ripon as it also will travel Thursday, Sept. 23 to Roncalli and Tuesday, Sept. 28 to Plymouth before entering subsectional competition in October.