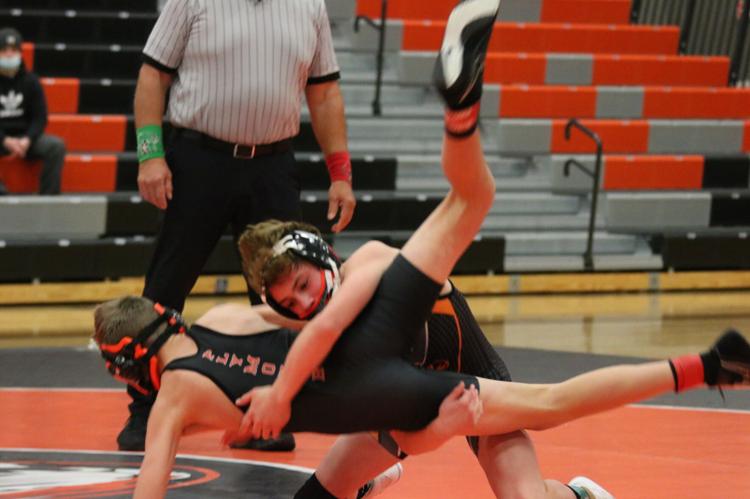 Going into last week Tuesday's dual with Plymouth, Lee Cotton was confident that his Ripon High School Tiger wrestling team would fare better than it had a couple weeks earlier against Campbellsport when it lost convincingly to the Cougars 54-18.
"Our loss to Campbellsport [in] no way represented what our team's potential is," the Ripon head coach said. "I think we just got off to a bad start there and just mentally maybe weren't as prepared as we were against Berlin. This team that just wrestled Berlin would not have given up this many points to Campbellsport … So going into wrestling Plymouth, we're definitely going to be stronger … and we're going to be competitive.
"We always are looking for that team win as well, so I think these guys can pull it off."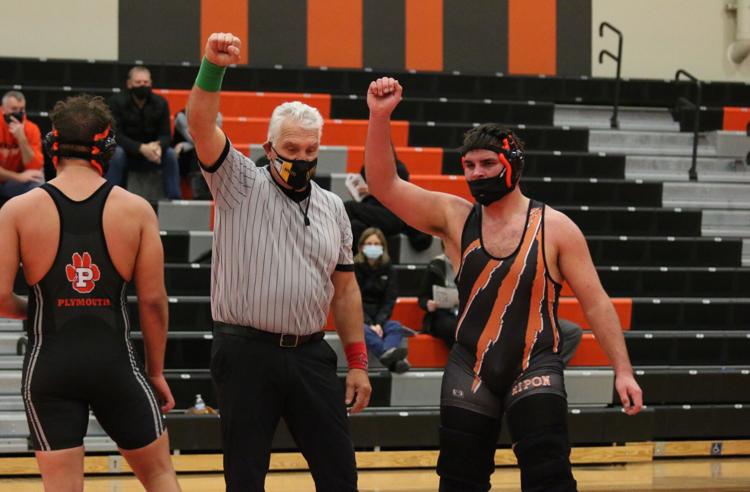 While Ripon wasn't able to manage to do the latter last week Tuesday against Plymouth and come away with a win, it did put up a much better fight than it did against Campbellsport.
The Tigers went the full six minutes in five of the nine contested matches against the Panthers, who were coming off a 42-41 win over Campbellsport a week earlier, and held them to less than 40 points for the dual en route to a 38-21 home loss.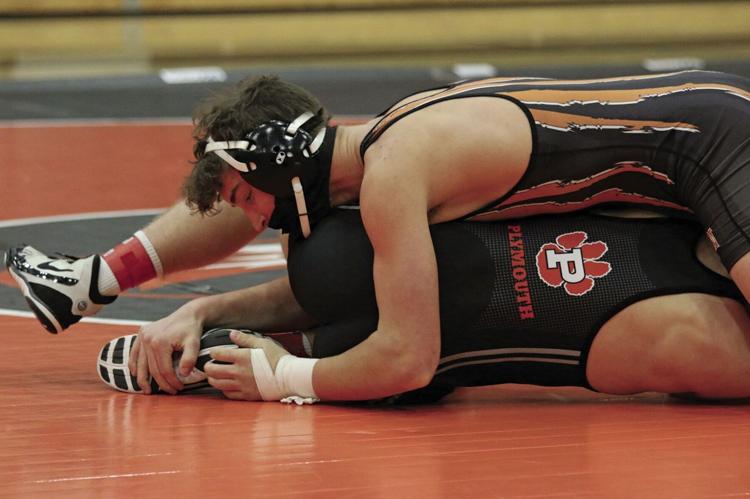 "We definitely had a little bit of mental toughness to add to the team after wrestling with Campbellsport and the guys really came out and did what we asked of them," Lee Cotton said. "They were able to be way more competitive even though we have a lot of inexperienced guys on the mat. They learned the value of fighting and not giving up."
Examples of that toughness were on display in the matches of LeeRoy Cotton and Kale Agamaite. Both wrestlers were dominated on the mat, but refused to get pinned. LeeRoy Cotton, who wrestled "terribly" according to his dad and head coach, lost his 152-pound match on a 10-0 major decision and was in a near-fall position for a good chunk of time.
Agamaite, meanwhile, also was handled pretty convincingly at 132 pounds, but managed to keep fighting and nearly surprised his opponent. Agamaite fell on an 18-9 major decision.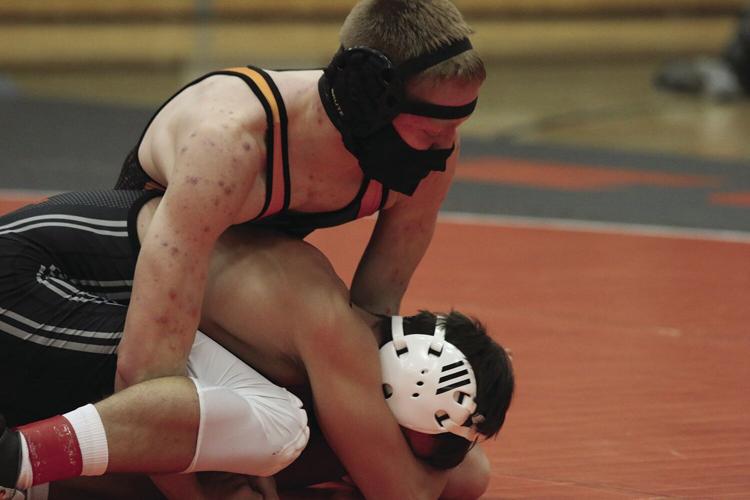 "That's what we ask; never give up because you're never out of it," Lee Cotton said of those two matches. "There was a part of Kale's match where he went from his back and put his opponent on his back. So just the value of getting out there and fighting and getting tougher on the bottom was just excellent that we were able to do that."
Brandyn Beahm was another wrestler who didn't give up despite a sizable deficit and he fought for all six minutes, before falling on a 10-3 decision at 138 pounds.
One wrestler for the Tigers who went three periods and narrowly lost was Alex Button. The senior dropped a hard-fought 2-1 decision at the 170-pound weight class.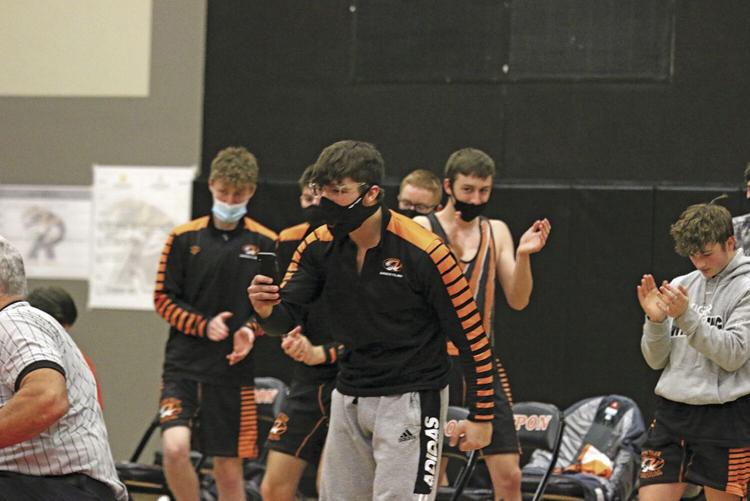 Ripon also won a match that went the full six minutes, with Joey Williams doing the honors. The freshman scored a pair of takedowns to defeat his 113-pound opponent on a 4-0 decision.
"He is one of our more experienced young wrestlers and having him go out there and battle to the end to get those important few points [was nice to see]," Lee Cotton said. "He was giving up a lot of weight that night; we bumped him up to 113, even though he made weight at 106, just to give him a match. We're there to wrestle first and foremost and sometimes the team score might suffer because of that, but at the end of the day he worked hard all week to get a wrestling match, so that's what we gave them and he came out with a win."
One Tiger who didn't need the full six minutes to come away with a win was Ryan Socha. The senior picked up a pin at the 3-minute, 40-second mark of his 220-pound match. With the win, he improves to a perfect 4-0 on the season.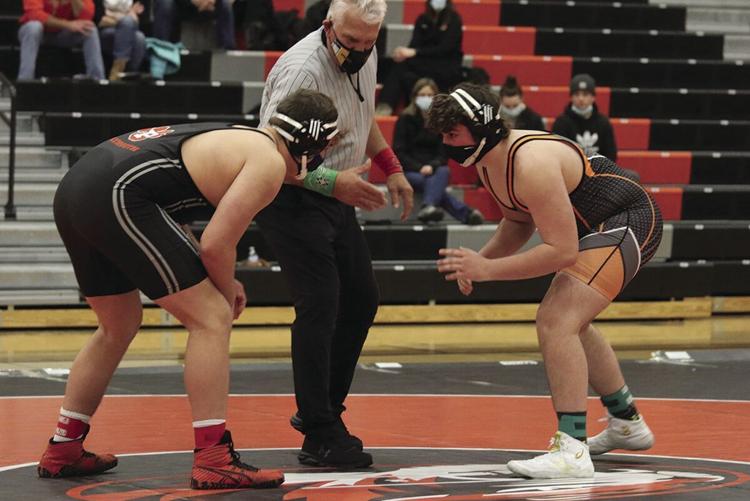 "Aaron's really been doing well in the neutral position this year; really looks good, works hard for those takedowns and being on the bottom in the second period," Lee Cotton said. "We knew that that would be a great position for him early in the match and he came out on top with a nice reversal and a pin."
Ripon's other two wins against Plymouth came via forfeit, with Cody Wald winning uncontested at 145 pounds and Garrett Briske getting his hand raised without a fight at 195 pounds.
Losing matches for the Tigers by pin were Ryan Forslund at 160 pounds, Jack Schoelzel at 182 pounds and Caden Kraege at 285 pounds. Ripon also gave up points due to a forfeit at 120 pounds, while the 106 and 126 weight classes ended up being double forfeits for the dual.
Up next
After initially being off this week, the Tigers scheduled a road dual for today (Tuesday) against the Sheboygan Falls Falcons, which finished after press time.
Ripon's competition against Winneconne, which was slated for Thursday, Dec. 14 also changed. Instead of just Winneconne and Ripon wrestling against each other, it will be a quadrangular with Freedom and Coleman joining in. The quadrangular will take place in Freedom.
"That's good news for the guys [in] getting some more opportunities to wrestle than was initially afforded to them this year," Lee Cotton said. "As coaches, we're very excited that that's going to happen and it looks like we're going to have a postseason as well, so that should incentivize these guys to push hard this last month of the season and set their sights high."