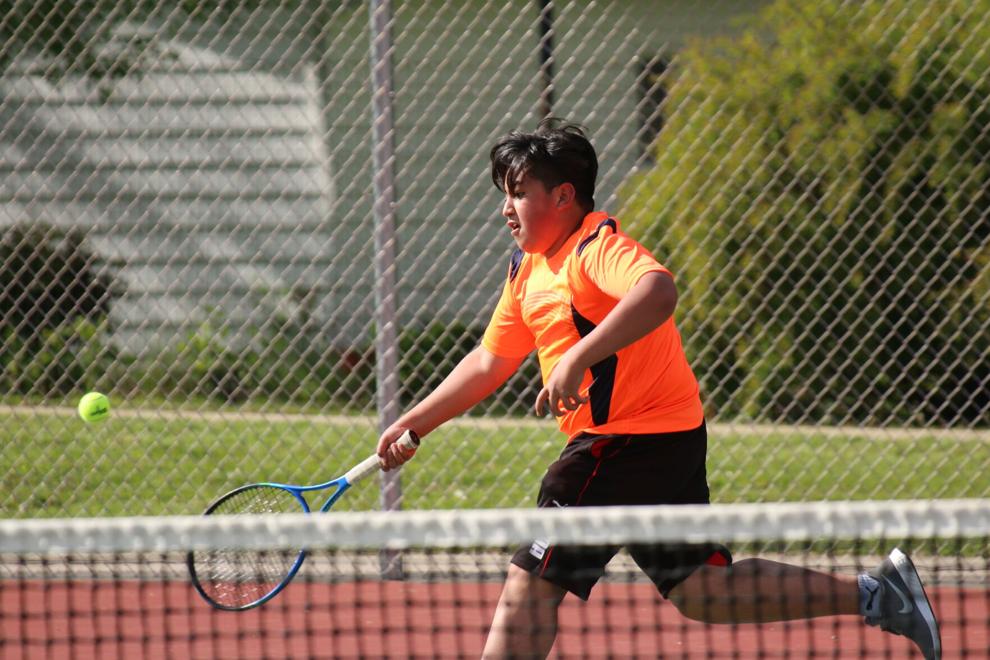 The Ripon High School Tiger boys' tennis team opened its season against the short-handed Waupun Warriors last week Thursday and came away with a 7-0 victory at home.
It won the only two contested matches against the Warriors, who did not have a team due to low numbers two years ago. Last season, there was no boys' tennis season due to the COVID-19 pandemic.
Winning the contested matches for Ripon were first-year players Jon Muenchow at No. 3 singles and Christian Camarena at No. 4 singles. Muenchow won 6-0, 6-0, while Camarena prevailed 6-3, 6-4.
Ripon head coach Brent Sanderfoot noted that Muenchow did a "fantastic job of keeping his opponent moving side to side" en route to not dropping a single game in the two-set victory.
"He didn't try to do too much," Sanderfoot said. "He kept the ball deep and really tired his opponent out. He kept the pressure on from the first point to the last and cruised to a 6-0, 6-0 victory. He looked very comfortable out there and if he was nervous playing his first varsity match, he certainly didn't show it."
The Ripon coach added that Camarena had a bit more of a fight on his hand as after winning the first set 6-3, he was down early in the second set 3-4 before winning the next three games to take the set 6-4.
"Christian did a nice job keeping the ball in play," Sanderfoot said. "He served very well and hustled everything down. +He showed great focus and determination being able to come back in the second set."
Also picking up 2-0, 2-0 wins by forfeit for Ripon were Isaac Whitrock at No. 1 singles, Ardilles Engelschenschilt at No. 2 singles, the No. 1 doubles team of Dan Zimmerman and Micah Schoff, the No. 2 tandem of Brevin Schmuhl and Oliver Roeper and the No. 3 duo of Justin Mildebrandt and Brock Stollfuss.
Up next
Ripon, which had its dual Tuesday against Howards Grove rained out, will return to the court Thursday when it travels to Kewaskum.
It also will hit the road Saturday for a competition at St. Mary Catholic and Monday to face Roncalli, before returning home Tuesday, May 25 for a home dual with Two Rivers.
All of the competitions with the exception of Saturday's will get underway at 4 p.m. Saturday's meet will get underway at 9 a.m.