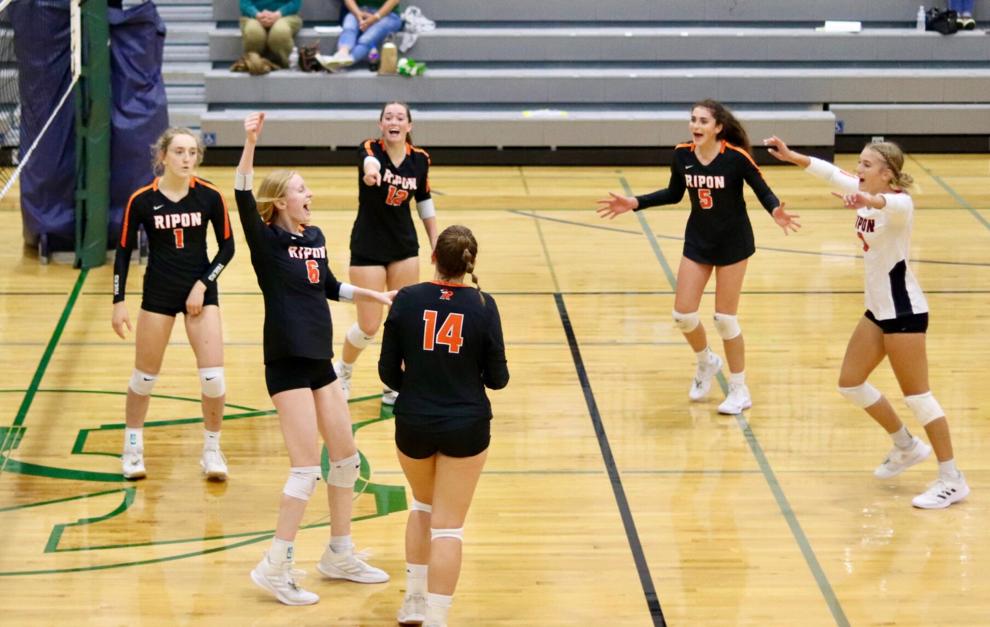 Facing a Kewaskum Indians team that was 4-1 in conference and 22-4 overall, the Ripon High School Tiger volleyball team could not have asked for a better start last week Thursday.
It won the first set in dominating fashion 25-14, controlling nearly every aspect of the set.
But the Tigers couldn't sustain the start as they dropped the next three sets to drop the conference road match. They lost the final three sets to Kewaskum 19-25, 15-25 and 28-30, respectively.
Ripon head coach Tracy Landerman noted that in the first set, the Tigers "completely" controlled the tempo of the game and that it was an impressive start. Among the highlights for her in the set was her team's passing, which she said led to a lot of its offensive attacks against Kewaskum.
While she believes that the Indians were surprised by the outcome of that first set, she knew that they were going to put the pieces back together based on their coach and their program.
And that is just what happened in sets two and three as they won them in convincing fashion.
"We struggled defensively, and they took advantage of that," Landerman said. "They had a great outside hitter that really did a lot of damage to us in the way she hit the ball. She was fast, we didn't close our block, we got caught off balance … We just struggled trying to handle the ball with her."
Ripon High School volleyball at Kewaskum — Oct. 7, 2021 (Kay Bumby photos)
Landerman attributed part of the reason for the difficulties defending the Indians' outside hitter to Ripon's inability to get a hand on the ball following that first set, when its blocking was "incredible."
"We were shutting down hits, we were getting lots of touches," Landerman said of the first set. "It was a complete set all the way around … We had everything going in our favor. Then as the match progressed, we struggled a little bit more with our block. We still got some touches on the ball, but their outside hitter did a lot of damage on that side of the court, and we were late on our block."
She added the Tigers also missed some key serves later on in the match that came back to haunt them as well after having a "very clean, solid performance all the way around" in the first set.
While Ripon dropped the second and third sets rather convincingly, it came back in the fourth set to give the Indians all they could handle. According to Landerman, it was a back-and-forth set with both teams fighting to the finish and needing extra points to decide the winner as Kewaskum won 30-28.
"A lot of perseverance, a lot of fight in that set," the Ripon head coach said. "Unfortunately, they came out ahead and then that was the end of the match."
Team Leaders
Service aces: Ari Brooks 2, Erika Mills 2, Sheridan Zimmerman 1; attacks: Maleigha Kovalaske 17, Avary Makarewicz 6, Mills 6, Bauman 6; blocks: Makarewicz 3, Alli Bumby 2; Kovalaske 2, Karsyn Bauman 1, Mills 1; assists: Zimmerman 36; digs: Brooks 17, Mills 13, Zimmerman 10, Bumby 7.
Up Next
Ripon will close out its regular season Thursday, when it hosts the Waupun Warriors for Senior Night and Pink Out. The match is scheduled to get underway at 6:45 p.m.
"We're glad to be back on our home court," Landerman said. "There's going to be a lot of energy, a lot of things going on with Pink Out and being home. The kids love to play at home. We have a great student section when we're at home. We're excited for the match. If we stay focused and we come in like we did with Kewaskum and keep that momentum on our side it'll be a fun match to watch."
After hosting Waupun, the Tigers then will travel to Kettle Moraine Lutheran for the conference meet. The competition will start out with seeded pool play, with the winners moving to the gold bracket and the losers going to the silver bracket. That competition is slated to get underway at 8:30 a.m.