Entering last week Saturday's Winneconne Sectional, J.P. Stanfield knew just what he had to do to qualify for the state cross country championships.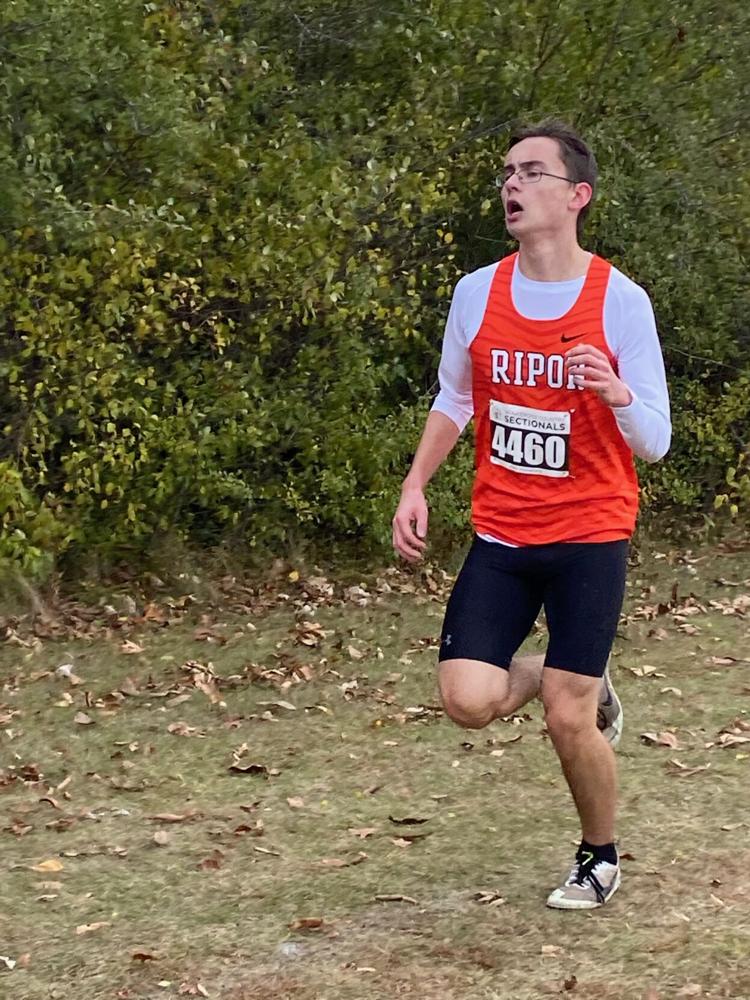 The Ripon High School senior needed to be among the top-five runners not on a qualifying team to punch his ticket to Saturday's meet at Colby High School.
He fell just short as he finished ninth out of 37 runners and sixth out of the individuals vying for state berths with a season-best time of 17 minutes, 39.7 seconds. He was a little less than 6 seconds behind the fifth and final qualifier, Berlin's Christopher Mankowski.
Stanfield's previous season-best was 17:45, which he accomplished earlier in the week during the Berlin subsectional to earn a spot at sectionals.
"He ran probably the smartest race that I've ever watched him run," Ripon head coach Chris Gatzke said. "The winner of the race was from Madison Edgewood; he ran a 15:37 and he just started out at a fast pace and never slowed down. A number of athletes tried to go with him not knowing and fell back and J.P. kept picking up … So, I thought he did a great job, ran a smart race, a fast time ... but just fell that little bit short."
He added that Stanfield never was in the fifth and final individual qualifying spot as he continually increased his position throughout the course of the race and just missed it.
"The hard part is as a coach you're ... trying to tell him how many [runners he needs to pass], but you don't know what teams are going to make it and things can change in the last stretch," Gatzke said. "So I thought he did a really great job to finish out his career."
Stanfield finishes his high school cross country career, which began when he was a sophomore, with three all-conference finishes (a second team, first team and honorable mention).
"He's really improved year after year," Gatzke said. This year, he was a captain of the team and did an awesome job of leading stretches, walking the course, pointing things out. [He was] just an outstanding individual that made the team better because of what he did."
Poynette and Winneconne qualified for state as teams, while Leo Richardson of Madison Edgewood (15:37), Rhyer Smit of Waupun (16:43.3), Eli Boppart of Mauston (16:47.6), Diesel Bosin of North Fond du Lac (17:27.7) and Mankowski (17:33.9) advanced as individuals.
Stanfield finishes seventh to advance to sectionals
Stanfield punched his ticket to sectionals last week Tuesday during the Berlin subsectional.
He finished seventh overall and fourth among five runners not from qualifying teams to advance.
"He knew what he had to do," Gatzke said of the senior, noting Stanfield likes running at Mascoutin Golf Club course. "... He was really motivated after not having as good of a conference meet as he thought he should have and he redeemed himself very respectively."
Stanfield wasn't the only Tiger boy fairing well as five of Ripon's seven runners ran their fastest time of the year en route to helping the team finish fifth out of nine schools at the meet.
Winneconne and Berlin finished first and second, respectively, with 44 and 61 points to qualify as teams. Waupun was third with 80 points and was followed by North Fond du Lac Horace Mann (110), Ripon (131), St. Lawrence Seminary (146), Laconia (148), St. Mary's Springs (200) and Omro (254).
Finishing behind Stanfield for Ripon at the subsectional meet were Dayton Baird (23rd, 19:08.08), Mason Killam (28th, 19:36.91), Miles Fisch (33rd, 20:07.46), Remington Mueller (40th, 20:26.10), Joseph Williams (45th, 21:30.39) and Jayden Trochinski (52nd, 22:22.90).
Ripon High School cross country at subsectionals
"It was nice to see them finally put it together," Gatzke said of the boys' team performance last week Tuesday. "Again, it would have been great to see what we could have done if we would have had four more competitions through the year to get that extra practice and do that extra stuff, but they didn't hold anything back. They ran outstanding races and the nice thing is there's two seniors on the team, so we've got a good group of boys coming back that learned quite a bit, and hopefully we'll have a normal season in 2021 and we'll be able to improve from where we left off this year."
On the girls' side Julia Long came the closest to qualifying for sectionals. The senior finished 17th overall with a near-season-best time of 22:18.96, which put her as the eighth runner not on a qualifying team, with the top-five moving on. She was a little more than 24 seconds behind the fifth and final qualifier.
"Julia fell a little bit short, but it was probably the best end-of-the-season run that she's run in her career as well," Gatzke said, noting the competition was stiff for the girls both team-wise and individually.
One has to look only as far as Winneconne to see the strength of the field last week. The Wolves' had four of the top-five runners and six of the first 11 finishers en route to running away with the title with 22 points. Omro placed a distant second with 72 points and was followed by Waupun (95), Berlin (100), Laconia (101), North Fond du Lac Horace Mann (145), Ripon (155) and St. Mary's Springs (218).
Not helping Ripon out at the meet was the fact that it was without six of its runners, who had an outside reason to quarantine — including its second-best runner for most of the season in Jasmine Moldenhauer.
"That took a little bit out of everybody," Gatzke said of the Tiger girls' team being short-handed. "But … the girls that ran, three out of the five girls had their best race of the season, their best time."
McKenzie Nodolf was one of those four runners as the senior placed 28th with a season-best time of 23:14.92, which was good enough for second on the team — which marks a first in her career.
"She just ran a heck of race and kept improving and moving up ...," Gatzke said. "It looked like she was having more fun than she's ever had before in running the races. It was nice to see her finish that on a good note."
Also recording their best times of the season were Lucy Beuthin (35th, 23:31.55) and Elena Williams (37th, 23:53.94), while Tirion Radtke battled through an injury to finish 38th with a time of 24:02.54.
The race marked the end for six seniors as running in their final meet or seeing their high school cross country careers end at subsectionals were Mueller, Long, Nodolf, Radtke, Moldenhauer and Cody Wald.
Gatzke noted they, along with Stanfield, who ran the extra race, will be missed moving forward.
"They were just all-around solid athletes and added to the program by being there and continuing to take the underclassmen under their wings and show them the ropes," he said. "You're always sad to see seniors leave and go and this group is no different than any other group."
Despite knowing there will be some big shoes to fill next season, the Ripon head coach is looking forward to continuing the tradition the Tigers have created year after year of bringing other people up.
One of the runners is Baird, who Gatzke noted has learned "an awful lot from J.P. this year." He noted the junior ran with Stanfield last week as Stanfield prepared for sectionals and he thinks that's going to help him out moving forward.
Additionally, Gatzke thinks there will be some good leadership on the girls' side as well, and is hoping for a number of eighth graders to join the program so that the numbers will stay the same or increase a little bit next year.