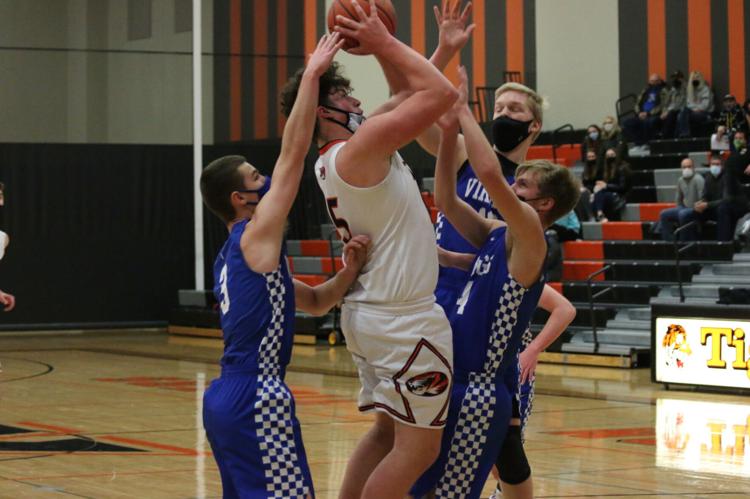 Behind a career-day from Grant Schneider, the Ripon High School Tiger boys' basketball team created some separation for itself in the conference standings last week Friday.
Schneider scored a career-high 33 points to lift the Tigers to a 78-74 victory over Kettle Moraine Lutheran (KML) Chargers in a match-up of the second- and third-place teams in the East Central Conference.
Making the win even more important was the fact that it came on the road, where the Tigers (5-1 conference, 7-2 overall) have played five of their first six conference games. They will close out the season with six of their final eight conference games taking place at home.
"Our schedule has been such that we've been on the road a lot, especially in the conference season, so we knew that was a big game; either go up two games in second place or be tied with them, having a shot at them again and Plymouth at home," Ripon head coach Steve Brooks said. "We had a good couple of days of practice and did a lot of film study and did a lot of breakdown stuff in practice and I was always happy with the poise they played with and just finding guys that were making plays for us."
The Tigers started off the game strong as Steve Brooks noted he believes they led by as much as 12 points in the first half. They did get a little careless for a bit after that as KML ( switched to a zone and went on a 7- or 8-0 run to get back into the contest.
From there, Steve Brooks described the game as "back and forth," with the largest margin maybe being four or six points. Ripon led 44-39 at halftime, but saw that lead disappear in the second half as the Chargers took a five- or six-point advantage,
The Tigers, however, stayed within a couple of possessions and pulled even with around three minutes left and then took the lead and were up by between two and four points the remainder of the game to come away with the 78-74 road victory.
Schneider had a lot to do with the win as the senior played a well-balanced game. He finished 10 of 19 from the field, which includes 5 of 8 from behind the 3-point line. The senior also went 8 of 10 from the free-throw line and pulled down seven rebounds, while adding an assist, steal and a block.
"He did a nice job playing inside and out; he kind of changed up what was happening," Steve Brooks said. "We started the game and found him. The way that they were defending — very physical on the perimeter — our guards were having a little bit of issues with our hand-off stuff and our motion [offense]. Riley [Brooks] was drawing a double team, which leaves people open. So Grant stepped up and hit some shots. And then down the stretch, we did a lot of high screen-and-roll stuff with Grant setting the screen and rolling to the hoop because they didn't have an answer for him."
Schneider's performance was even more important due to the fact that Ripon's leading scorer on the season, Riley Brooks, picked up two early fouls and sat on the bench for a good part of the first half. He ended up finishing with 13 points, which is 11.4 below his average.
It was just another opportunity for those other kids to make plays and Grant stepped to the plate first and then the others followed, too," Steve Brooks said of Riley Brooks' foul trouble.
Also stepping up for the Tigers were Kai Agamaite, Garrett Jennings, Spencer Schultz and Sam Yeomans. Agamaite, Jennings and Schultz finished with 13, nine and eight points, respectively, while Steve Brooks noted Yeomans had "some really good minutes."
Up next
Ripon will return home for the first of two-straight home games tonight (Monday), when it hosts Watertown Luther Prep.
Tip off is slated for 7:15 p.m.