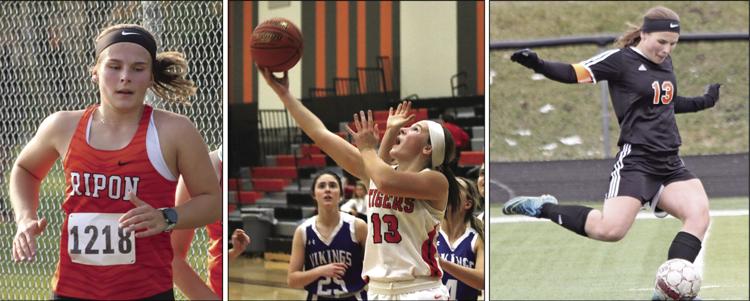 The Ripon Commonwealth Press will spotlight local senior student-athletes throughout the school year in both the paper and www.RiponPress.com. Today, we feature McKenzie Nodolf, a three-sport athlete from Ripon High School.
Q. What high school sports do you play?
A. I play basketball, soccer and run cross country.
Q. What is your earliest memory playing sports
A. My earliest memory would probably be when I would go to the summer camp for basketball or playing in the soccer league at the college fields.
Q. Favorite athletic memory during time in high school?
A. My favorite memory is my freshman year when our soccer team won the tournament in Omro. This had never been done by the girls' team before so it was a really big accomplishment for us.
Q. What is one area you would like to improve?
A. For basketball, it would be dribbling with my left hand so that I am as strong on my left hand as I am my right hand. This would help me to have more tools in the toolbox to get out of pressure. For soccer, I would improve my footwork. I am not the best dribbler. Since I play defense, I never really have to try and get around defenders with moves. If I were to improve my footwork it would help me tremendously. I could use those tactics on defense to get the ball out of pressure.
Q. What were/are your goals entering your final season?
A. For cross country, it was to just have fun and try my best each and every meet. For basketball, I wanted to help my team by stepping up as a captain and doing everything in my power to help us win more games than last year. For soccer, as a captain, I want to help build on our successes from two seasons ago. I also have a goal of being first-team all-conference. My freshman and sophomore year, I was honorable mention. With my offseason hard work and dedication I am going to try and earn first-team all conference.
Q. What's your favorite sport?
A. It is a really hard decision between soccer and basketball because I have been playing them my whole life. If I would have to choose, it would probably be basketball just because of the fast-paced game that keeps you on your toes. I also love my basketball community because we all get along so well and we always make practice fun by telling jokes and having a great time. Another thing is that all of my really good friends play basketball, so I get to hang out with them everyday.
Q. What's your favorite team to play?
A. I would have to say for both soccer and basketball it is Berlin. It is usually a close game. The games are very competitive, which makes the games really fun.
Q. Who is your favorite professional athlete
A. My favorite professional athlete is Alex Morgan. She demonstrates hard work and dedication on and off the field which is something that I want to be reflected about me. She also has shown what it takes to be the best in the world. I have always aspired to be more like her. She is always lifting teammates up and has helped me to be a better captain by demonstrating what it means to lead a team.
Q. What is your favorite class/subject?
A. I honestly do not have a favorite subject. I have always enjoyed science because of how hands on it is, so if I had to pick one it would probably be science. I really enjoy doing labs because I am a very visual learner and it is just exciting in general.
Q. What do your future plans entail?
A. I plan on going to college at either Carroll University or Clarke University next fall. I will be studying physical therapy as I have been accepted into their physical therapy programs. I am also planning on playing college soccer, which means I get to continue playing a game that I love.