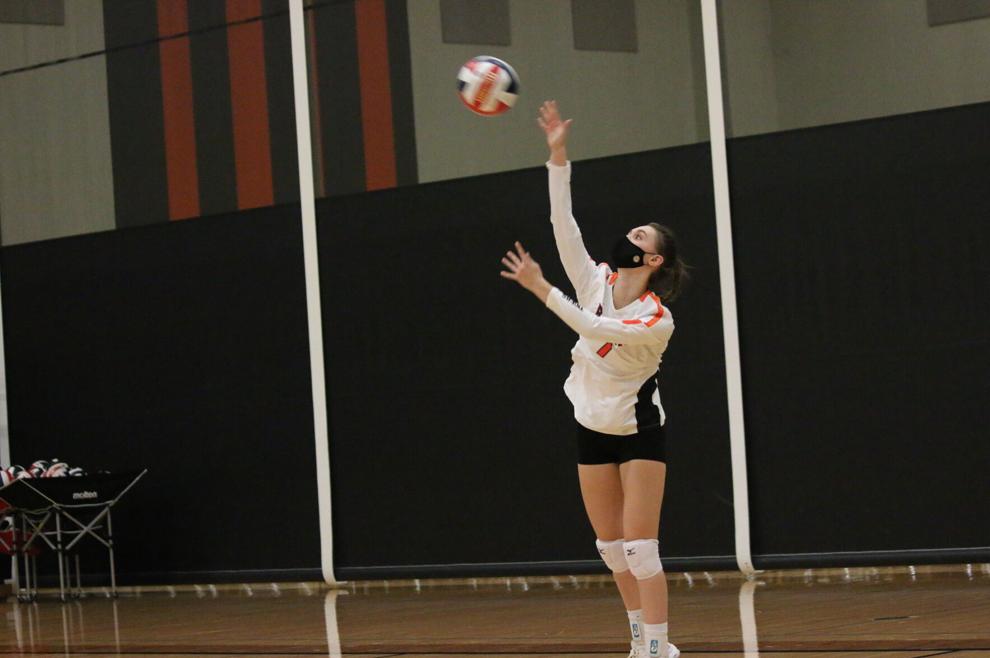 One night after struggling with its serving, the Ripon High School Tiger volleyball team righted the ship last week Friday to devour the Lomira Lions in three sets (25-13, 25-10, 25-13) on the road.
"We cleaned up our serving quite a bit," Ripon head coach Tracy Landerman said. "That really was a haunting factor in our match with Waupun. If you look at the scores, they were very tight games ... Service errors and some inconsistencies with defense were the difference makers in that match, which we really cleaned up and put on a much better performance."
After committing 16 service errors in a four-set loss to Waupun and finishing with an 82% serving percentage, the Tigers cut down on the miscues drastically and finished with a 93% serving percentage.
That wasn't the only area they did well as Landerman noted it was a "complete game" for Ripon.
Ripon High School volleyball vs. Oakfield — March 9, 2021
"Defensively, we did very well," she said. "We were strong offensively at the net … We utilized a lot of people, took advantage of good passing, great sets. We had a lot of touches on the block … And our serve-receive passing was solid ... We had a very strong offensive game against Lomira, and we kept them off balance … They never really had a chance to get anything put together on their side of the court"
Ripon team leaders
Service aces: Sheridan Zimmerman 7, Maleigha Kovalaske 4, Erika Mills 2; kills: Kovalaske 10, Mills 8, Lexy Miller 4, Emma Pinnow 3; block kills: Miller 4, Pinnow 3; assists: Zimmerman 31; digs: Kovalaske 8, Avery Downs 7 and Mills 5.
Ripon falls to Waupun in four sets
The Tigers put themselves in a position to defeat the Waupun Warriors last week Thursday on the road.
Service errors and some struggles on the defensive end, however, prevented them from coming out on top of their rivals from the south as they lost in four sets to Waupun 21-25, 20-25, 25-19 and 25-27.
"The difference maker was we were inconsistent defensively," Landerman said. "We got caught off balance [and] they kept off-balance quite a bit. But the big difference in that match … was our serving. We had 16 service errors against Waupun. You look at how tight those games were and that was a huge hit."
Despite struggling in those areas, the Ripon head coach noted her team fought hard and kept it tight the entire match. She especially was proud of its perseverance and how hard they fought to stay in the match.
"We dropped the first two sets and came back in the third set and took that set," she said. "Sometimes you get behind by two [sets] and there's that feel of 'Oh man, they're controlling things now; they're up two.' And we did a great job of battling back. They battled hard when you look at scores with Waupun, but really the serving was the difference, and then some inconsistency with passing that didn't allow us to utilize our offense."
She credited Waupun for doing a "nice job" of taking the Tigers off balance and out of system, not allowing them to put it all together for a clean play. Ripon also struggled with blocking as it had just two block kills all match.
Ripon team leaders
Service aces: Kovalaske 4, Mills 1, Abigail Radloff 1; kills: Kovalske 14, Mills 7, Miller 5, Pinnow 4, Radloff 4; block kills: Kovalaske 1, Miller 1; assists: Zimmerman 28; digs: Downs 15, Radloff 13, Kovalaske 10, Miller 10 and Mills 10.
Tigers sweep Oakfield in front of home crowd
Ripon had its way against Oakfield last week Tuesday, winning in three sets 25-14, 25-17, 25-16 at home.
"We controlled the tempo of the match from start to finish," Landerman said. "[We had a] balanced attack, good defense, good serving and just we kept them off balance, didn't really allow them to do too much offensively ... All the way around it was a great team effort. Everybody saw the court, so that was a good match. And it was nice to have that at home in front of our home crowd."
Ripon set the tone in the first set behind a 18-7 run to finish the set. During that stretch, Oakfield scored consecutive points on just one occasion and that came as the Tigers were getting close to finishing the set off.
In the second game, the Tigers struggled a bit with service errors as it committed at least five. While that prevented it from gaining a lot of momentum and stringing together runs of multiple points, they held a lead for the entire set. The same held true in the third as they did what they needed to do to come out on top.
She noted some of the errors on the serves come from the student-athletes following her lead on trying to serve into zones and look at spots on the court where they can convert the serve into a point for their team.
"They are trying to move the ball around and do different things with it, but when we went back to the game on Friday night, I think just taking a little bit more time, protecting the ball when it's ours [was important]," Landerman said. "... We have good servers, but for whatever reason, that night we rushed."
Ripon team leaders
Service aces: Radloff 4. Downs 4; kills: Kovalaske 10, Mills 10, Radloff 7, Miller 5, Eva Baker 3; assists: Zimmerman 27; digs: Downs 10, Zimmerman 9, Kovalaske 7 and Mills 5.
Up next
The Tigers will try to improve to 4-2 in conference play today (Tuesday), when they host Mayville. Their next match will take place Friday on the road against St. Mary's Springs.
They also will travel to Winnebago Lutheran Academy Tuesday, March 23 to face the Vikings.
Matches begin at 7 p.m.