Coming off its winningest season since 2014-15, the Ripon High School Tiger girls' basketball team is hungry to build off that success this season and take the next step forward.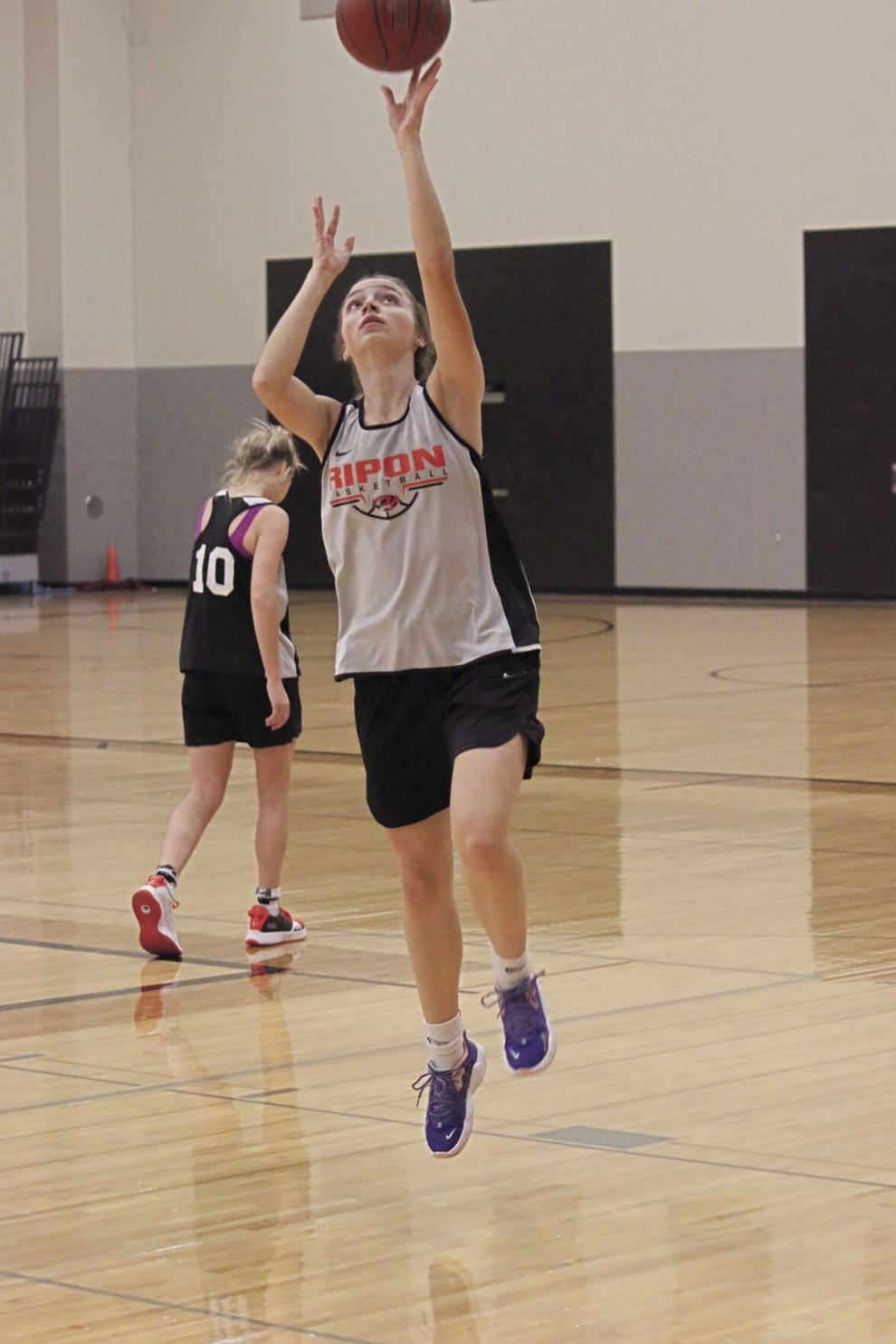 Returning all but one starter (McKenzie Nodolf) from last year's team, which won seven games, including three conference games, the Tigers enter the season with optimism.
"We think we can be in every game we play this season," Ripon head coach Jesse Nodolf said. "We'd like to see and we believe that we can finish better in conference and better overall than we have in a lot of years based off last season. We won more conference games last season than we had in the previous two, and more games than we have since 2014-2015."
Standing out to Jesse Nodolf one week into practice is the depth of his team as he noted that the Tigers have a "dozen or so athletes that can bring it in practice and in scrimmage situations." According to him, Ripon doesn't really have a dropoff from players 1 to 14.
He also said that another strength of the team is the knowledge of philosophies as the players have been in the program for a while. That includes the freshmen as he's been coaching them for a while as a result of his youngest daughter, Adalin, being a part of the class.
Figuring to lead the way for Ripon this season — both on and off the court — are seniors Lucy Beuthin and Celina Lopez. Jesse Nodolf noted that Beuthin is the team captain and that she does a great job of leading as she communicates well with the team and the coaches.
Meanwhile, he added that Lopez brings back her athleticism and ball-handling abilities.
"I'm glad to see them both out their senior year," Jesse Nodolf said. "It's going to be fun to see how they lead this team with what they've learned in the last four years and see where they and we can go."
They will be joined by a strong junior class, which include Ally Bradley, Alli Bumby, Bella Miller, Quinn Diedrich and Maddie Weiss. According to Jesse Nodolf, the juniors bring a variety of skills to the team. He said that Bradley is the shooter out of that group; Diedrich is a good finisher; Bumby rebounds like nobody else; Miller handles the ball pretty well and is looking to extend her jumper; and Weiss has good post moves.
Four of the five have at least some experience on the varsity, with Weiss being the only newcomer.
Ripon also brings back some varsity experience in its sophomore class as Karsyn Bauman started last season as the first or second player off the bench and worked her way into the starting lineup by the end of the season. Ari Brooks and Ellerie Rost also got some limited minutes on varsity last year as freshmen toward the end of last season, while Reese Downs will be entering her first season on varsity.
"You can tell that they physically and mentally matured," Jesse Nodolf said of the sophomores. "They're much more knowledgeable about the game. Their skill levels all improved and their confidence improved. There'll be a major part of where we go this season."
In addition, the Tigers figure to receive some contributions this year from their freshman class as Adalin Nodolf, Libby Gatzke and Bryn Carlson will be a part of the varsity team. Jesse Nodolf noted a few of the athletes will play some JV minutes as well to further learn and develop their skills, but said they'll have valuable minutes at the varsity level as was seen during last week Saturday's scrimmage.
According to him, Gatzke likes to rebound and she's a physical player; Carlson gets some loose balls and makes some decent mid-range shots; and Adalin Nodolf will be looked at for defense and outside shooting.
With so many returning players and players familiar with what he wants to run, Jesse Nodolf would like to see the Tigers do a better job of minimizing turnovers this season. It's been a problem in years past.
"We've talked about a couple things that hopefully will lead to less turnovers," the Ripon head coach said. "It'll take a little bit. I don't know if we're going to see that in game one, but I think by three, four games into the season, we should see those numbers start to get to where we want them."
If Ripon can cut down on its turnovers, he doesn't see why Ripon can't be competitive in every game.
Jesse Nodolf noted that Waupun with the senior Aalsma twins and a freshman sister was picked to finish first in the East Central Conference, while Kettle Moraine Lutheran and Kewaskum were two and three.
"The way I look at it is we've got great opportunities," he said. "We played KML tough once last year. We played Plymouth tough. Waupun's the team to beat in our conference, but we're looking for hopefully some parody beyond that with Winneconne, Plymouth, Berlin. We'll see where it takes us."
Ripon began its season Tuesday night with a road game against North Fond du Lac that finished after press time. It also was slated to travel to Mayville Thursday, but that game was postponed due to the Mayville football team making the state tournament. That game will be rescheduled for later in the year.
The Tigers next game is set for Tuesday on the road against Campbellsport. Tip off is set for 7:15 p.m.